08 August 2021
Welcome back to the Week That Was series highlighting things from the interwebs which are interesting, noteworthy and/or probably worth your time.
Articles📝, Tweet(s)📱, Videos🎥, Charts 📈 all fair game with or without attendant commentary.
---
📷 Lollapalooza
Interesting how one image can be awe-inspiring in one age (pre-Covid) and inspire distinctly different emotions in another.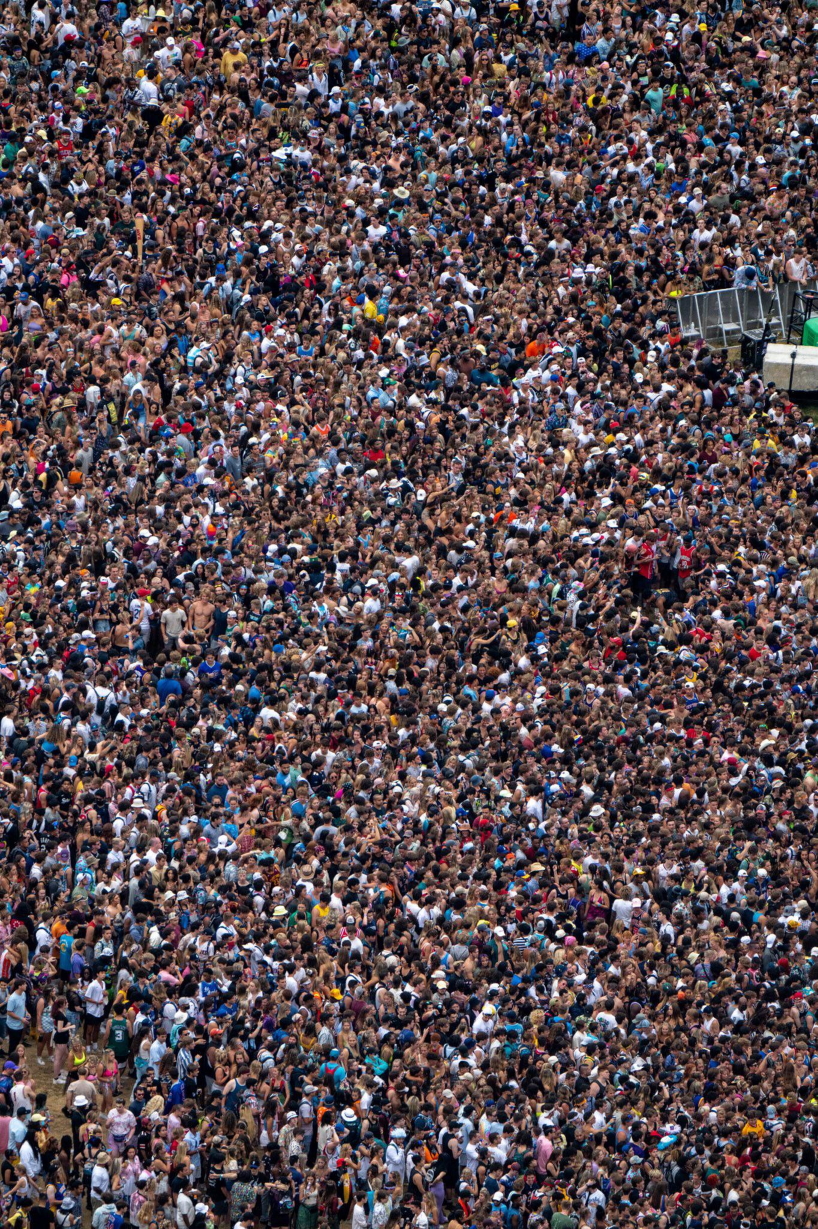 From the Lollapalooza music festival in Chicago.
---
🦠 Flu
Flu prevention recommendations from 📰a 1918 newspaper.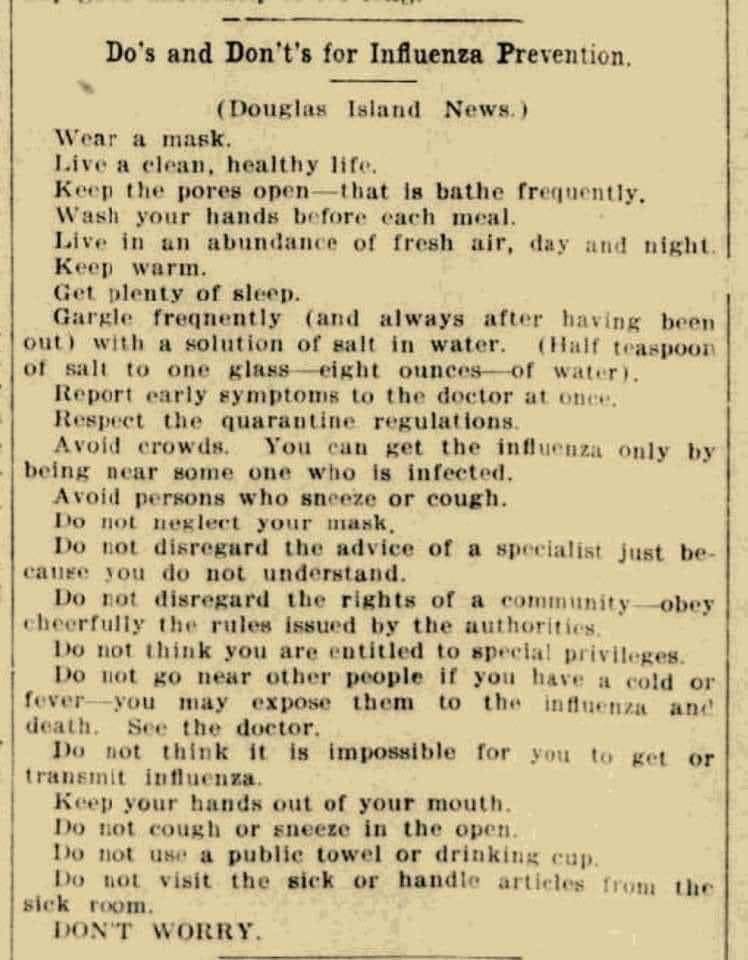 ---
🎙️ All In
Silicon Valley's favourite talky poker-playing billionaires put on one of their most informative shows this last week in my view - particuliarly if you're interested in venture capital and business building.
This commenter wasn't way off.

Chapters:
[0:00] Big week for the besties: Friedberg's new raise, Sacks' new fund & more
[16:30] Innovative venture strategies: internal mark ups, venture studios, deployment strategies
[30:44] Zymergen's implosion: role of diligence, how to make deep tech sustainable, finding frauds
[43:26] How personal risk impacts decision making on a grand scale, narratives and fundraising
[59:12] Chamath & Jason share Theranos stories, Jason calling out frauds
[1:07:36] Financial deplatforming, Square acquires Afterpay, Square's savvy move, fintech's future, Jack Dorsey's unique position of power (caveat: gets a bit culture war-y here)
---
📹 African Power
The Cost of Power: In this episode Think African dive into how Africa's natural resources are managed and the implications of mismanagement on democracy. Is Nuclear power the answer to power generation in Africa? They speak to Environmental Activist, Human Rights Defender and Director of Earthlife Africa Johannesburg, Makoma Lekalakala.
The discussion on nuclear reminded me of another insightful TED discussion with economist Dambisa Moyo that's also worth a listen. It covers her unique worldview and how it's shaped her thinking on issues like overseas aid, climate, democracy and the rise of the coronavirus pandemic.
---
📟 Zello
The "walkie-talkie" app is fast evolving from a 911 replacement to a neighborhood communication app.
The 📰MIT Technology Review on how Zello emerged as the go-to app for neighbourhood watch operations during the unrest seen in South Africa a couple of weeks ago. It was also being used by looters to find weak spots to target on the fly.
"One Twitter user in South Africa I spoke to (who requested anonymity in light of the current dangerous situation) said that some people were using Zello to figure out which houses and storefronts were ripe for looting, while others were tuning in to gauge whether they should flee or stay where they are."
📰How Zello keeps people connected during South Africa's unrest
---
🏦 Going Public
A couple of weeks ago we looked at the number of unicorns that have sprung into being in 2021. Here's a graphic showing the companies which have gone public on the biggest bourses in the world.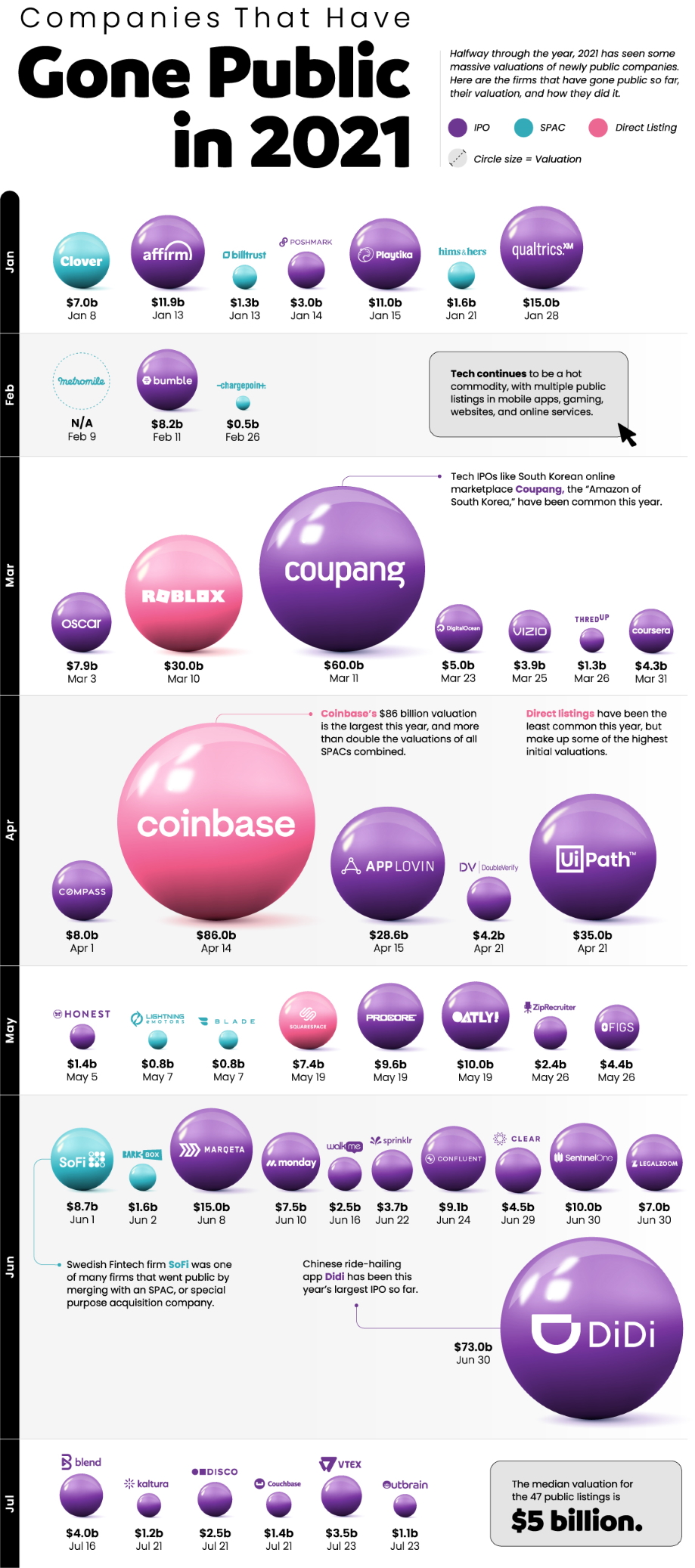 ---
🌍 African Topography
Topographic map of Africa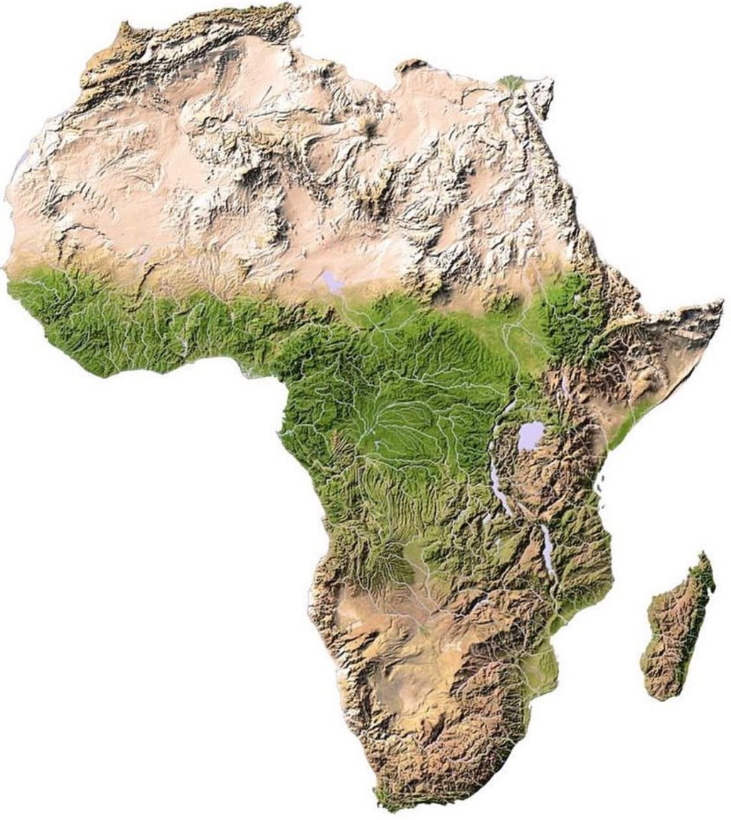 ---
🐼🔨 Sino Crackdowns
From Ben Evans
Tencent's WeChat has suspended new signups. The $100bn tutoring industry has been told to go non-profit. Didi might delist. Chinese tech indices are down 15% in the last two days. Remember when this was all about Jack Ma? Remember when WeChat was going to go global?

I'm not a China analyst, but there's a lot going on, from the CCP asserting its authority to overdue intervention into some under-regulated spaces, with a dose of turf wars as well (what do the financial regulators think of the cyberspace agency deciding who can list overseas?). This also overlaps with China's intensified push for tech sovereignty, with some people suggesting it wants to rebalance from consumer internet to semiconductors and the other primary tech it depends on foreign companies for today (your iPhone is assembled in China, but all the high-value parts are made elsewhere).

But if it's not clear what's going on inside China, it's even less clear what this means for the rest of us. Will Chinese Internet giants be forced to make serious efforts to expand internationally? Does the creative torrent of Chinese consumer tech innovation slow down? Could it affect consumer electronics supply chains?
Jonathan Goldberg's take at 📝Digits to Dollars
"His central point is that the successful governments gave a group of companies effective domestic monopolies to subsidize develop export industries and move up the value-add chain. The risk with this model is that these companies become so powerful that they only reap the benefits of domestic protection without doing the hard (expensive) work of building export power. The governments used a variety of tools to enforce compliance, generally aided by the fact that at the time these companies were dictatorships."
Bloomberg columnist Noah Smith also had an interesting take on his 📝Noahpinion Substack
And so when China's leaders look at what kind of technologies they want the country's engineers and entrepreneurs to be spending their effort on, they probably don't want them spending that effort on stuff that's just for fun and convenience. They probably took a look at their consumer internet sector and decided that the link between that sector and geopolitical power had simply become too tenuous to keep throwing capital and high-skilled labor at it. And so, in classic CCP fashion, it was time to smash.
Balaji sees thinks demographics are at the heart of it
The Chinese state is flipping U-turns on so many things. It's not just tech. Private ed is out, 996 is out.

What's in? Many kids as opposed to one child. And domestic consumption, not exported goods.

Seems they're trying to engineer the 1950s and a Chinese baby boom.

— Balaji Srinivasan (@balajis) August 2, 2021
What we know for sure is that noone knows for sure… except the CCP.
---
💰📊 Wealth Distribution
From the 📊Visual Capitalist:
GDP per capita has steadily risen globally over time, and in tandem, the standard of living worldwide has increased immensely.

Literacy rates, access to vaccines, and basic education have also improved our quality of life, while things like child mortality rates and poverty have all decreased.

That said, economic inequality between different regions is still prevalent. In fact, the richest country today (in terms of nominal GDP per capita), Luxembourg, is over 471x more wealthy than the poorest, Burundi.
This is immediately visible when looking at a graphic of Credit Suisse's 📚Global Wealth Report for 2021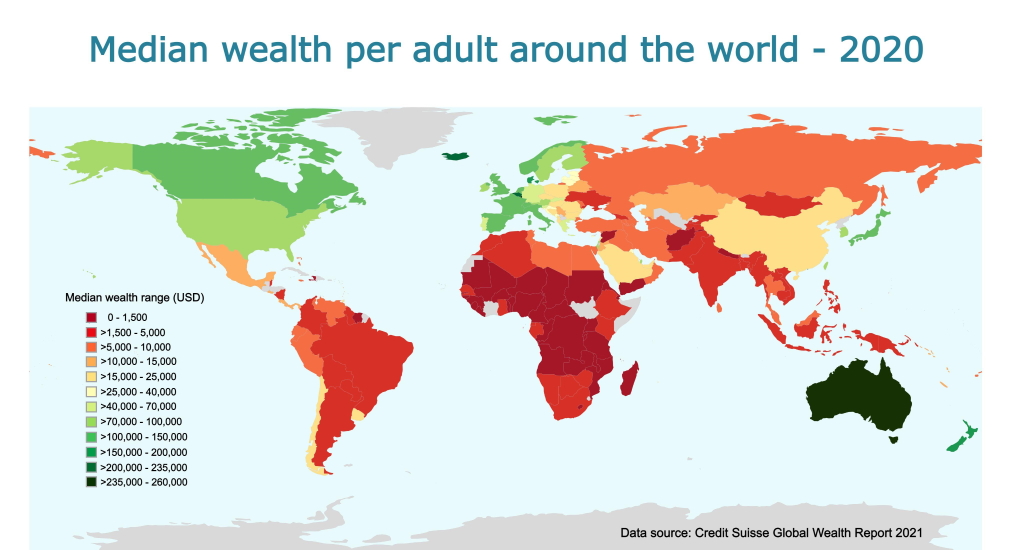 Ville Seppälä using 2020 World Bank data represents the disparity quite starkly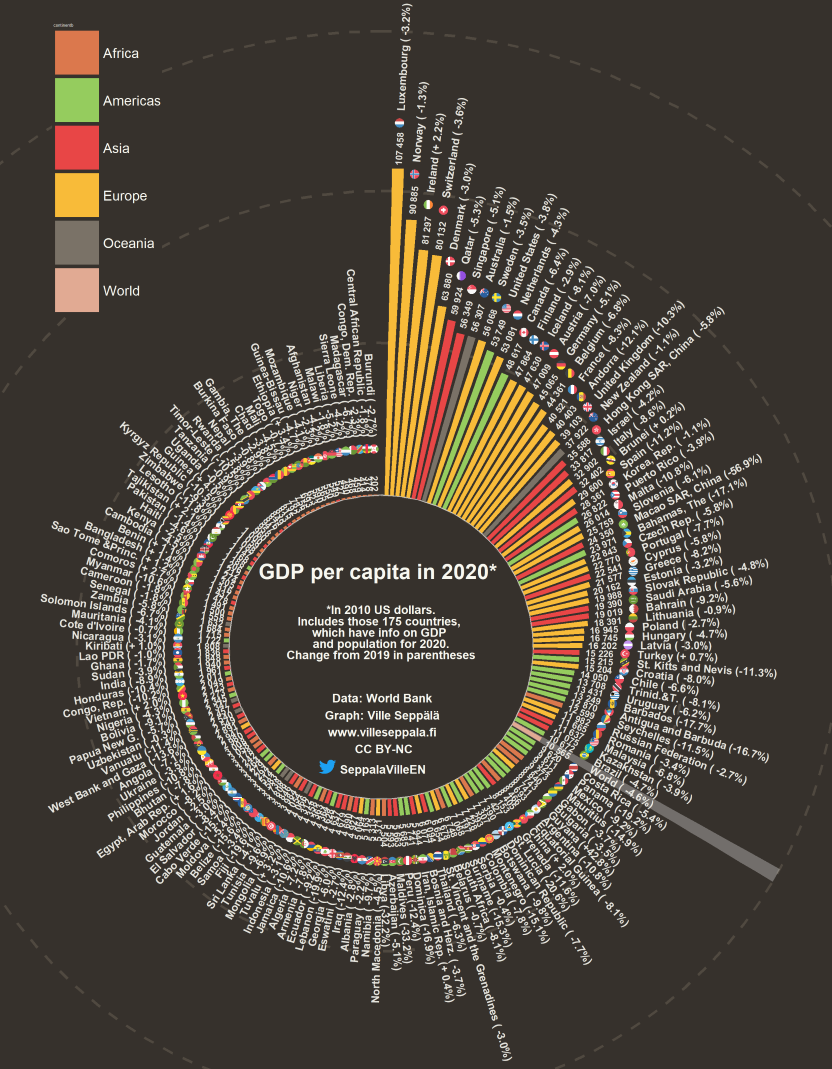 A stark visual showing not just the relative differences but the absolute differences represented by those differentials - the implications of which can't escape the thoughtful observer.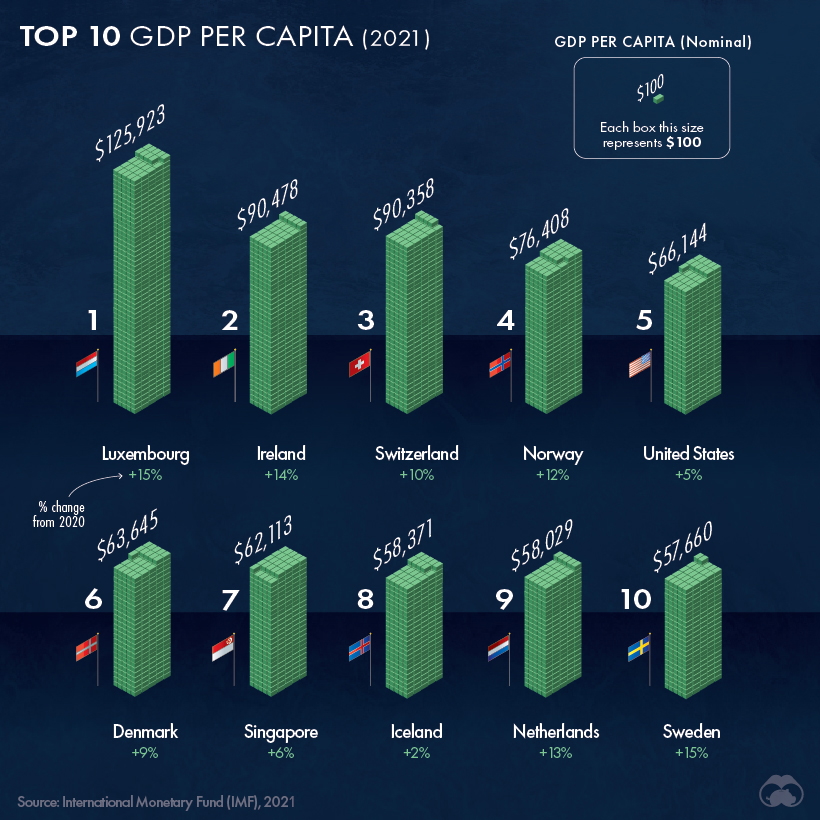 vs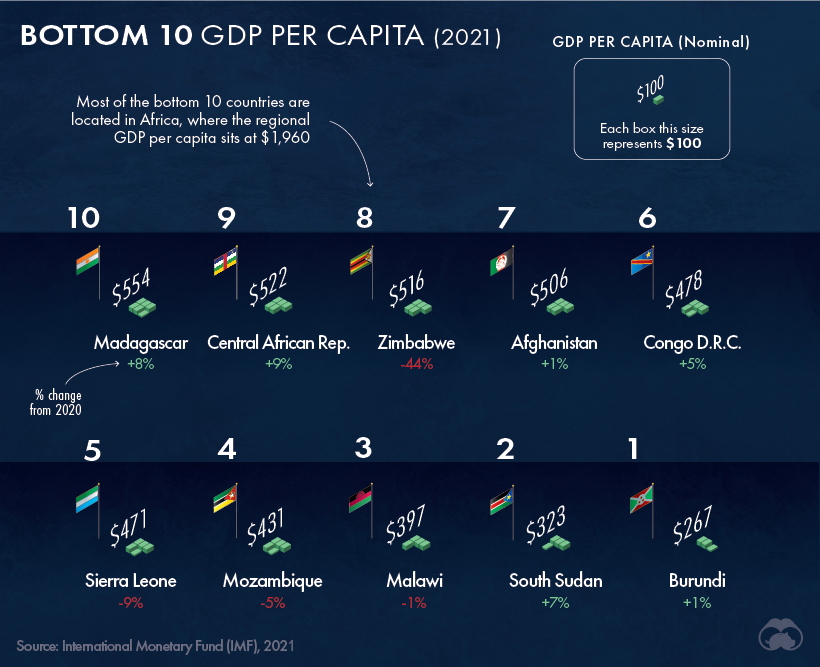 📊Visual Capitalist from whence the initial quotes are taken, ultimately consolidated this data in this graphic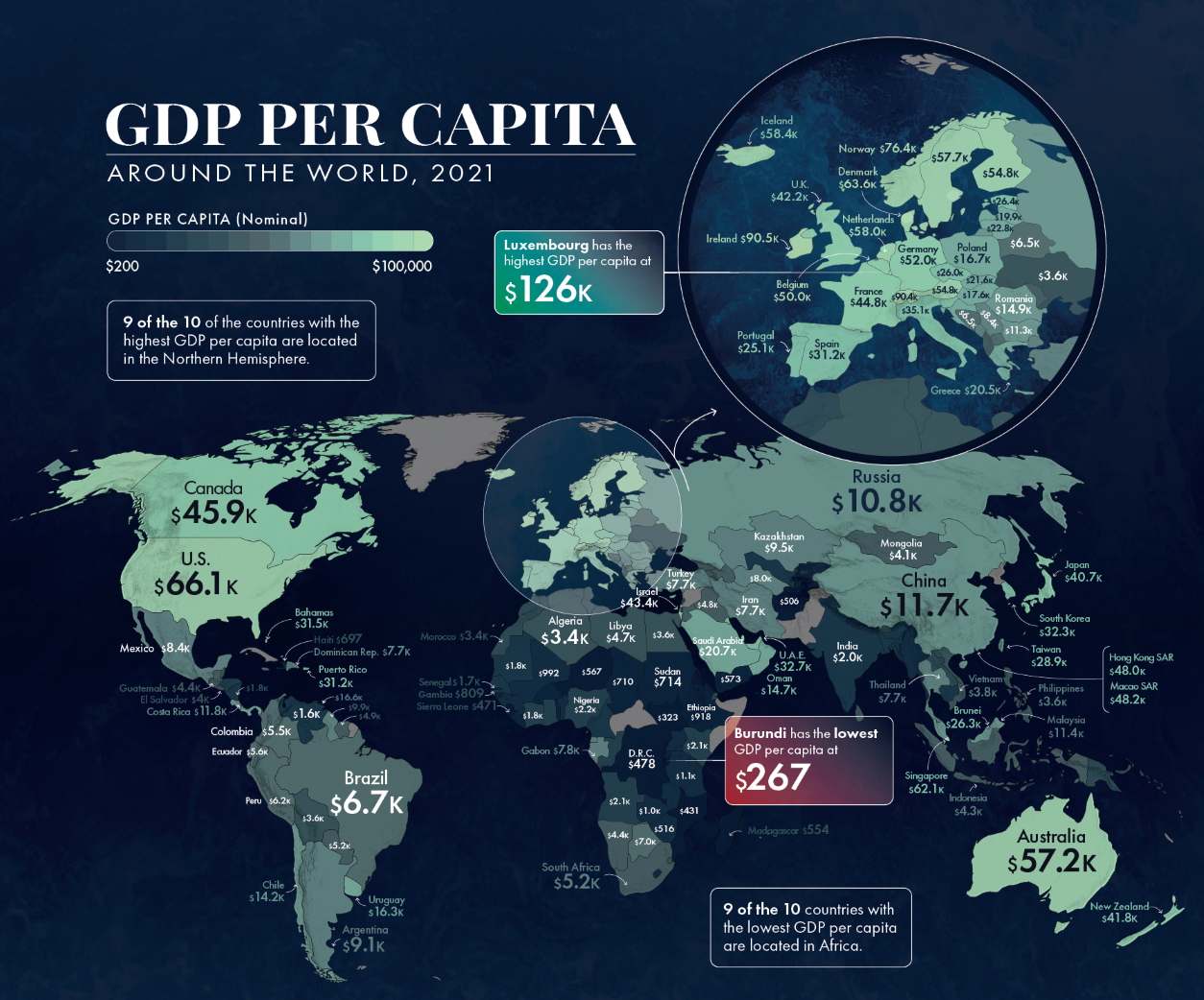 ---
💼 Pathological Productivity
📝Short post from Oliver Burkeman on Pathological productivity and the three-or-four-hours rule for getting creative work done
There aren't many hard-and-fast rules of time management that apply to everyone, always, regardless of situation or personality (which is why I tend to emphasise general principles instead). But I think there might be one: you almost certainly can't consistently do the kind of work that demands serious mental focus for more than about three or four hours a day.
📝The three-or-four-hours rule for getting creative work done
---
🏃🏾‍♂️⏱️ Olympics
As the curtain comes down on the "2020" iteration, a few graphics from the summer games.
Neeraj Chopra won India's first-ever track & field gold medal, and he knew it the second he released the javelin.https://t.co/jOjhyhuNdd

— Joe Pompliano (@JoePompliano) August 7, 2021
The progression of the Marathon World Record for Women & Men over the last century.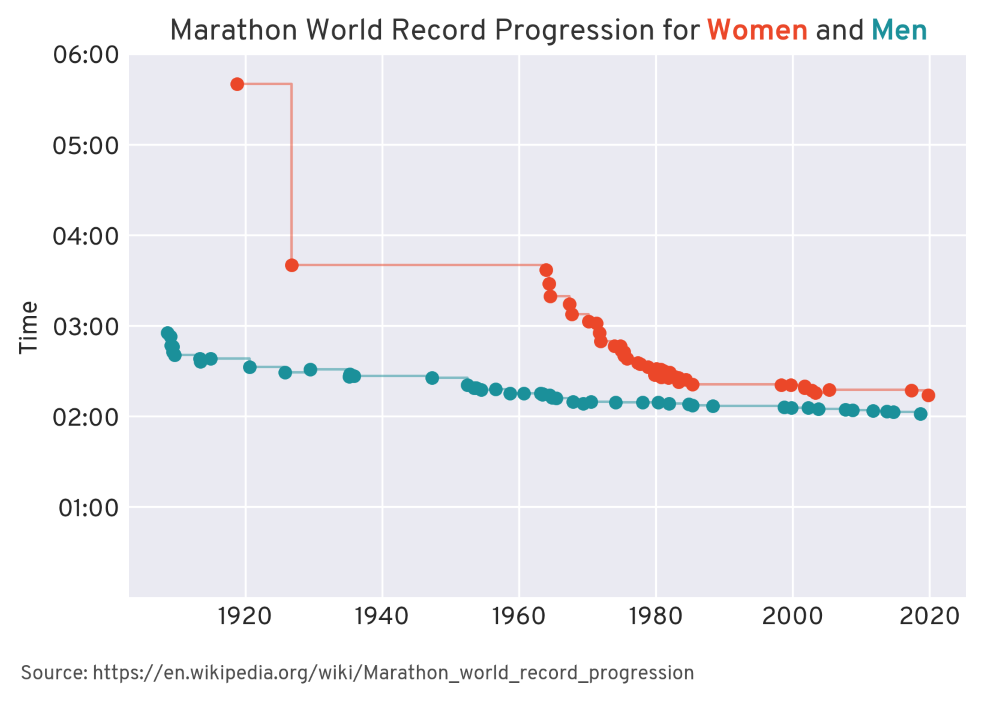 How the 40m men's hurdles world record has progressed over a similar timeframe.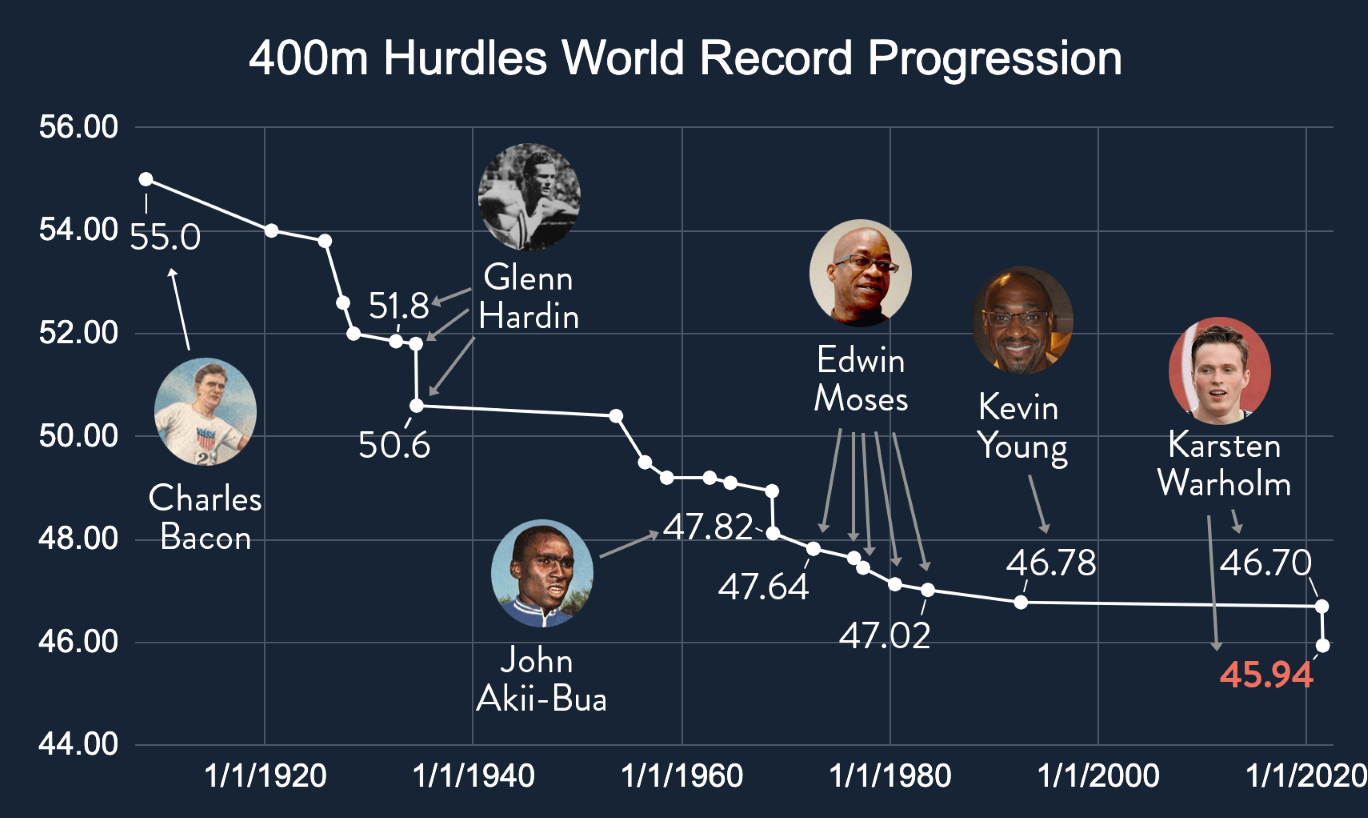 Gold medal-winning times in the Men's 100m Sprint at the Summer Olympics
Lastly a VC comparison of every games sports ball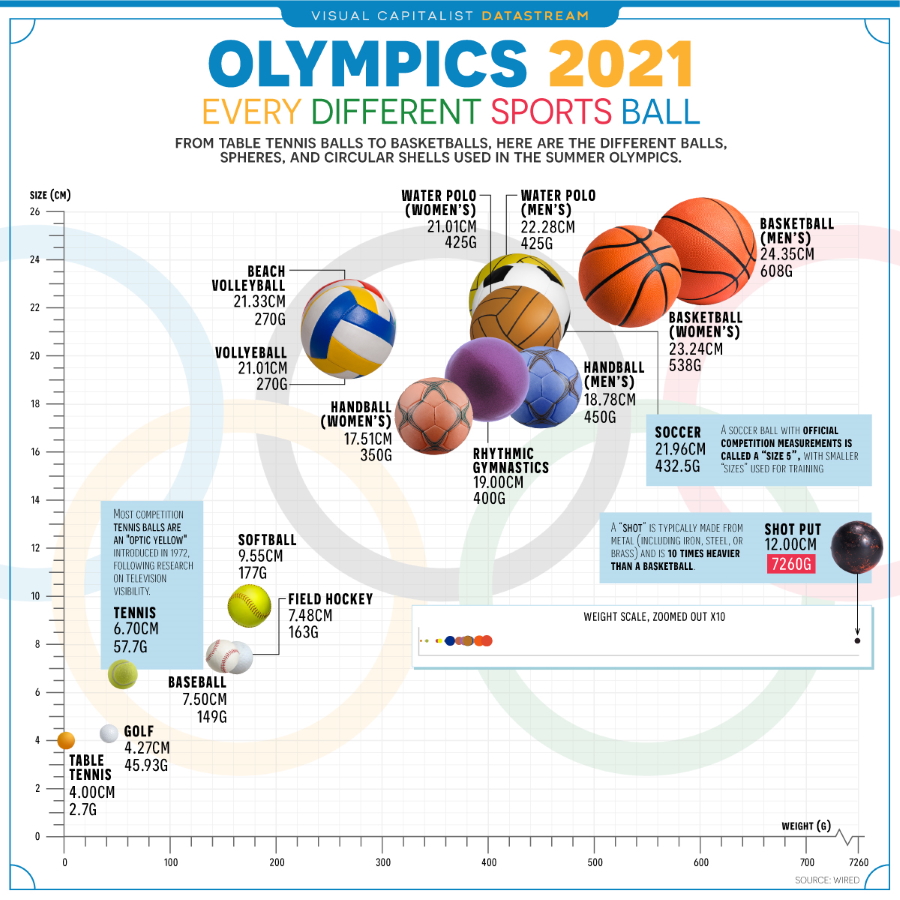 ---
🎨 Party Skies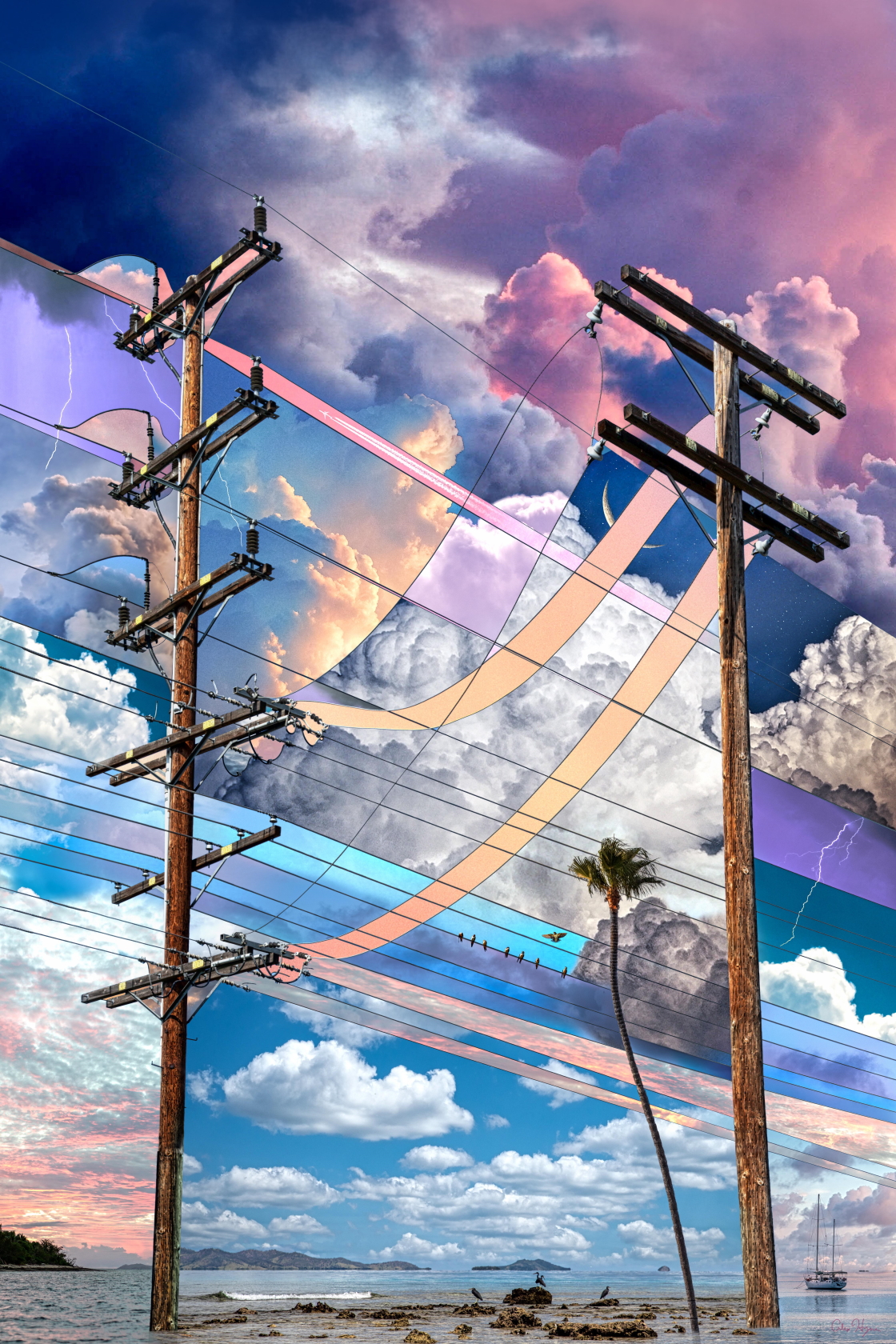 Party Skies, Alex Hyner, photography/photoshop, 2021
---
💬 Deep Cuts
"Simplicity is the hallmark of truth, but complexity continues to have a morbid attraction" — E.W. Dijkstra
---
🪑 One More Thing
Why are 4-legged chairs 🪑 more common than 3 or 5-legged chairs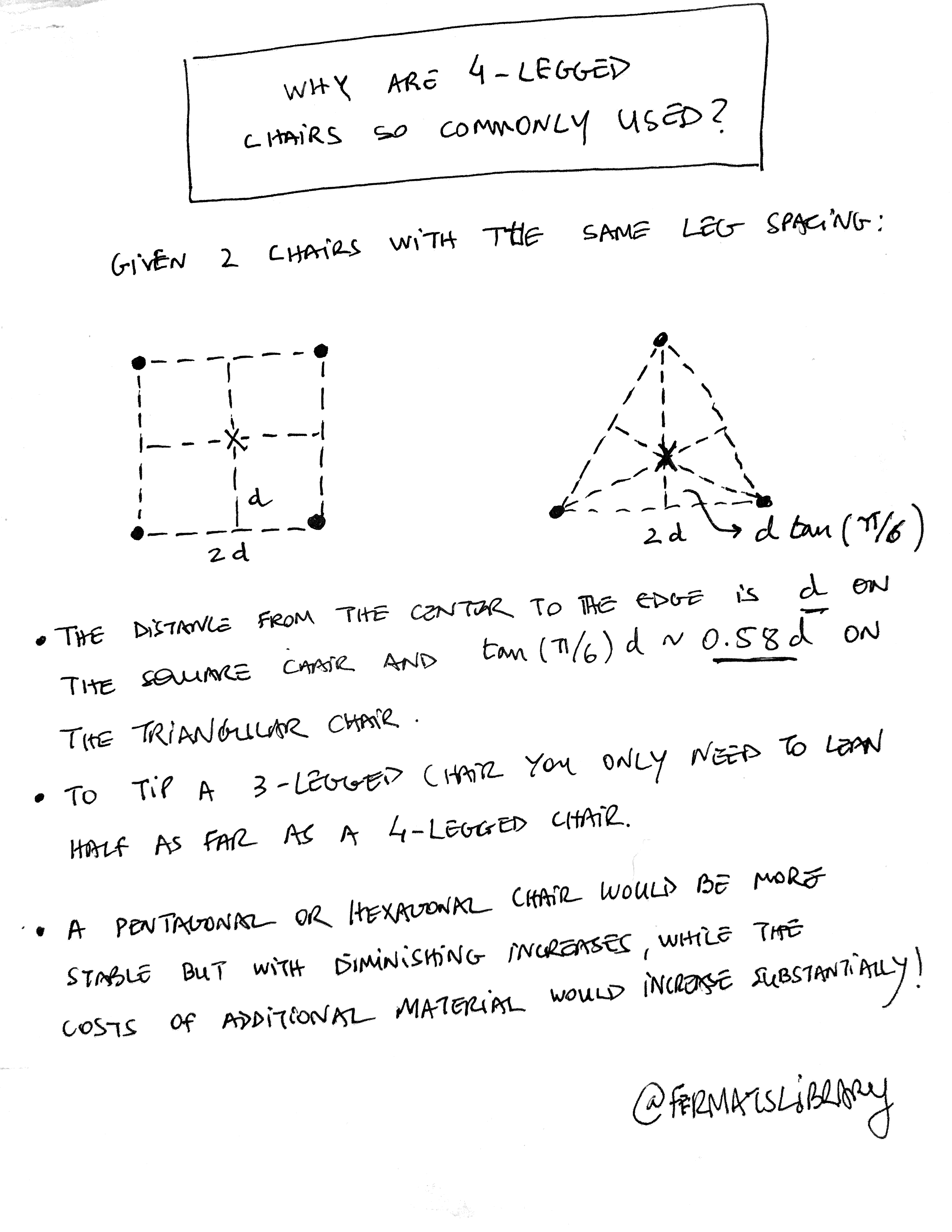 ---
📧 Get this weekly in your mailbox
---
Thanks for reading. Tune in next week. And please share with your network.
---