14 February 2021
Welcome back to the Week That Was series where we highlighting things from the interwebs which are interesting, noteworthy and/or probably worth your time.
Articles📝, Tweet(s)📱, Videos🎥, Charts 📈 all fair game with or without attendant commentary.
---
🐂🧨 Year of the Ox
It was Chinese New Year Spring Festival or the Lunar New Year this weekend which heralded the Year of the Ox - an animal that symbolises the strength and determination we'll undoubtedly draw heavily on this year.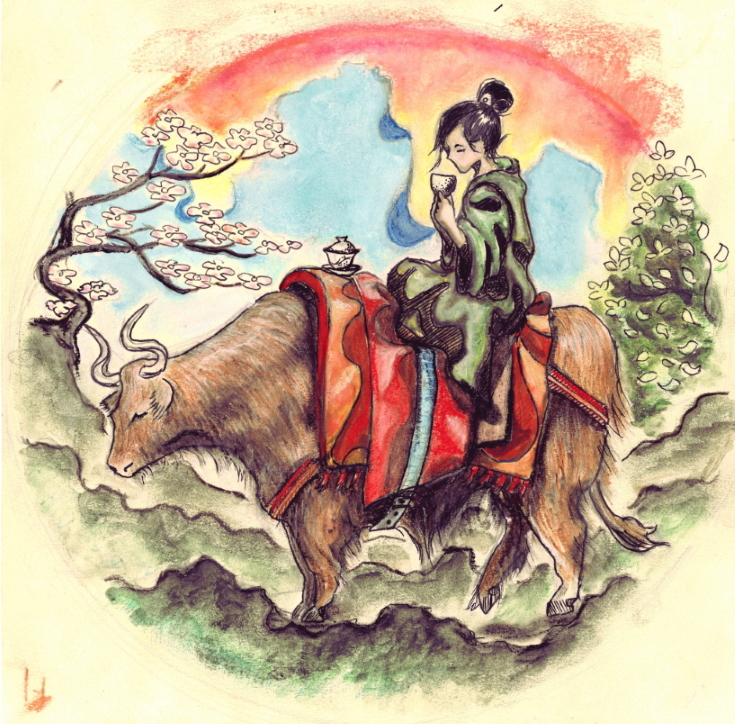 Year of the Ox, u/falafelwaffle, mixed media (pastel, watercolors, pen), 2021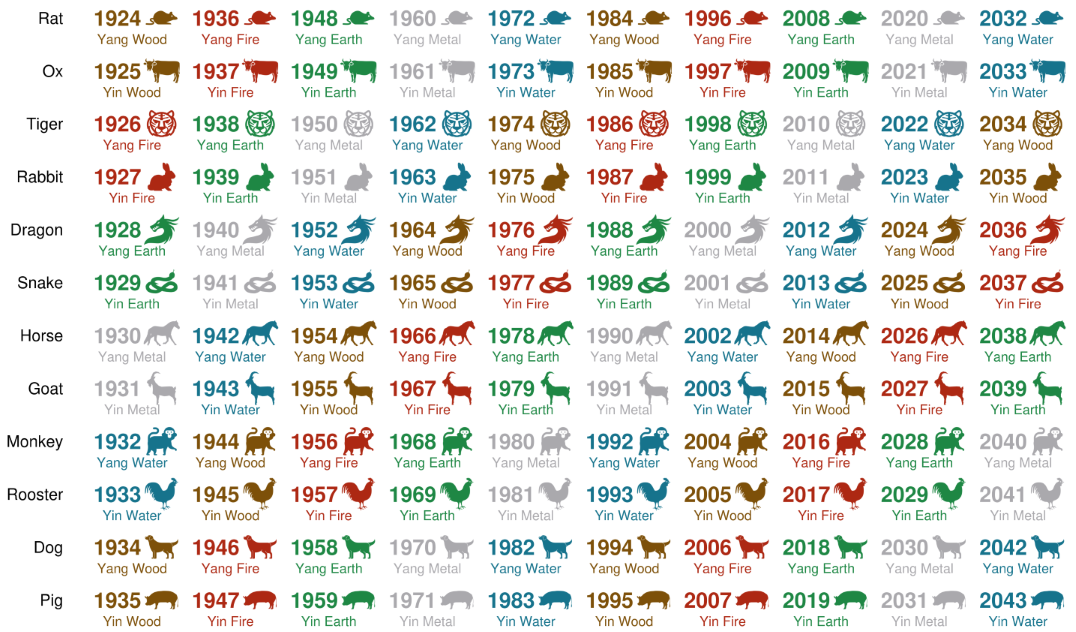 These the Chinese Zodiac elements & animals between 1924 and 2043 collated by @neilrkaye.
---
🏈🤑 Super Bowl Ads
Cost of a 30-second Super Bowl commercial by year (bananas for scale)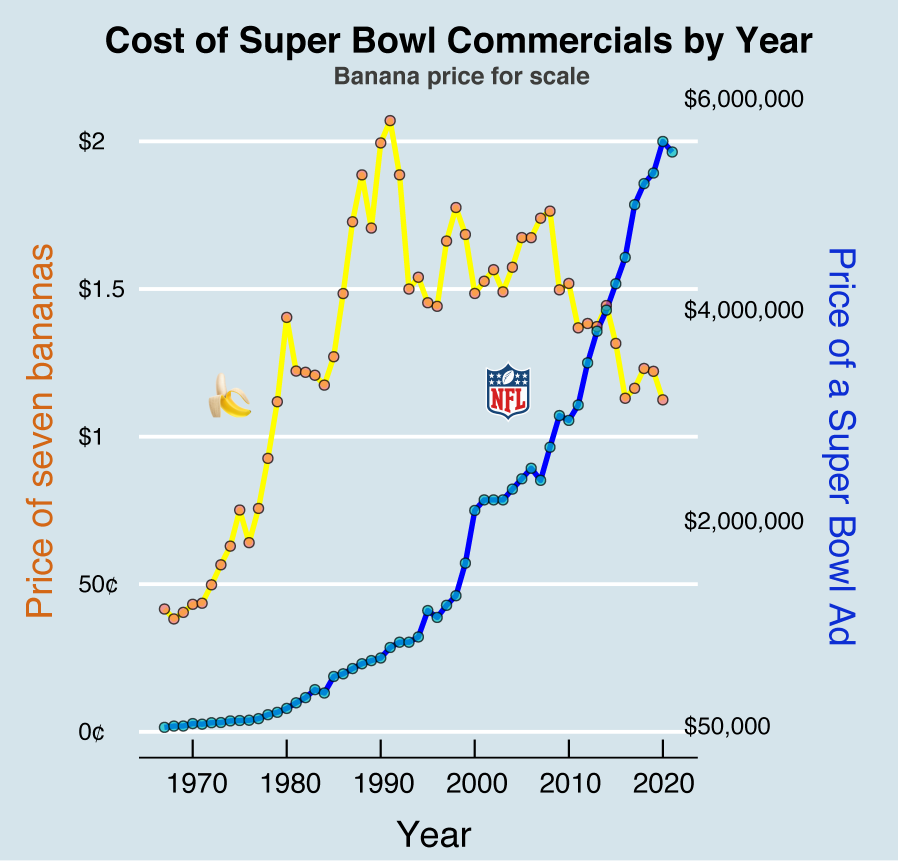 What caused the 1990 banana price spike you ask? The Guardian's 📰The banana wars explained.
Bonus reading: 🍌📝 What is a Banana Republic?
---
🧠📝 ARK Invest: 2021 Big Ideas
ICYMI, here's 📚ARK Invest's Big Ideas Report for 2021
Topics:
Deep Learning
The Re-Invention of the Data Center
Virtual Worlds
Digital Wallets
Bitcoin's Fundamentals
Bitcoin: Preparing For Institutions
Electric Vehicles (EVs)
Automation
Autonomous Ride-Hailing
Delivery Drones
Orbital Aerospace
3D Printing
Long Read Sequencing
Multi-Cancer Screening
Cell and Gene Therapy: Generation 2
Some tidbits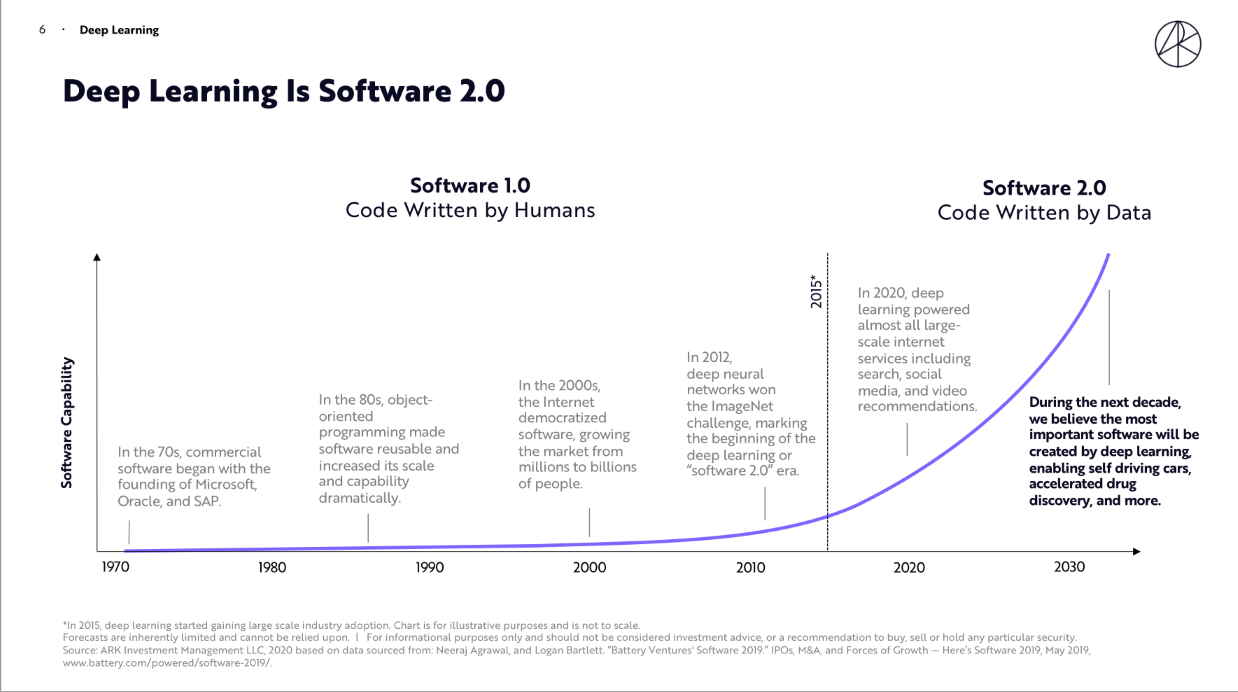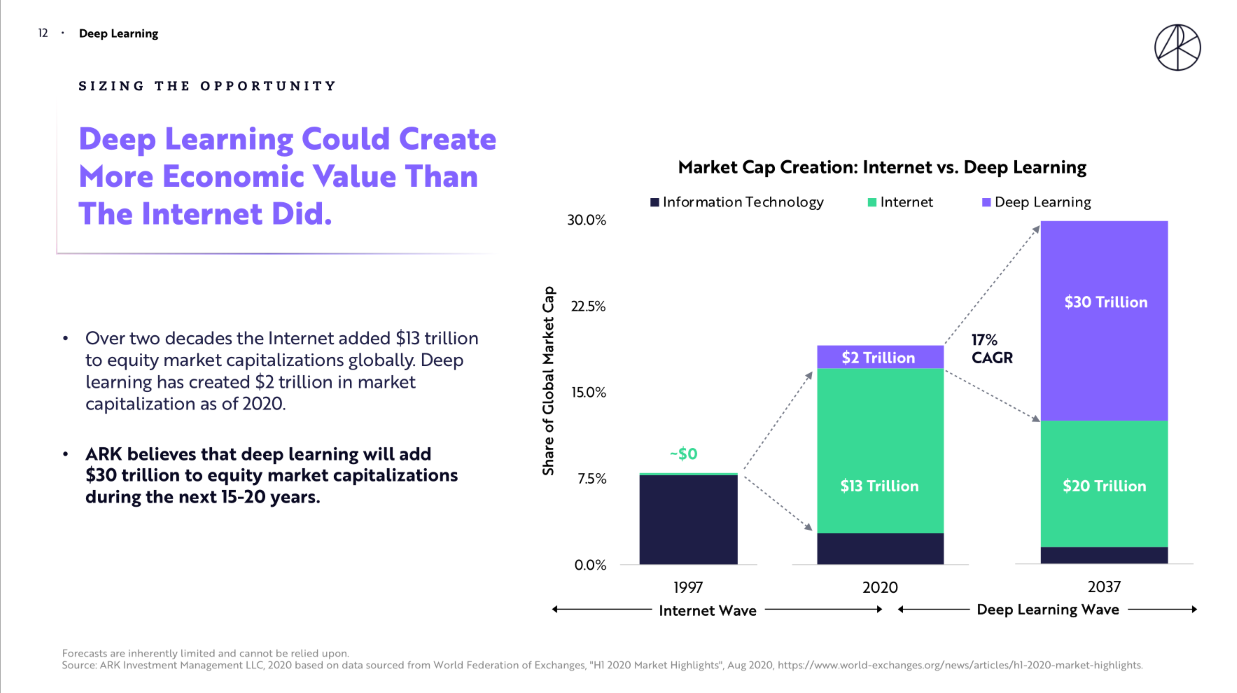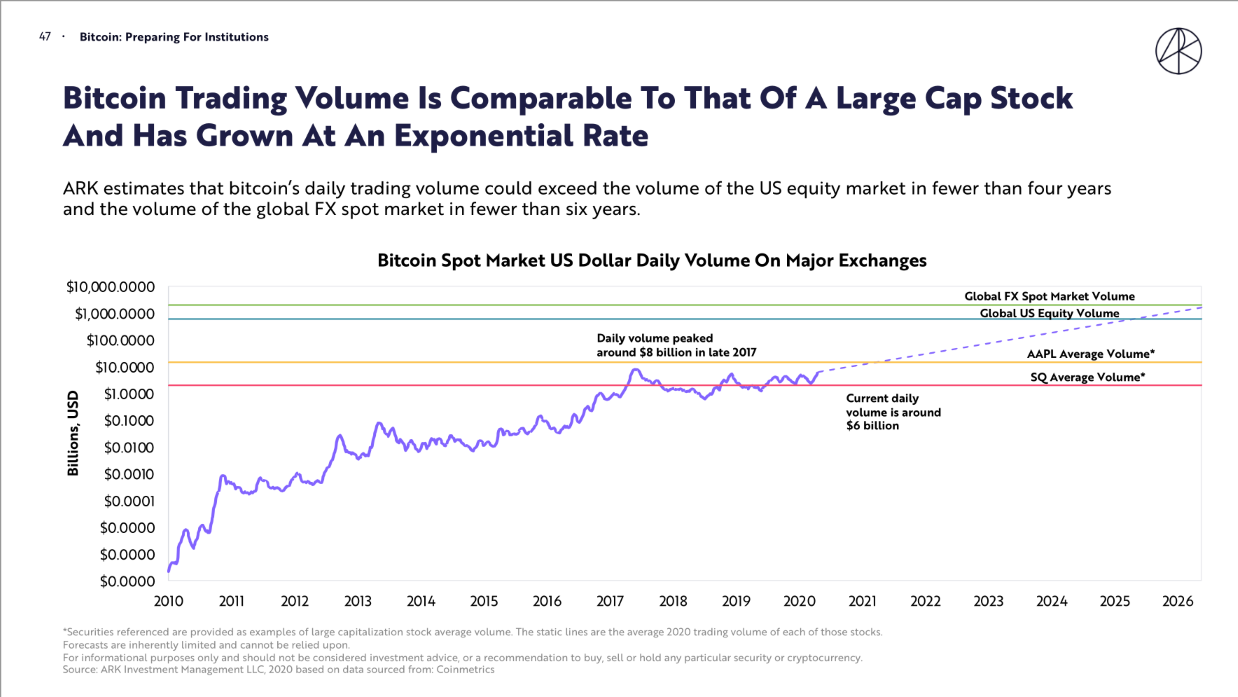 ![Ark 4](/img/ARK4.png"Ark 4")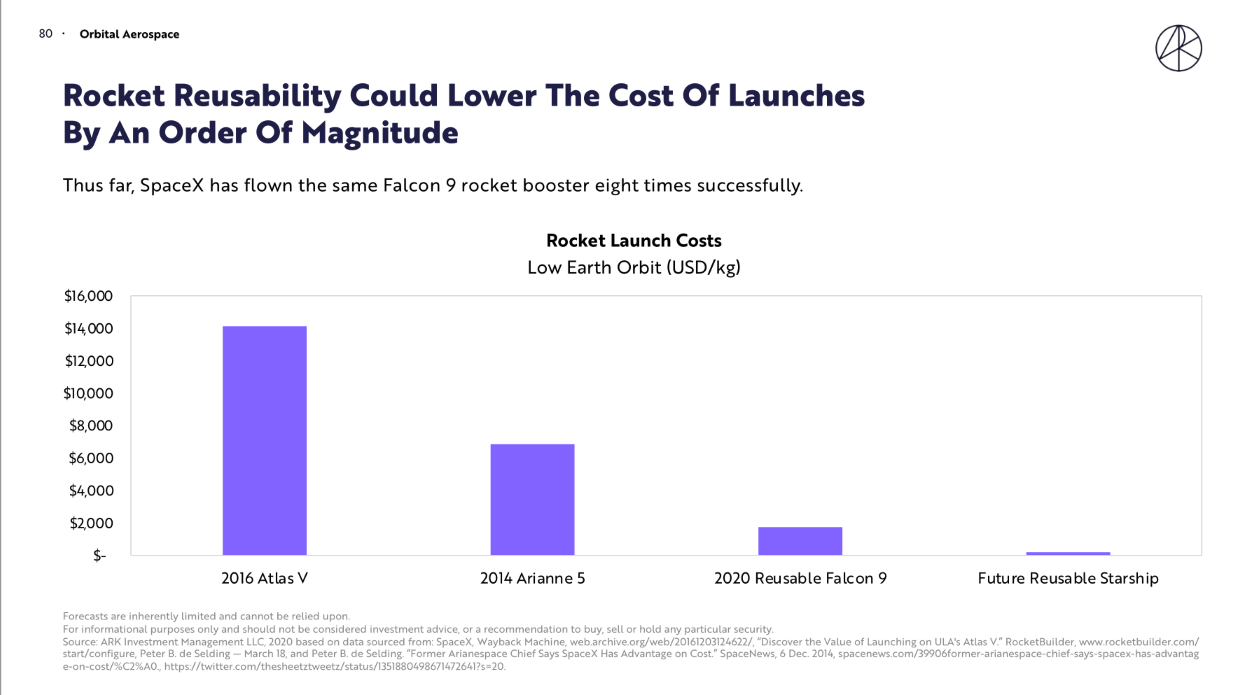 ---
🖥️🤖 Digital Transformation
James Eagle ran a quick poll on what's been driving digital transformation. Tiny sample size but squares with data in studies by McKinsey, Deloitte and KPMG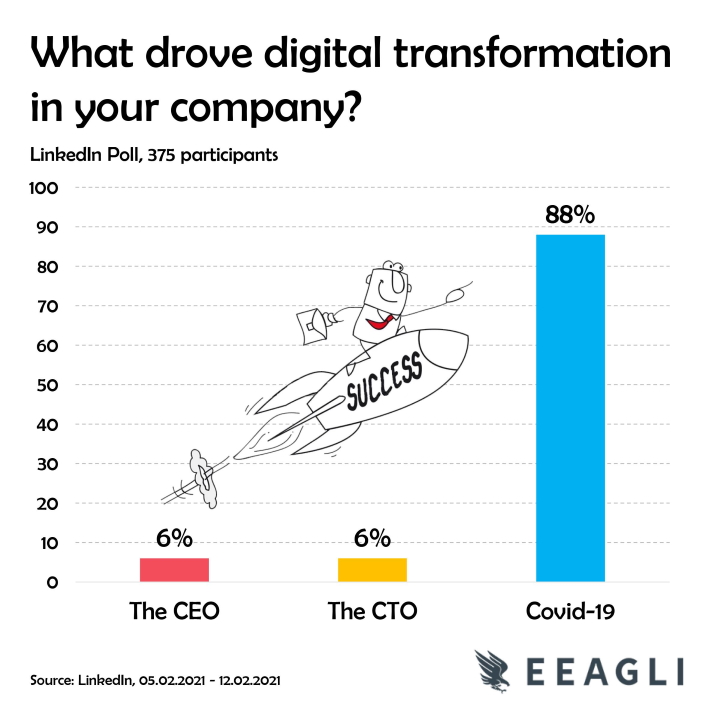 "It's not about the tech industry in its narrow sense- it's digital tech becoming much more pervasive across all industries and entrepreneurial activity getting that amplification because of software and digital tech." -Satya Nadella, Microsoft
---
🎧🤥 Music Myths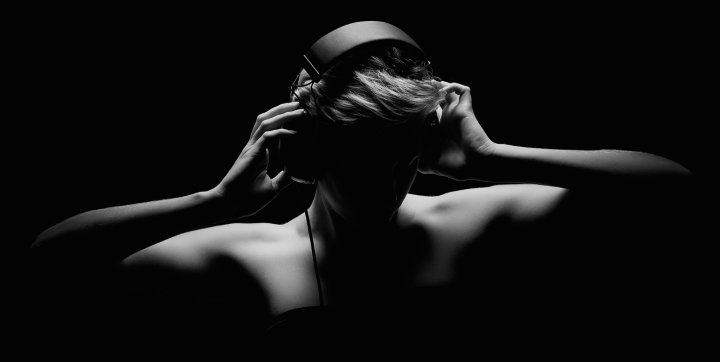 Rolling Stone's Tim Ingham unpacks what he says are 📝The Three Biggest Myths Deluding the Modern Music Business:
"This is the most lucrative time for the record industry ever, thanks to streaming."
"No new artists are making real money from streaming."
"Spotify is the world's biggest music-streaming platform."
---
🦾👩‍💻 Unreal Engine
Epic Games has announced MetaHuman Creator, a browser-based app to create stunning digital humans in less than an hour using
---
🌍₿ Continental Crypto
DW take a look at 📝Africa's quiet cryptocurrency revolution, in this article showing cryptocurrency transactions on the continent growing rapidly. With an Africa which already embraces mobile money, virtual currency offers advantages for a young, increasingly tech-savvy population.
Definitely part of the emerging market payment & cross-border thesis (outside of the institutional adoption thesis dominating the developed world).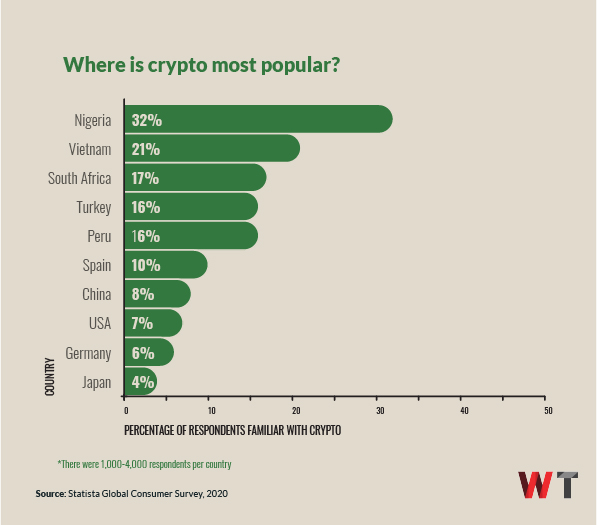 Regulations and sentiment are wildly mixed across the different regions however - a poignant example being 📝Nigeria's Central Bank attempting to nix crypto a week ago, much to the chagrin of fintech founders and users countrywide.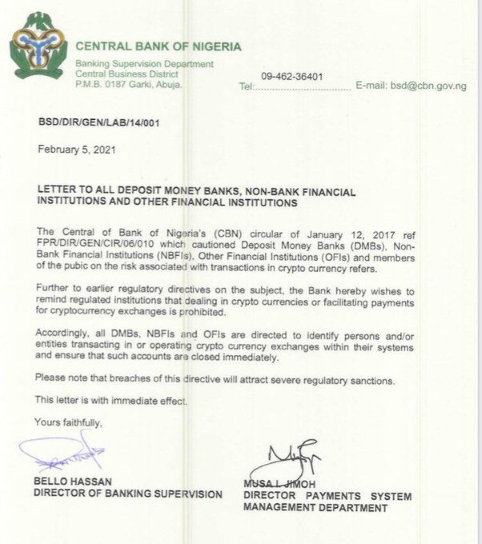 The news today is 🤯

"The technology is so strong that I don't see the kind of regulation that we can do. #Bitcoin has made our currency almost useless or valueless." - Nigerian Senator Sani Musapic.twitter.com/9in1n1PvtA

— VALR (@VALRdotcom) February 11, 2021
📖Ecobank published a report showing just how bearish most African jurisdictions still are on the idea of cryptocurrency; and to some degree digital assets more broadly.
Yet the 📚Bank of International Settlements has noted just how many Central Banks worldwide are exploring the idea of issuing Central Bank Digital Currencies.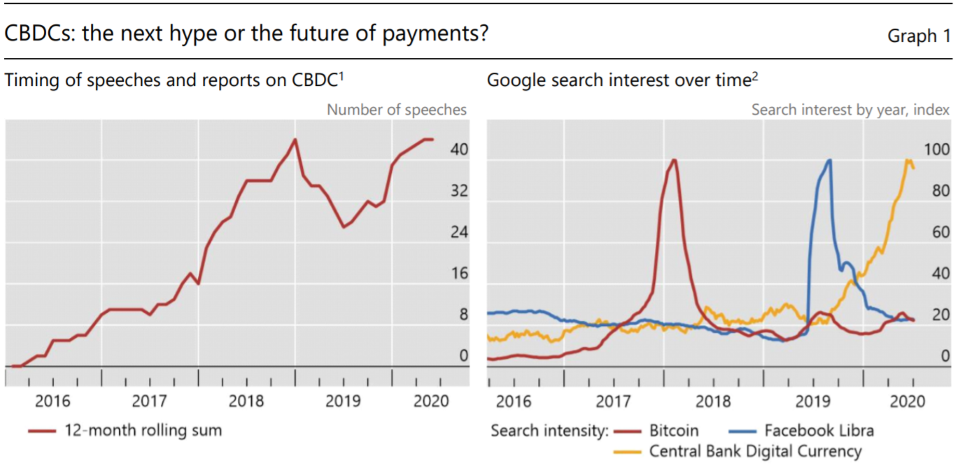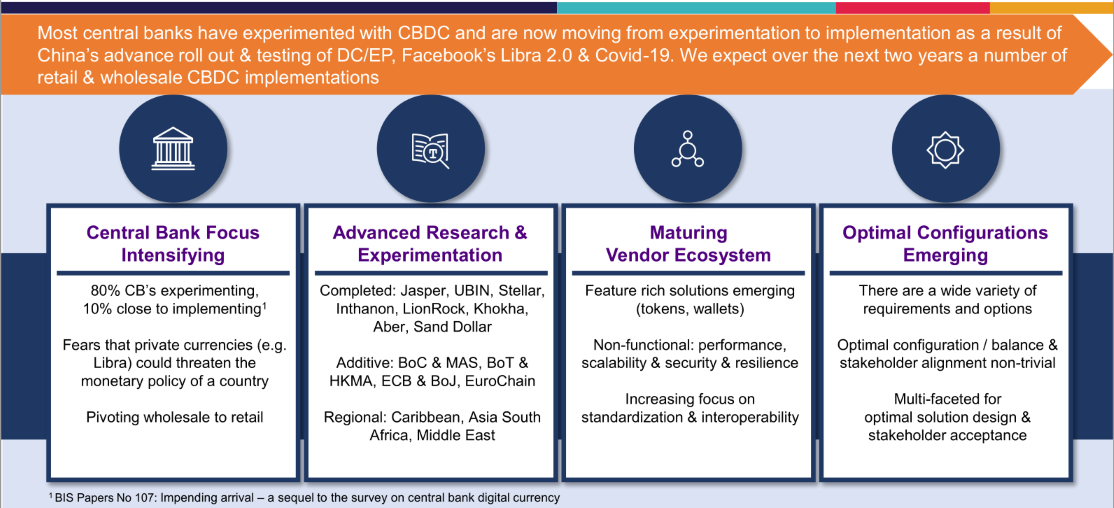 That includes the South African Reserve Bank via the Intergovernmental Fintech Working Group - which is rebooting it's previous 📝Project Khokha with a second iteration in 📝Project Khokha 2
Project Khokha 2 will issue, clear and settle debentures on distributed ledger technologies (DLT) using tokenised money in a minimum viable product (MVP) to inform policy and regulatory reflections. Industry participants will be able to purchase the debentures with a wholesale central bank-issued digital currency (wCBDC) and a wholesale digital settlement token (wToken). The wToken can be seen as a privately issued stablecoin used for interbank settlement.
With the total value locked in Decentralised Finance (DeFi) applications continuing to spike (and the Chinese Digital Yuan undergoing a successful pilot) - there seems to be little choice but to spend the time and resources exploring what natively digital money could look like for forward-thinking CBs looking to maintain continued relevance.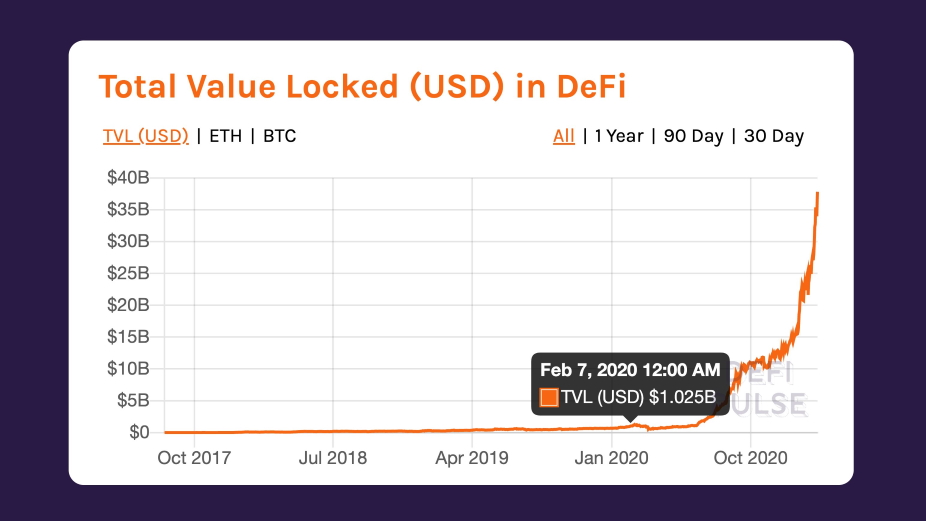 ---
🎞️🐼 Middle Kingdom
1910 in China, remastered, upscaled & colourised
---
💉🦠🧼🖐💦⚕ Greenzone
📊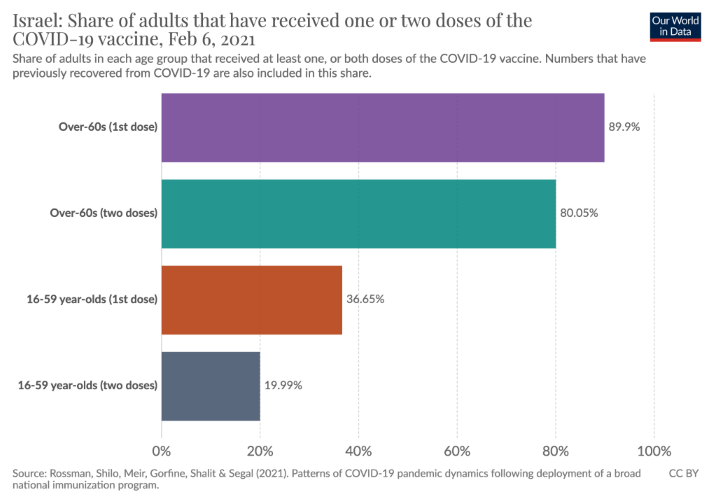 As previously noted, the Israel vaccine stats continue to lead the global charge, and thus give us a real-world opportunity to see the effect at a population level.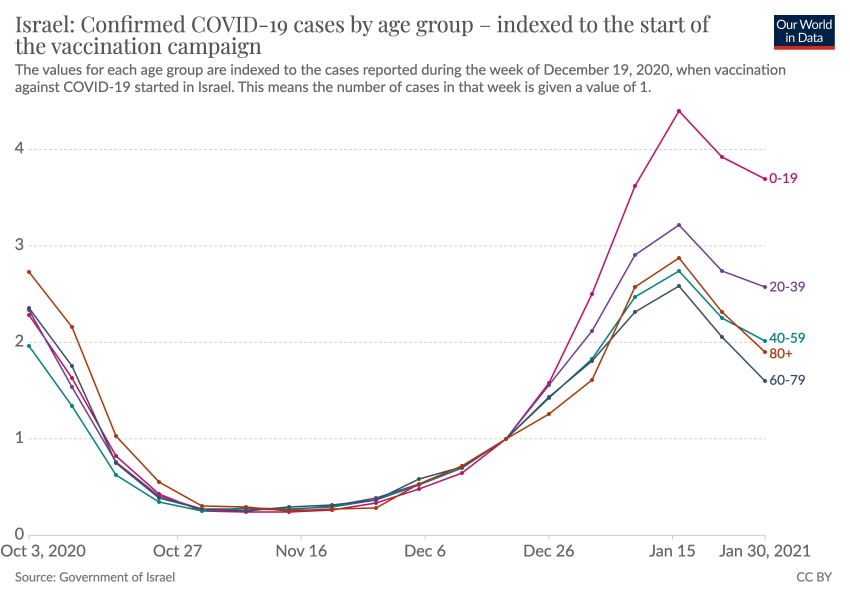 The stats, as early as they are, are certainly encouraging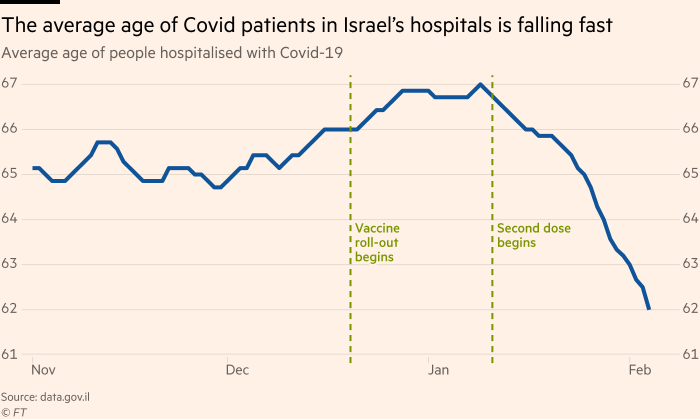 💉
Large-scale rollouts remain one of the key political questions in 2021; here Nate "528" Silver notes the required pace in the US.
Maybe instead of shots per day, it's also worth thinking about TIME: how long it would take to vaccinate the country. Here's a little conversion table for that, assuming you want to vaccinate 80% of the US population including children. pic.twitter.com/OkeDlDknMq

— Nate Silver (@NateSilver538) January 30, 2021
Meanwhile per NYT, "Scientists are working on a shot that could protect against Covid-19, its variants, certain seasonal colds — and the next coronavirus pandemic."
📰Could a Single Vaccine Work Against All Coronaviruses?
🎨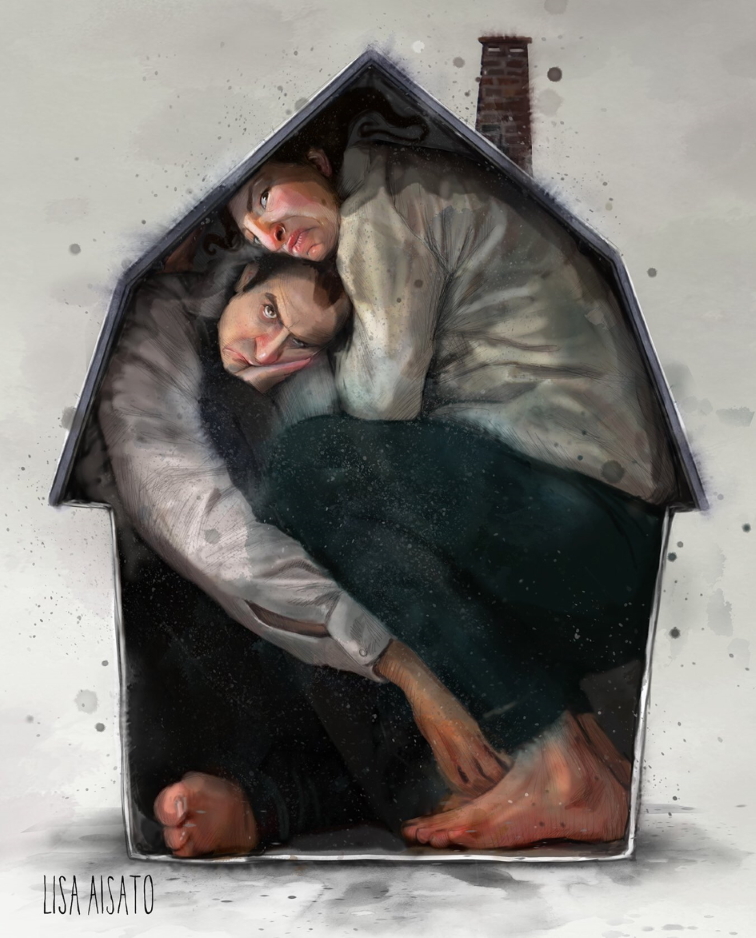 Love in Quarantine, Lisa Aisato, Digital, 2020.
---
💌💭 Quotes
"Be honest, frank and fearless and get some grasp of the real values of life… Read some good, heavy, serious books just for discipline: Take yourself in hand and master yourself."
― W.E.B. Du Bois
Sociologist and civil rights pioneer W.E.B. Du Bois (February 23, 1868–August 27, 1963) was the first African American person to receive a doctorate from Harvard — an achievement that both reflected and affirmed his faith in the life-changing power of education.
The quote is from 📜a letter to his daughter
---
🎨🧘🏽🌳 The Meditator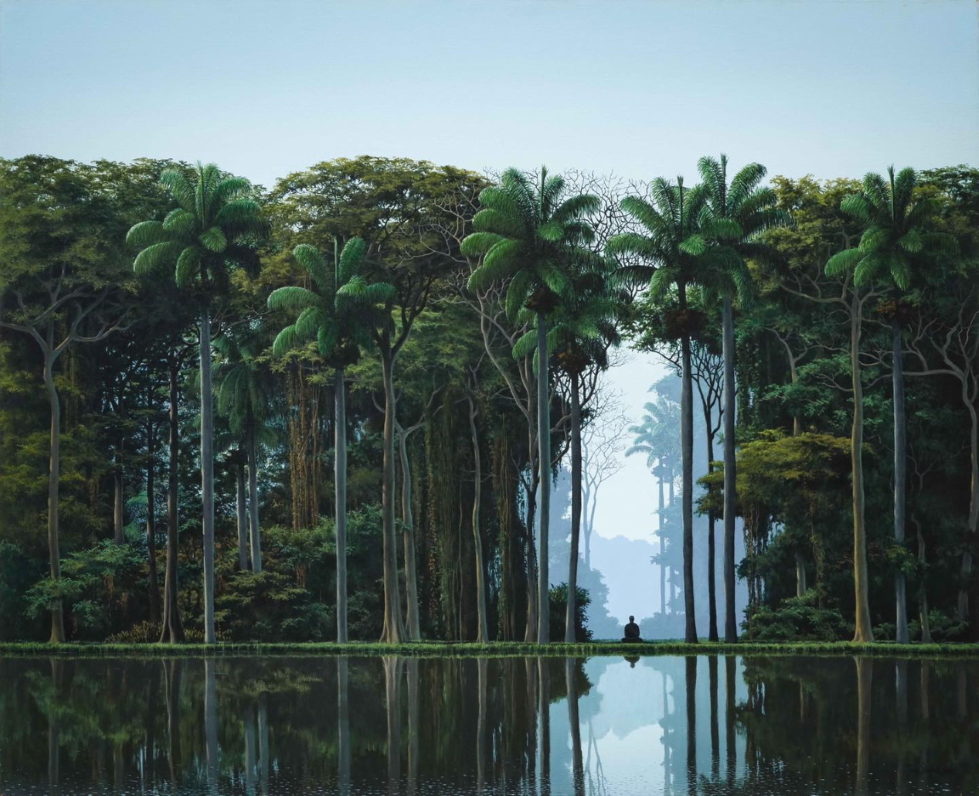 Meditador , Tomás Sánchez, acrylic on canvas, 1995
Spotted this piece and many other fantastic foliage works in Jacob Geller's "A Thousand Ways of Seeing a Forest" youtube video - where he looks at (of all things) trees in video games, and somehow centres the study on a Wang Wei poem.
📹 (30 min)
---
🕷️🌻 Oh…and one more thing
Photo this user took last week. If you zoom in, you can see the flower behind the web in each dew drop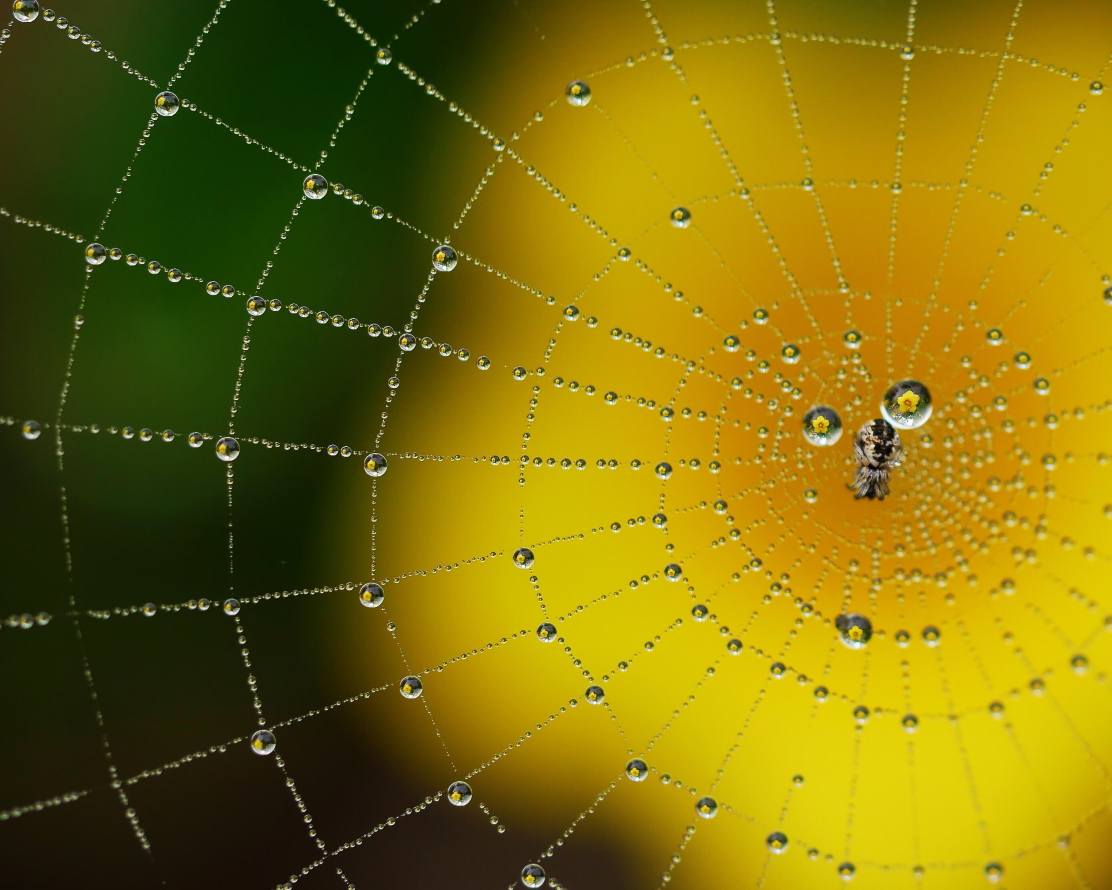 ---
📧 Get this weekly in your mailbox
---
Thanks for reading. Tune in next week. And please share with your network.
---