31 January 2021
Welcome back to the Week That Was series where we highlighting things from the interwebs which are interesting, noteworthy and/or probably worth your time.
Articles📝, Tweet(s)📱, Videos🎥, Charts 📈 all fair game with or without attendant commentary.
---
💎🖐️📈 Game Stonks
In light of recent Gamestoppy shenanigans, this 2018 NYC protest art by Banksy is trending again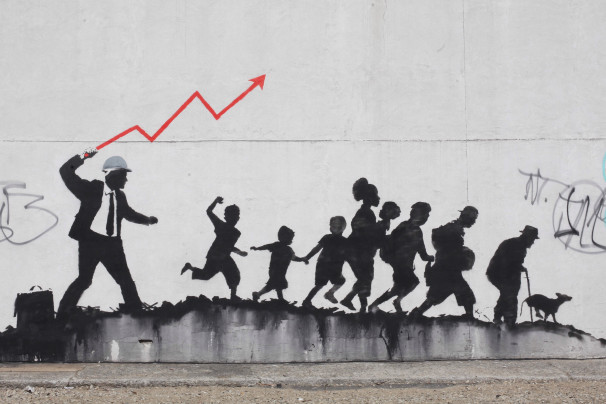 You've probably already been completely inundated with Gamestop short-squeeze takes so I'll avoid pontification. A few updates and tidbits follow below however, although I'd like to draw your attention to a short segment from 🎧Hidden Forces Podcast's Demetri Kofinas, where he highlights the increasingly divergent market behaviour of Millenials versus Boomers & GenXers.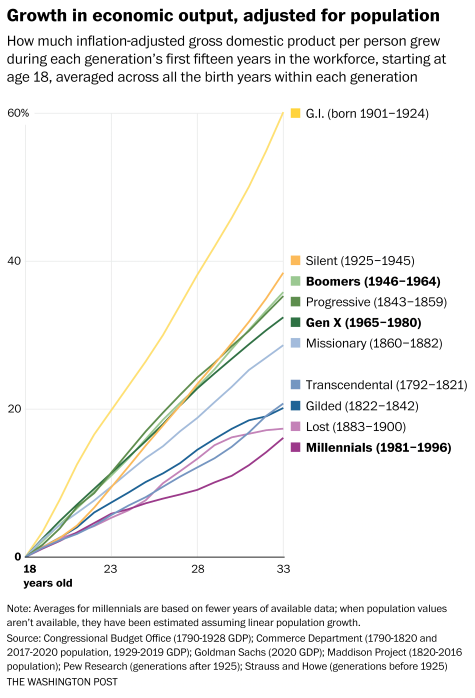 The material differences between this generation and previous ones 📰are truly stark, particularly having lived through 2001, 2008 and now the covid-19 crisis. The attraction to cryptocurrencies and deep institutional distrust evidenced again in the unfolding Gamestop saga are not isolated events; they are evidence of a deepening generational divide which will have continued consequences over the next few decades.
🎧
Minutes 5-8 are the relevant ones here
Brief reminder of what happened and the mechanics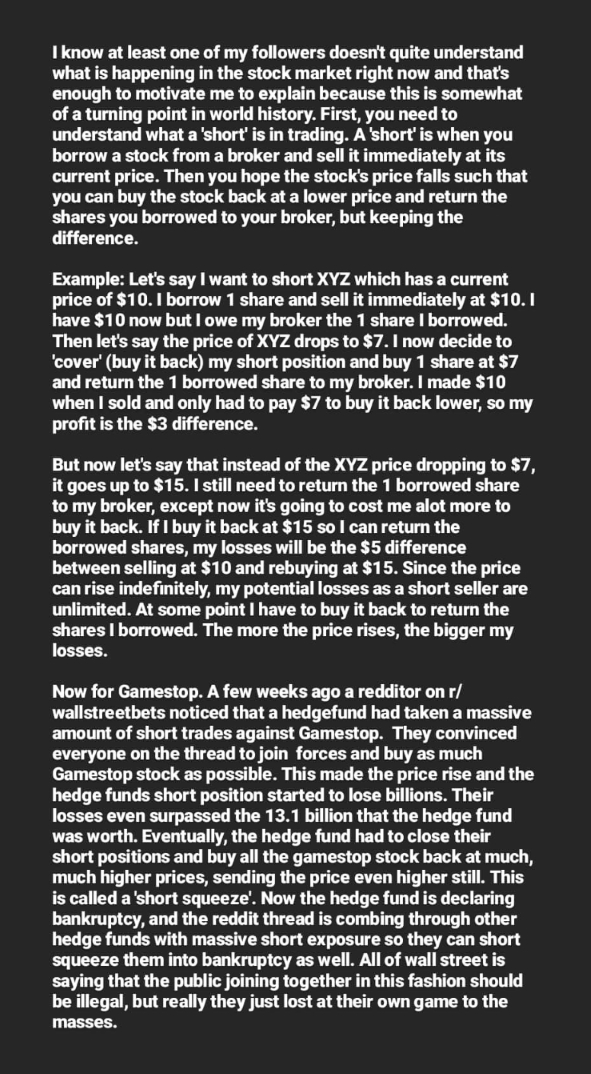 Given his substantial $4 dollar per share $GME purchase way back in April 2020, Michael "Big Short" Burry ended up making away with at least a cool 1,500% return on the investment.
Of course he didn't lead the merry band of Reddit brothers, that honour fell to Keith Gill, also known as u/DeepF-ingValue on the message board. 🔐WSJ profiled him here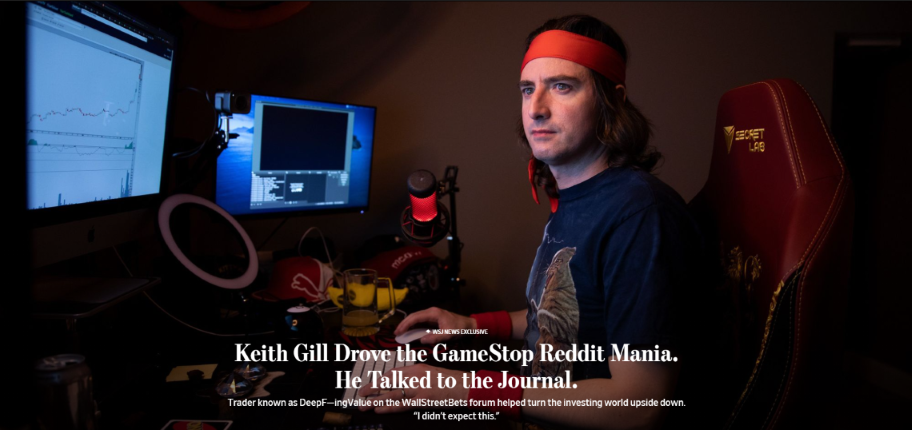 His crusade has been profitable… VERY profitable (In total he turned $50k into $40m - so far 😮)

Bad news for the Hedge Fund Melvin Capital which lost 🔐📰53% in January, needing a $2,25Bn cash injection to stem the heavy bleeding (and stay solvent).
Also very bad news for Robinhood who, for various settlement and margin call reasons, had to start restricting trade on various meme stocks, including Gamestop.
The backlash has been… vociferous to say the least. Their app is currently rated one-star

Gamestop joined the pile-on, quoting this resurfaced 2016 tweet in keeping with their name and (then) ethos
https://t.co/AreM4goHg0 pic.twitter.com/CAoeOLKMgB

— GameSpot (@GameSpot) January 28, 2021
The EPIC value traded had Gamestop at #1 traded value in the US market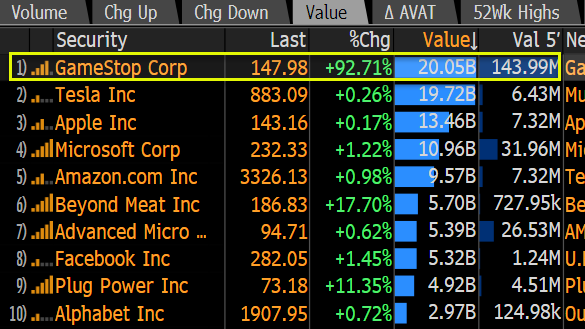 And the meme stock real-world consequences didn't end there - with AMC having been part of the heavily-shorted set of stocks targeted by r/Wallstreetbets, the covid-19-hit cinema chain appears to have just about staved off bankruptcy for this year.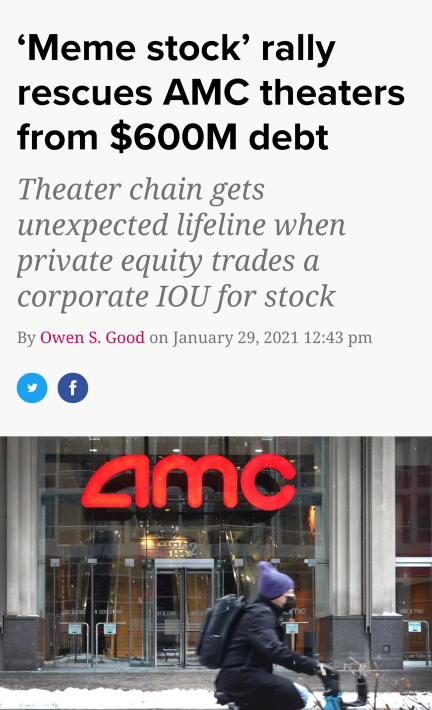 Truly extraordinary times as explored in 📝this writeup by Eliezer Yudkowsky on the unprecedented nature of what the message board is attempting. 📝James Catherwood invokes the Piggly Wiggly short squeeze in a historical lookback at similar underdog speculation.
Who knows what happens next but the meme army appears to have diamond hands and not about ready to quit - irrespective of the potential for catastrophic losses.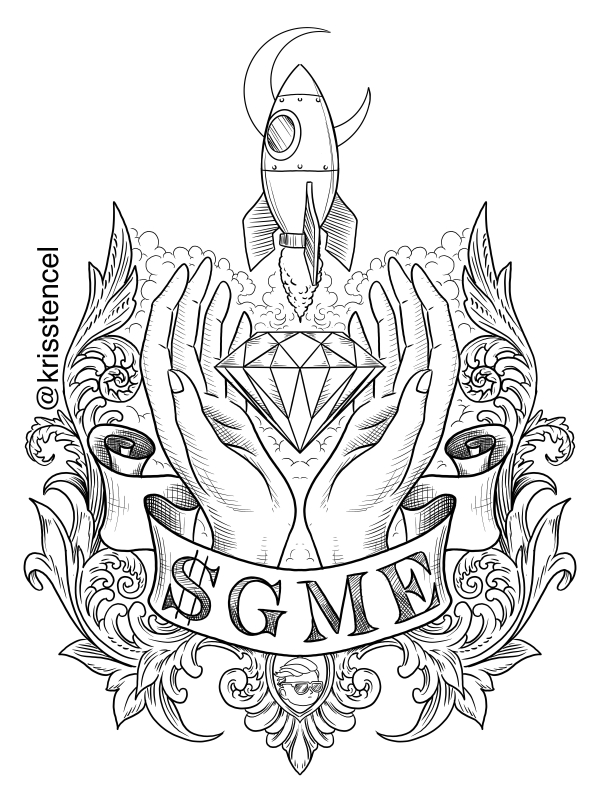 ---
🤖💃 Boston Dynamics
You've probably already seen Boston Dynamic's cute yet ever-so-slightly-creepy dancing robot video released late in December 2020.
What you may not be aware of is that it took the Boston Dynamics team a year and a half to choreograph and produce the viral content.
🤖 Boston Dynamics spent a year and a half choreographing that viral video of their robots doing the mashed potatoes.

Here's how they did it https://t.co/cuWkaf4K4I (Video via @quicktake) pic.twitter.com/CuW8cjhOtg

— Bloomberg (@business) January 25, 2021
Hyundai 📰took control of the robot maker in a $1,1Bn deal early in December 2020, from Masayoshi Son's Softbank.
---
🔀💴 DeFi Landscape
Decentralised Finance hit it's stride in 2020 with a number of projects maturing, interoperability truly coming to the fore and commensurate spikes in token prices.
A good graphic lifted from Coinbureau's twitter feed of the Ethereum ecosystem scope.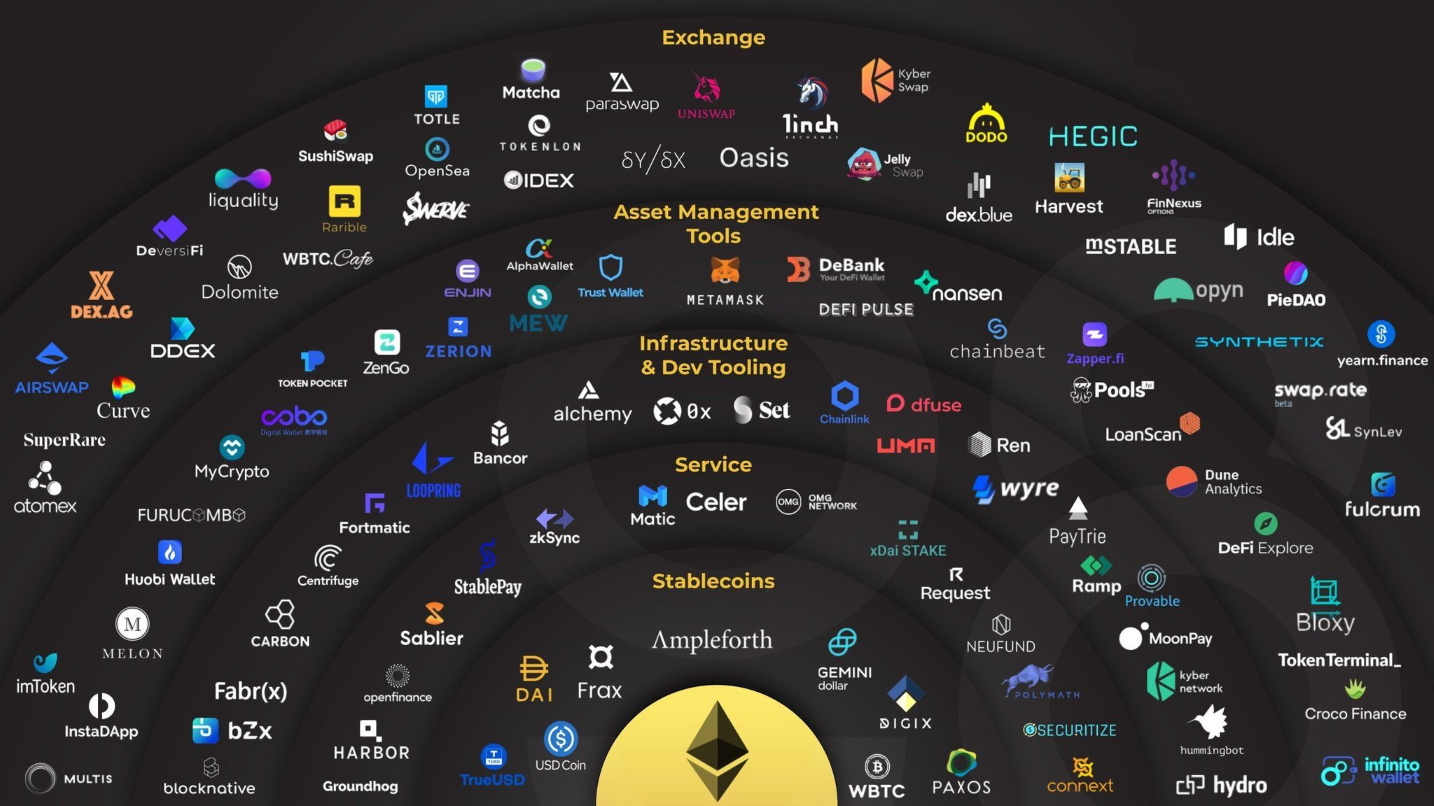 The maturation is not going unnoticed, with the Korean Government Ministry of Science 📘publishing 200+pages report on DeFi.
If you're a Korean Speaker or have a link summarising the report's key points please reach out to me - I haven't managed to track one down as yet.
---
⚜️🔤 Sans Serif Invasion

Radek Sienkiewicz from 📝VelvetShark laments the Sans Serification of logos worldwide, particularly in Tech & Fashion.
There is a trend in logo design that started around 2017-2018. It's as if many companies decided that being unique was a handicap and that it was better to be like everyone else. Or at least, that's how it feels to me. The trend started with fashion logos. Many iconic fashion companies ditched their recognizable logos and switched to a bland and very similar version of a sans serif font. The technology sector followed soon after.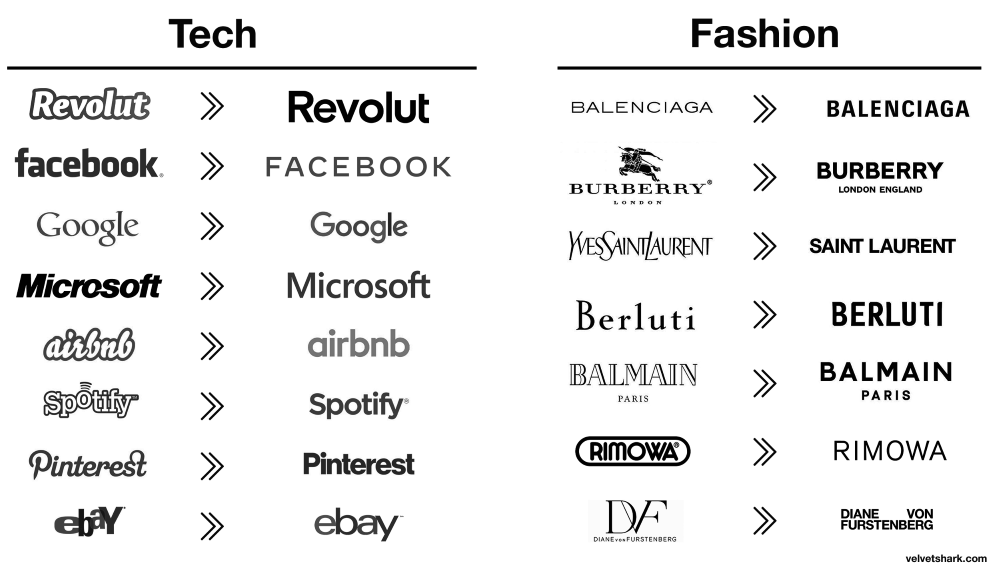 ---
😇🙏 Patron Saint
From Reddit, "Patron saint of women who don't want to talk to you on public transit"
aka
Saint Catherine of Leavemealonis.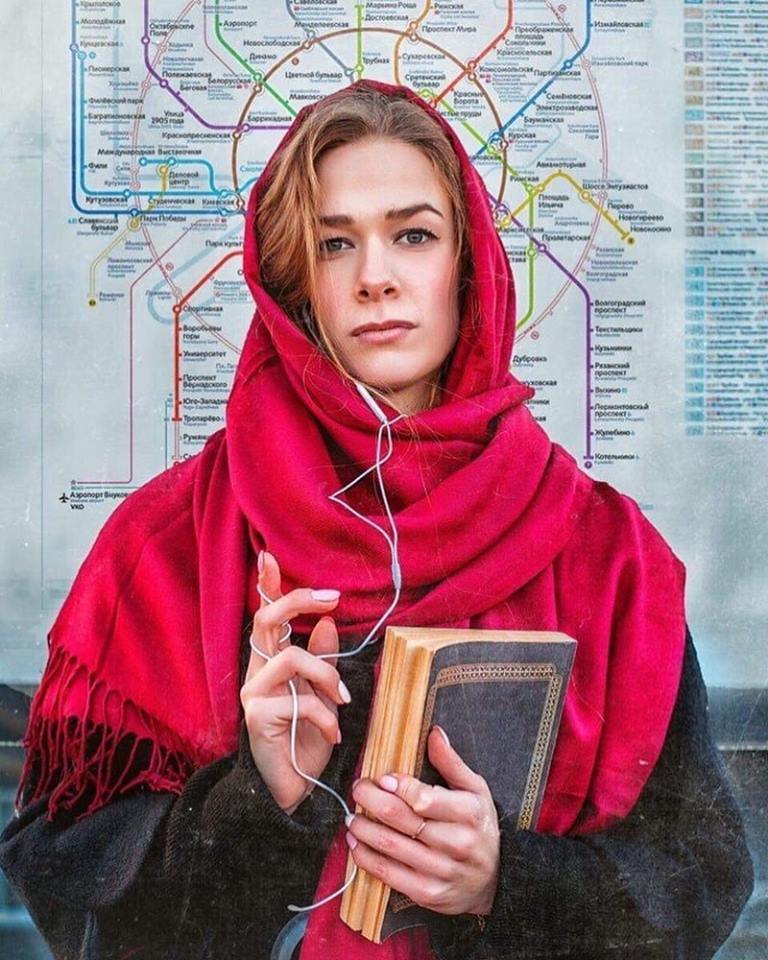 ---
🐻 BannerBear

Bannerbear hit $10,000 monthly recurring revenue recently and decided to detail their journey from bootstrapping the startup to reaching this milestone.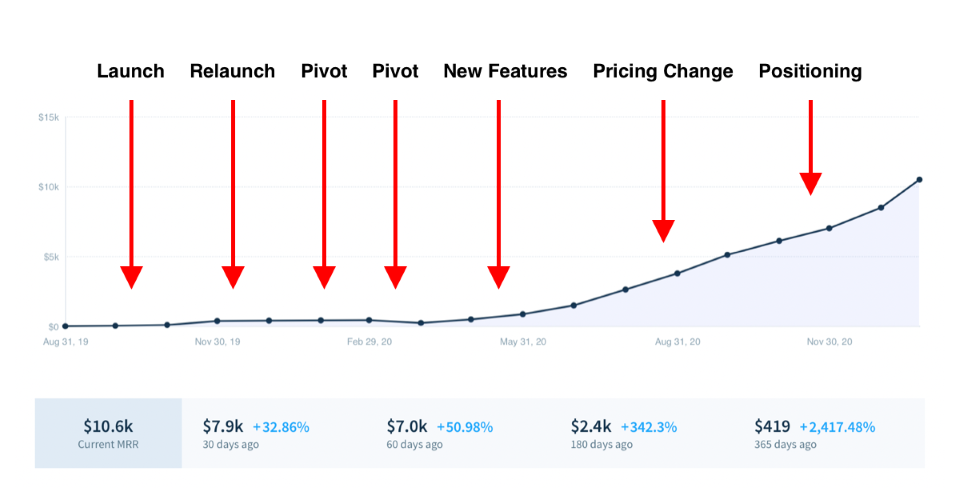 📝A Bootstrapped SaaS Journey to 10K MRR
---
📊 Ergodicity
If you've read Nassim Nicholas Taleb's 📚Incerto series, you'll be familiar with the concept of ergodicity.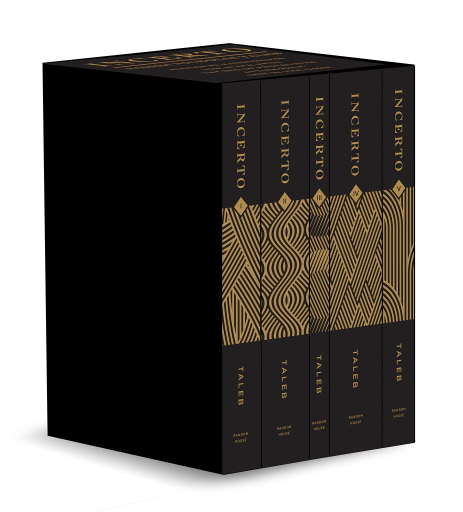 The neurabites blog relooks at the concept in 📝Ergodicity: the most over-looked assumption.
TL;DR:
Here's the game. Flip a coin. You win 50% of your net worth on heads, but only lose 40% on tails. How many times should you play?
Despite the apparently favourable odds, chances are you'll eventually go bust. Why?
This is because of the path-dependency of time. Because of the fallacious ergodicity assumption.
Ergodicity is when the ensemble-average equals the time-average. For instance, when 10 people doing something once produces the same result as 1 person doing it 10 times.
Essentially, ergodicity lets you conveniently convert time into a space equivalent.
For non-ergodic systems, the aggregate's performance is a misleading indicator of individual performance. As a whole, the average might look like it's winning, despite majority of individuals losing.
The Kelly criterion allows us to optimize our bet size to maximize long-term winnings.
While most financial systems are non-ergodic, the foundations of classical economic theory rests on fallacious ergodic assumptions – from DCF valuations to the way we measure GDP growth.
Putting these ergodicity concepts to practical use, I've now increased the weighting I give to non-recoverable risks.
---
💉🦠🧼🖐💦⚕ Greenzone
🤧
The number of people suffering from flu has plunged by 95% to levels not seen in more than 130 years, 📰per The Times.
A predictable phenomenon given wholesale societal behaviour changes which have dramatically curtailed vectors for aerosol-spread disease.
Social distancing etc has brought flu cases to almost zero so:

1. Stop listening to idiots who say lockdowns don't work on respiratory viruses

2. You need no more evidence that SARS Cov 2 spreads far more easily than flu https://t.co/Fe3BVDuoAT

— Vishal Gulati (I back scientists) (@VishalGulati_) January 31, 2021
💉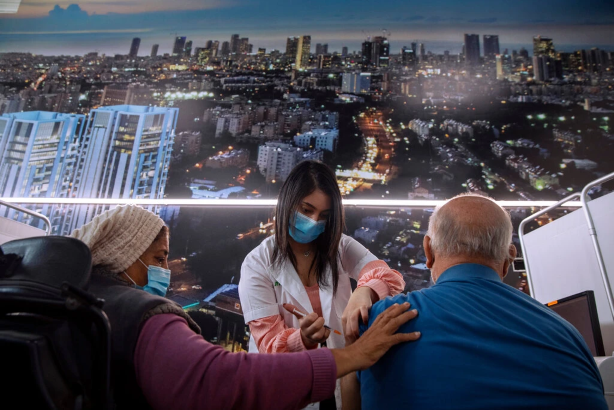 With Israel by far outstripping other nations in vaccine propagation (and aiming to have the majority of it's nation vaccinated 📰by April) the world is provided the opportunity to scrutinise real-world infection data with the small nation as study group.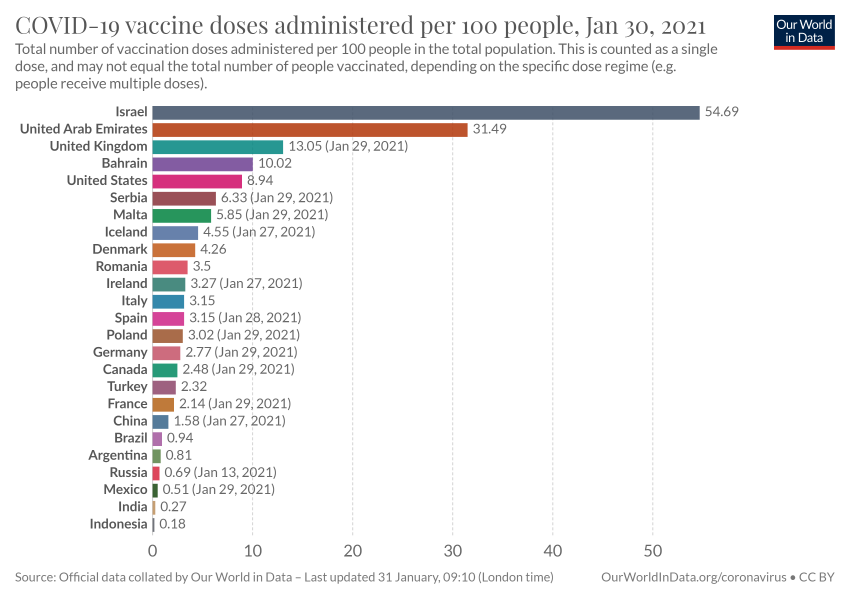 The good news is that initial studies show 📝a significant drop in infections and hospitalizations after just one dose, and very few cases after two. That said caution is being recommended by epidemiologists - given results are preliminary.
📻🏫
Kids remote learning during a polio outbreak in the 1940s. Teachers read lessons over the radio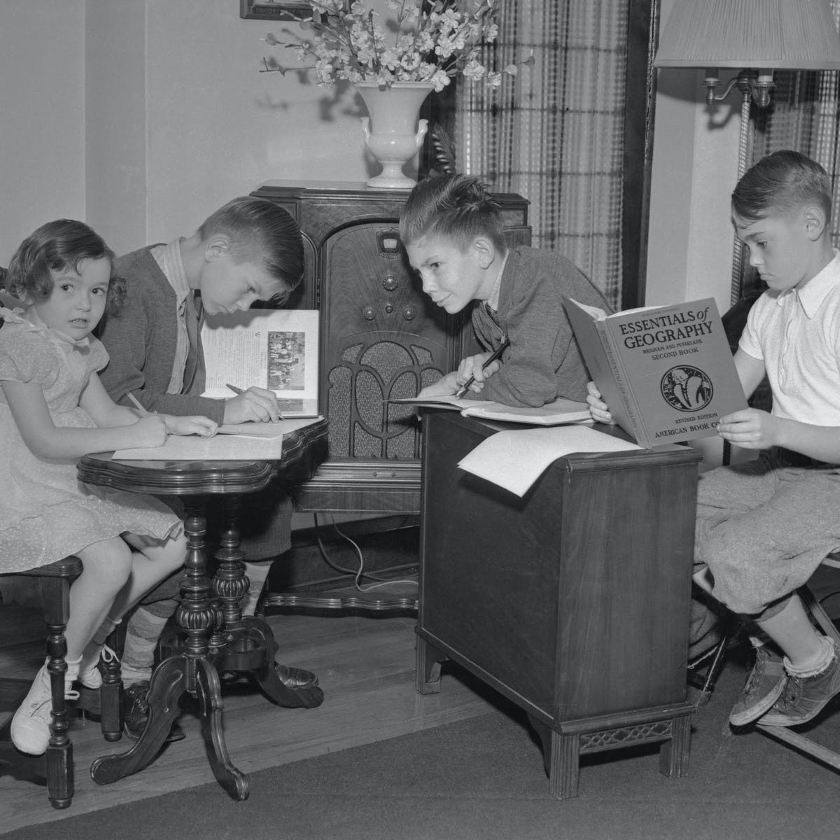 📝Remote learning isn't new: Radio instruction in the 1937 polio epidemic
---
💬💭 Quotes
"Things need not have happened to be true. Tales and dreams are the shadow-truths that will endure when mere facts are dust and ashes, and forgot." ― Neil Gaiman, Dream Country
---
🎨 Inside Beauty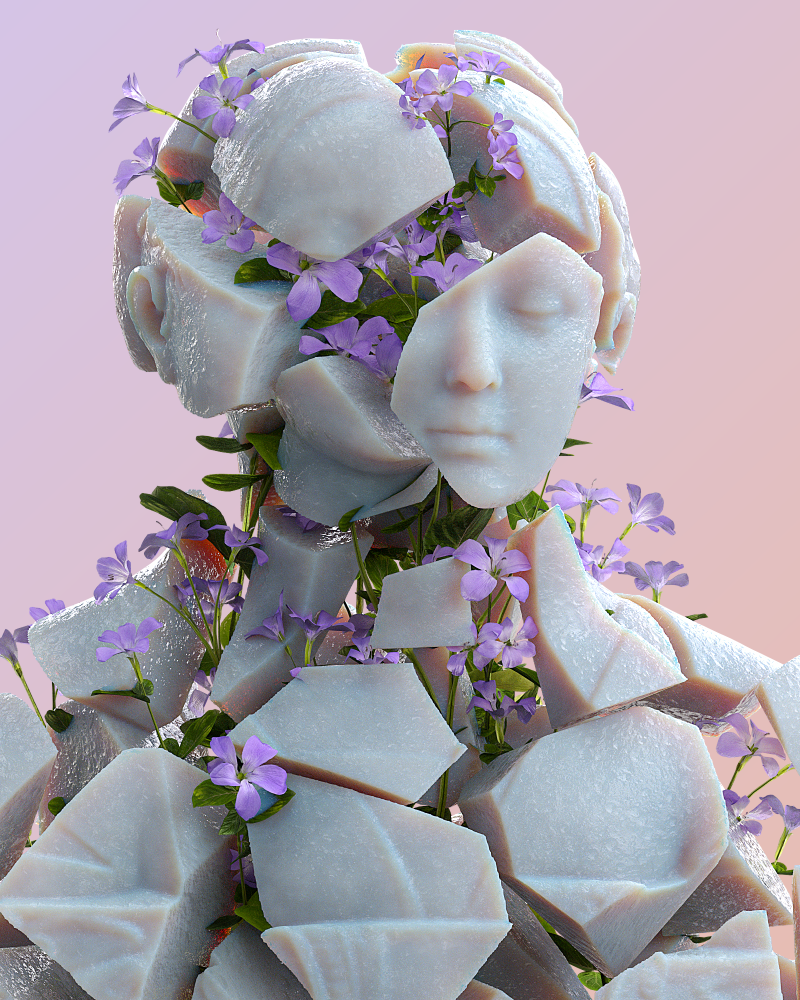 Inside Beauty, u/Nalyk1010, CGI, 2020
---
❄️📸 Arctic Changes
The Arctic 103 years ago compared to today. The photo specifically was taken at Blomstrandbreen.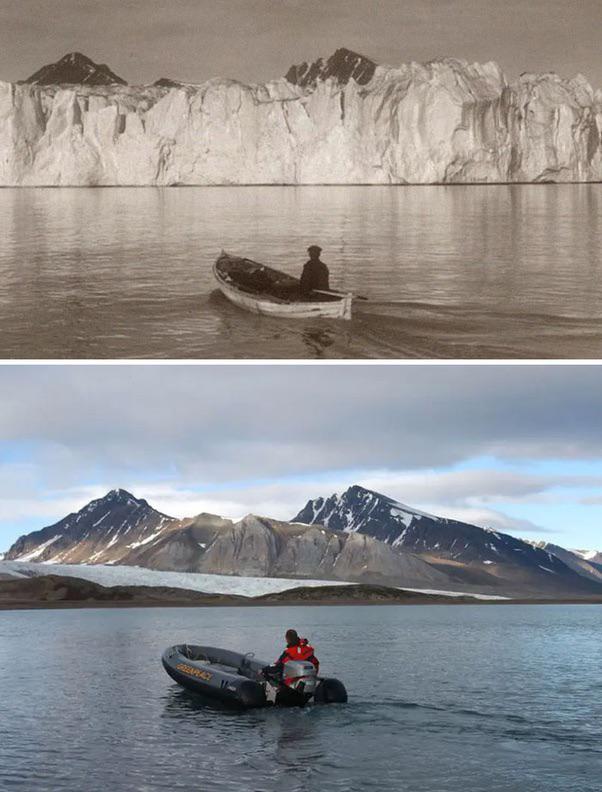 ---
👀 Oh…and one more thing
The Adelson's checker shadow illusion is a mesmerizing effect that shows the fallibility of the human vision [read more: https://t.co/VR62ZdHGIP] [source of the gif: https://t.co/aOvkRALqHt] pic.twitter.com/0nAOgSQjJK

— Massimo (@Rainmaker1973) January 30, 2021
---
📧 Get this weekly in your mailbox
---
Thanks for reading. Tune in next week. And please share with your network
---