21 November 2021
Welcome back to the Week That Was series highlighting things from the interwebs which are interesting, noteworthy and/or probably worth your time.
Articles📝, Tweet(s)📱, Videos🎥, Charts 📈 all fair game with or without attendant commentary.
This week is defintely a visual edition.
---
🏢💳 CBDC
📝CBDC Tracker monitor all of the Central Bank Digital Currency projects occuring worldwide (on the site you can check what the process has been since 2014). Here's the current summary - with the digital yuan being the most advanced initiative.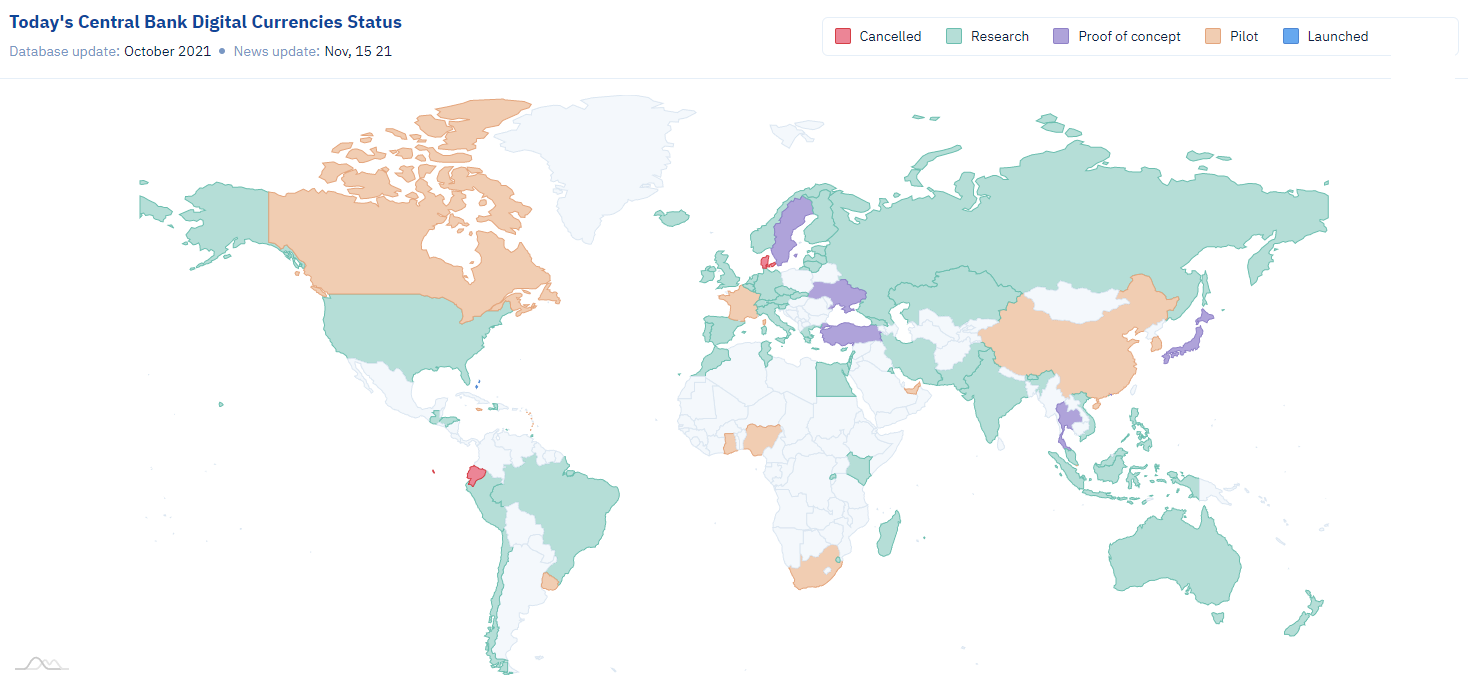 China's digital yuan CBDC has been used for $9.7 billion of transactions, and its wallet has been opened by 140 million people.

By @JamieCrawleyCD https://t.co/CyAH3Mw7wh

— CoinDesk (@CoinDesk) November 3, 2021
South Africa successfully tested a digital ZAR a few years ago with Project Khokha - and are extending the POC to bank-issued stablecoins and debentures issued on a blockchain with Khokha 2.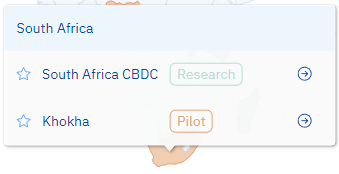 ---
🎨 Dissociation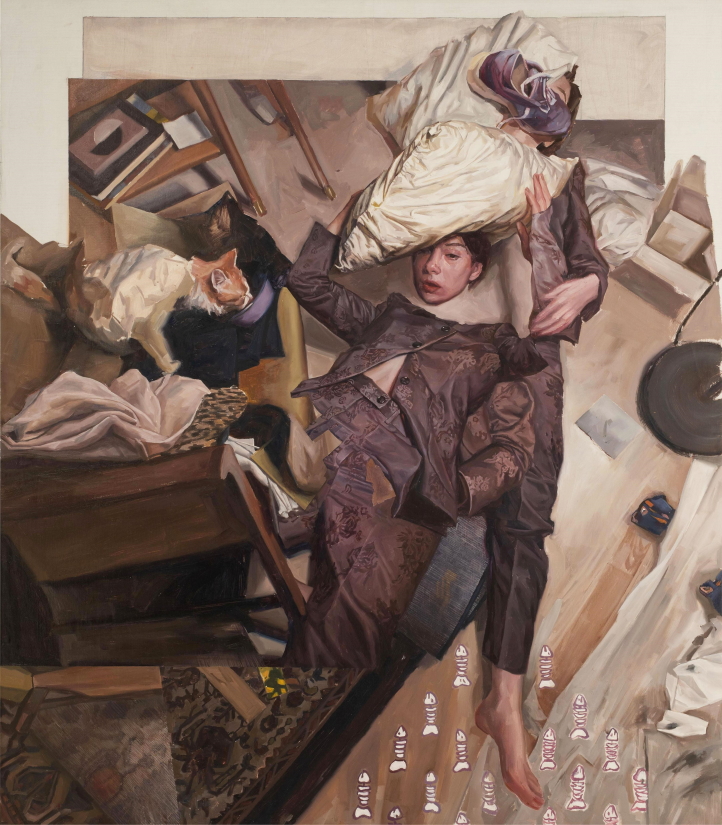 Dissociation, Valeria Duca, Oil on Canvas, 2021
---
🗣️🎤 McK - 2022 Global Media Themes
McKinsey has been putting out this report every year for the last decade or so, and they ask two questions to journalists, media executives, columnists, commentators, and media critics globally again.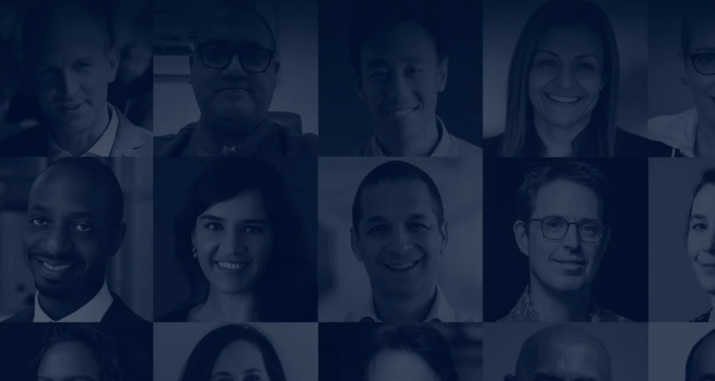 Those questions a some sample responses from the report:
1. What business, economics, or policy story or theme do you predict will dominate media and grab our attention in 2022?
Brooke Masters, chief business commentator, Financial Times
"Next year's news will be dominated by the impact of inflation caused by supply-chain bottlenecks, labor shortages, and high energy prices. Central banks will continue to struggle with how to rein it in without choking off growth, governments will wrestle with how to address these problems without exacerbating inequality or slowing the transition to renewables, and companies and consumers will be having to choose more carefully where to spend their money."
Ferial Haffajee, associate editor, Daily Maverick
"The Great Recovery: its stops and its starts. This will be the business-political-economy story of 2022."
Hari Sreenivasan, anchor and senior correspondent, PBS
"We will likely see more coverage of a rising China on several fronts. Their swagger in early 2022 will be a sharp contrast from their global position in 2008 when they hosted the Olympics last."
2. What topic do you think will be under-covered, and why does it merit more of our attention?
Maryana Iskander, CEO designate, Wikimedia Foundation
"Rapidly escalating income inequality will likely not get the attention it deserves. And stories about women will remain underreported, especially the invisible toll of the pandemic on working mothers."
Richard Gingras, VP, news, Google
"This is an extraordinarily key period for internet regulation. What is missing is the key question confronting us: the internet has enabled free expression beyond the bounds of what our civilization has ever seen, while we have many more who would like to have a whole lot more control over internet and media."
Marcus Brauchli, managing partner, North Base Media
"The energy impact of big data and AI. Just when many countries and big companies are seriously acting to curb energy usage and climate-affecting emissions, AI and big data are scaling up. This pits two positives against each other—the power of AI and big data to improve efficiencies, insights, outcomes, and living standards and the need to consume less energy to mitigate global warming."
📚What major themes will we see in global media in 2022? What should we see more of?
---
📱 Back To The Future
Per Jon Erlichman:
Some predictions on the future of computing from 1999. (8 years before the iPhone release)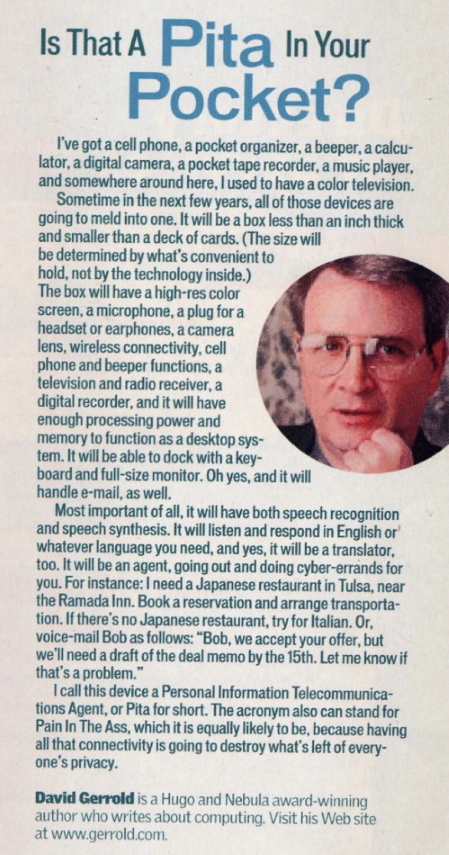 That last line really nailed it.
---
👩🏽‍💻 Meta (FB) Programming
Which programming language is required to land a data job at Meta (Facebook)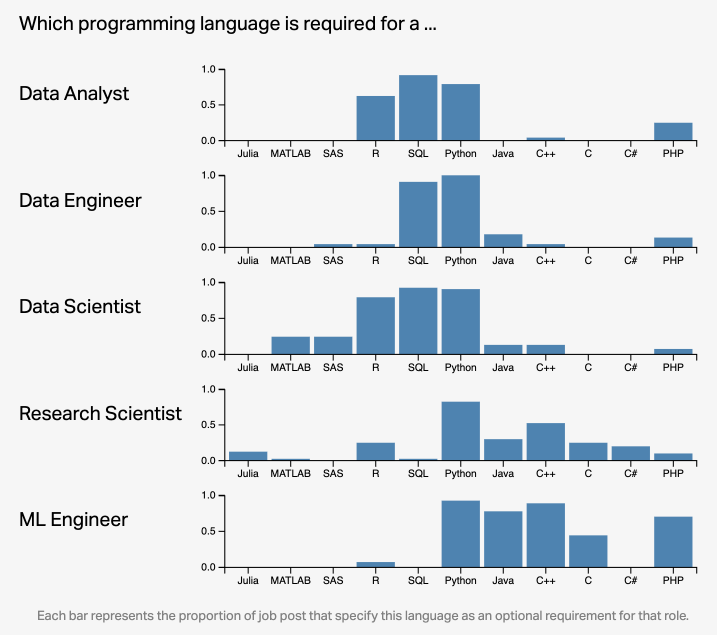 ---
🥽 AR versus VR: Metaverse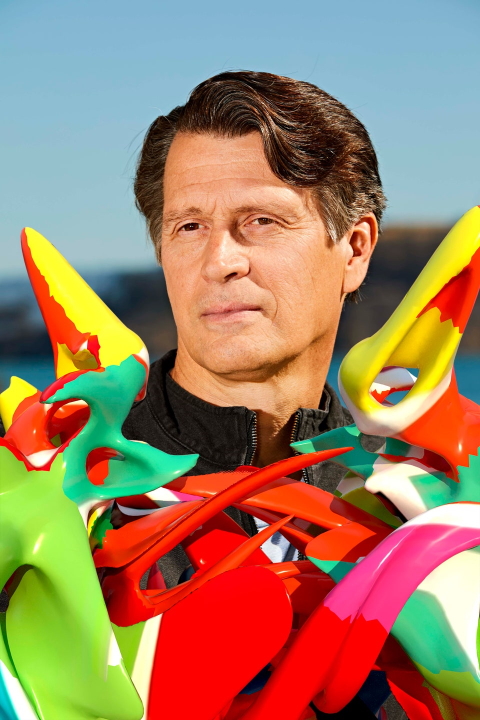 From Wired:
As the CEO and founder of Niantic Labs, Hanke launched Pokémon Go in 2016, and he remains obsessed with a vision of a physical world enhanced by digital objects, the concept now called augmented reality. He has been pursuing this vision since at least 2010, when he founded Niantic as an internal startup at Google, then spun it out and launched Go. The game, in which players wander the streets with phones held to their faces trying to capture Weedles, Squirtles, and Nidorinas, was both a cultural phenomenon and a financial success, reaping over a billion dollars in revenue. Like Wendy sewing Peter Pan's shadow to his foot, Hanke has been gradually binding the ephemeral to the real, providing a substrate for the merger of pixels and atoms that he sees as the future.
Hanke hates the idea of Zuck's vision of the metaverse where people don hardware rigs that block out their senses and replace the input with digital artifacts, essentially discarding reality for alternate worlds.
He's read all the science fiction books and seen all the films that first imagined the metaverse—all great fun, and all wrong. He believes that his vision, unlike virtual reality, will make the real world better without encouraging people to totally check out of it. This past summer, he felt compelled to explain why in a self-­described manifesto whose title says it all: "The Metaverse Is a Dystopian Nightmare. Let's Build a Better Reality."
This is a great interview with Hanke and why his vision for the future of the metaverse is in AR not VR
📝'AR Is Where the Real Metaverse Is Going to Happen'
---
😇😈 Heaven and Hell
Belief in Heaven and Hell around the world (World Values Survey)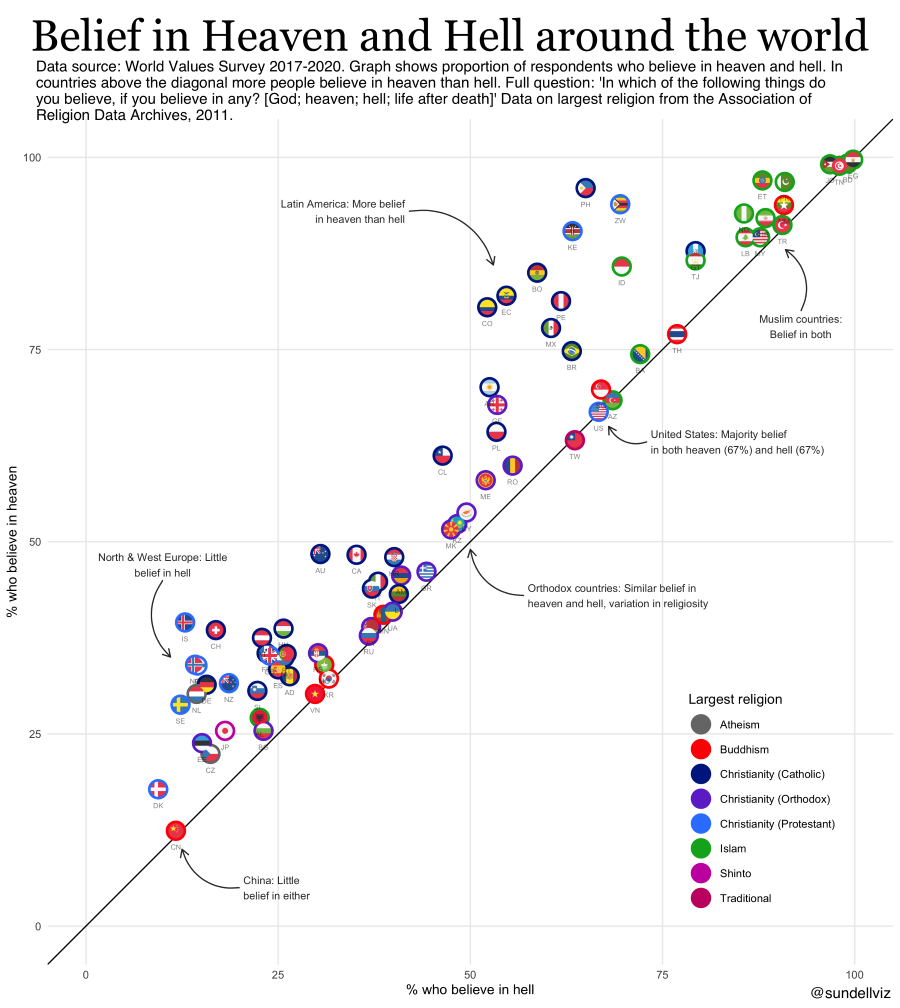 ---
🤖 AI 100
The 📚AI 100 is CB Insights' annual list of the 100 most promising private AI companies in the world. This year's winners are working on solutions including AI transparency, climate risk, virus modeling, and more.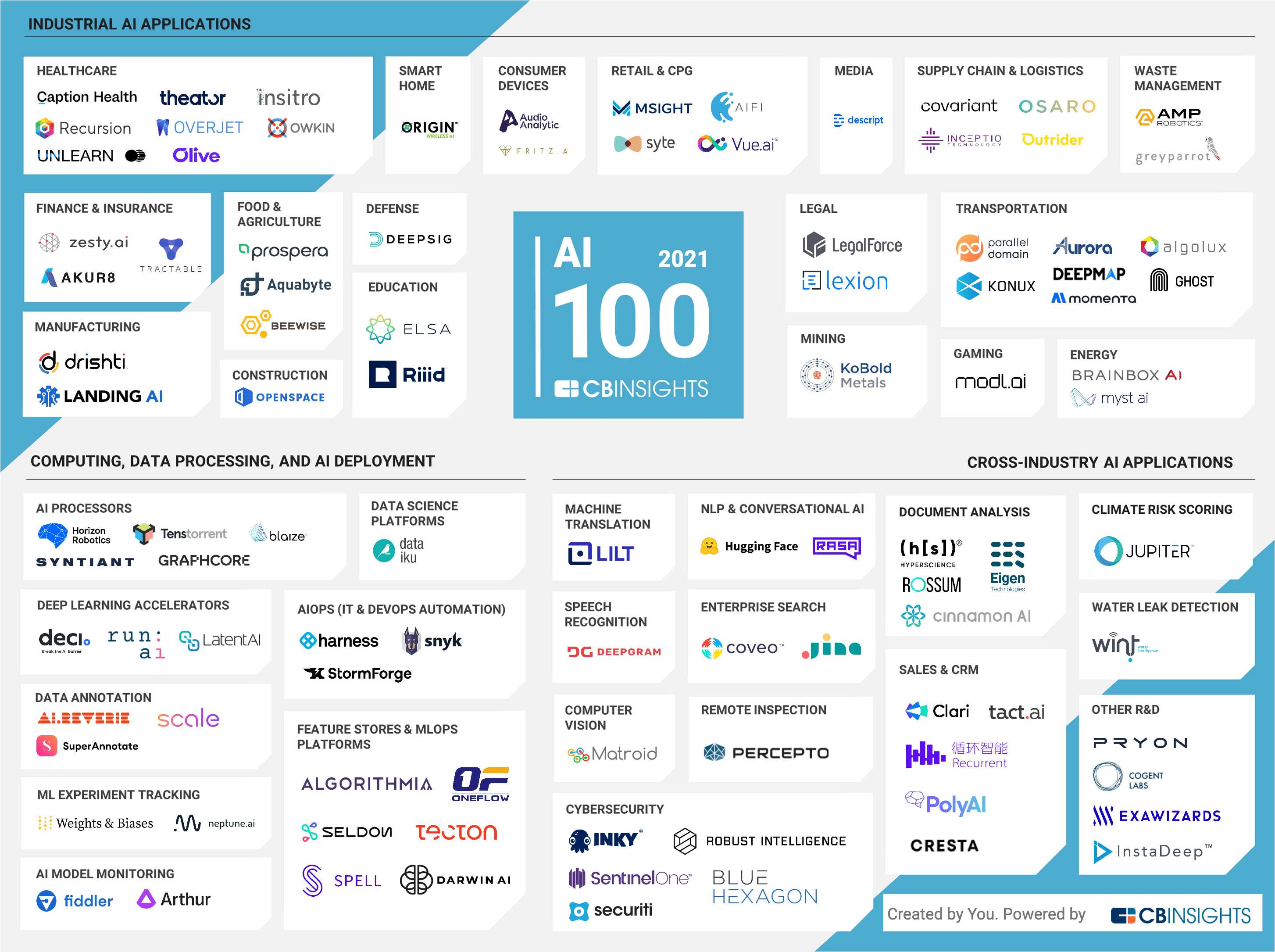 ---
🔎💶 Money
Mesmerising kaleidoscope of the commodity which humans have valued most over the millenia.
Hi-resolution scans of banknotes from 23 countries ranging from the 1800s to the modern-day. Machine learning was used to further enhance these scans so that I could zoom in on the intricacies of the engravings. Using replacement animation techniques, the guilloché patterns wash over the viewer in a barrage of linework and geometry. Iconic scenes throughout history are also shown: the age of exploration leads to industrialization, wonders of the world are replaced by office buildings and icons of freedom stand in stark contrast to images of slavery. The project culminates with the collective eyes of all world leaders staring back at the audience.
---
🧪 Element Scarcity
Per Massimo:
It takes 31 elements (four that come from conflict zones) to make a smartphone. This periodic table visulises their quantity and rarity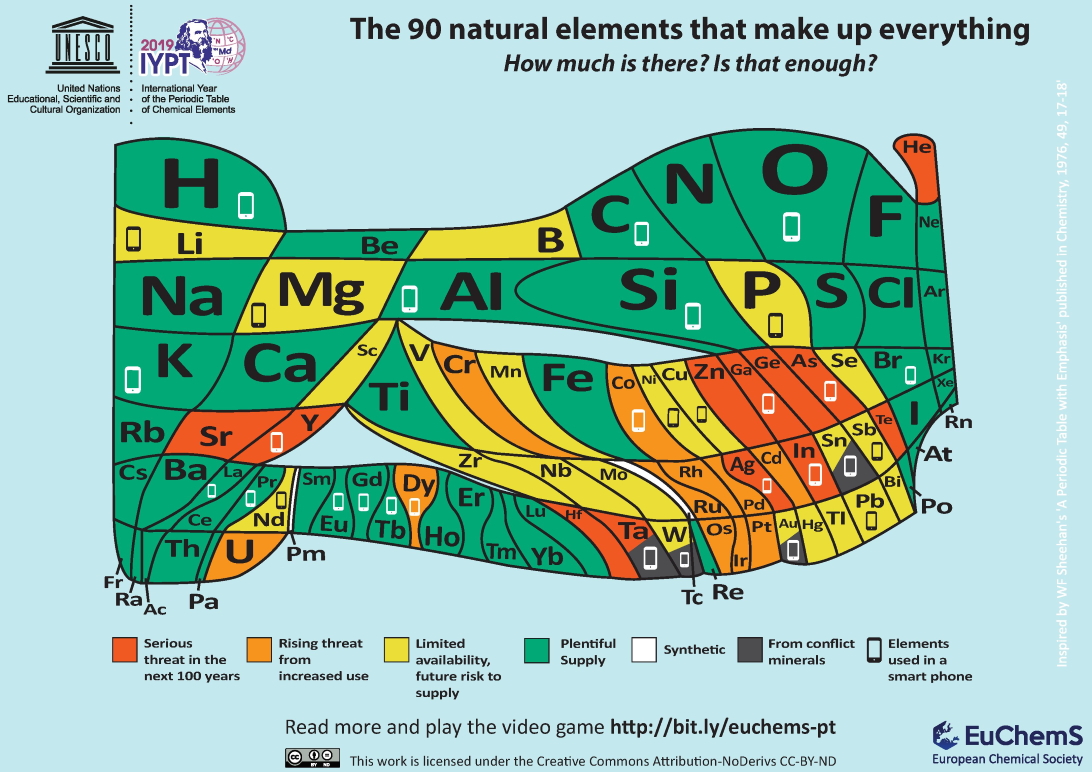 ---
🥼🧫 Lab-Leak

Demetri Kofinas speaks with Matt Ridley and Alina Chan. Alina is a Canadian molecular biologist specializing in gene therapy and cell engineering at the Broad Institute of MIT and Harvard and Matt is a British science journalist who has written countless bestselling books on subjects ranging from evolution, to innovation, to genomic science. They are the co-authors of an electrifying new book titled "Viral" that grapples with the mystery of how Covid-19, a virus whose closest known relatives live in bats residing in subtropical southern China, somehow managed to begin spreading among people more than 1,500 kilometers away in the city of Wuhan, while leaving none of the expected traces that such outbreaks usually create. Instead, nearly two years into this pandemic we're presented with a trail of evidence that increasingly points towards the Wuhan Institute of Virology and the so-called "Lab Leak Hypothesis" as the most plausible source of the outbreak. This is a critically important conversation to be having and Matt and Alina have made an invaluable contribution to it by working tirelessly and at great risk to themselves and to their careers in order to bring clarity to many of the facts and much of the evidence in support of the lab leak hypothesis—a theory that was consistently attacked and discredited by various actors, both wittingly and unwittingly, in the earliest days of the pandemic.
---
📏 Distance
Per Erik Brynjolfsson:
There are a lot of different ways to measure distance. Which raises the question, how far apart are these distance measures from each other?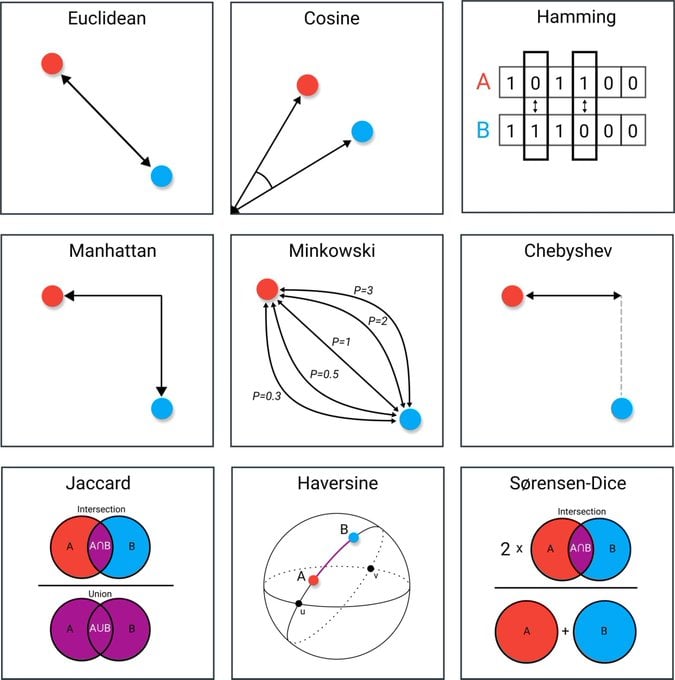 Reminded me of an Vsauce video on the Brachistochrone; the curve which represents the fastest descent under the force of gravity between two points - where the one is lower (but not directly underneath) the other.
---
✈️ Survivorship Bias
If you've ever googled the term "Survivorship Bias" you've probably seen this airplane before.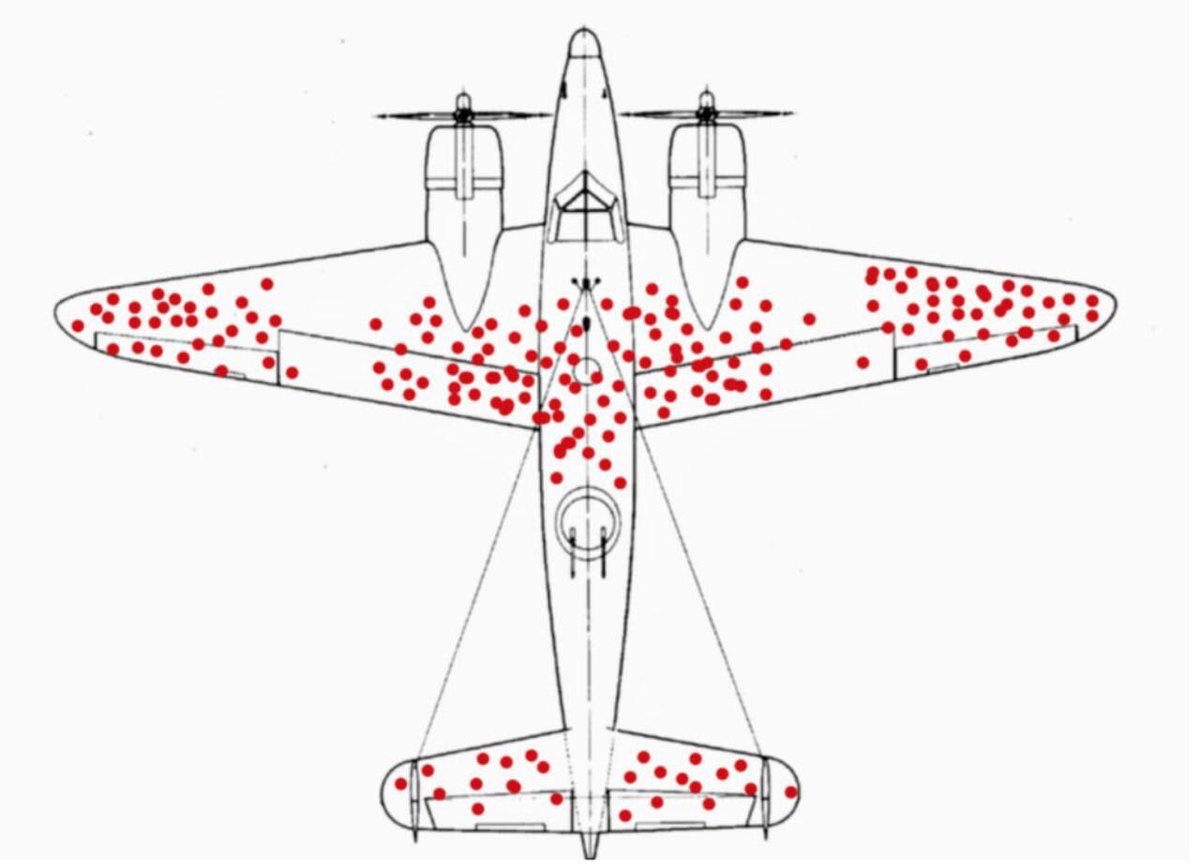 You'll usually see it whenever someone falls prey to this cognitive bias e.g.
I know a lot of people who regret getting the vaccine. Don't know anyone who regrets not getting it.

— Dave Rubin (@RubinReport) November 12, 2021
Eddie Woo also has a good 6 minute ELI5 explanation below.
This graphic also well summarises the concept.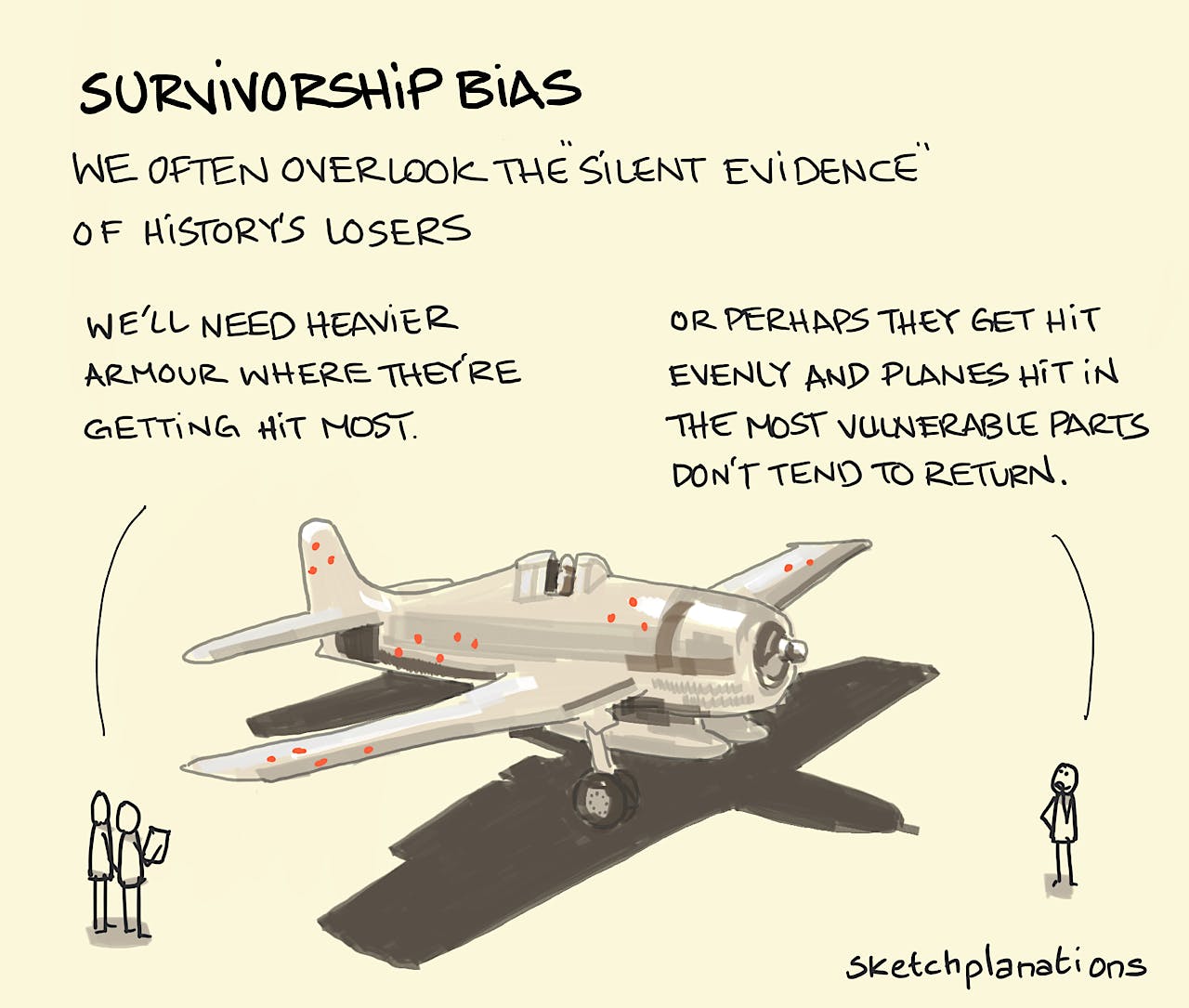 ---
🎨 Anxiety
Anxiety, Pulkit Kamal, Digital, 2021
---
💬 Deep Cuts
"A room without books is like a body without a soul." ― Marcus Tullius Cicero
---
📊 One More Thing
---
📧 Get this weekly in your mailbox
---
Thanks for reading. Tune in next week. And please share with your network.
---