27 February 2022
Welcome back to the Week That Was series highlighting things from the interwebs which are interesting, noteworthy and/or probably worth your time.
Articles📝, Tweet(s)📱, Videos🎥, Charts 📈 all fair game with or without attendant commentary.
---
🌍 Україна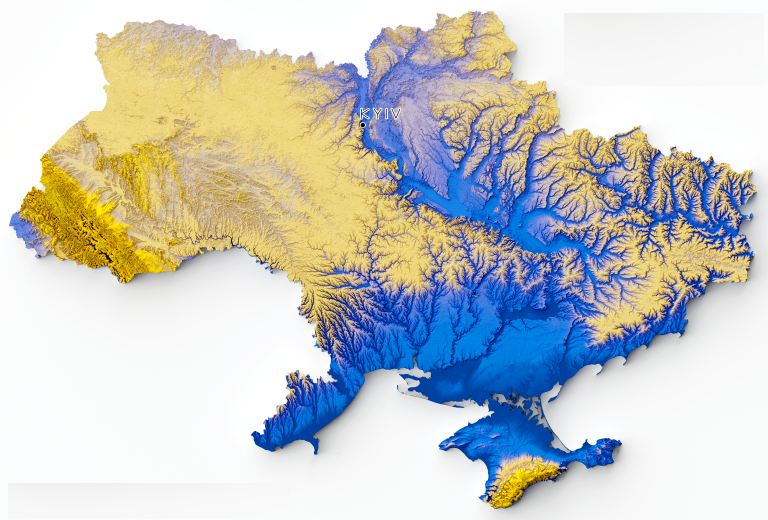 Shaded relief map of Ukraine by @JoeWDavies using Copernicus DEM
⚔️💥🇺🇦
Before and during the Russian incursion into Ukraine, there's been a plethora of OSINT (Open-source intelligence) including numerous accounts aggregating it to make inferences about operations. To the point that certain individuals including Jeffrey Lewis, a scholar at Middlbury's Institute of International Studies 📰became aware of the invasion before it was publicly announced using Google Maps traffic monitoring data.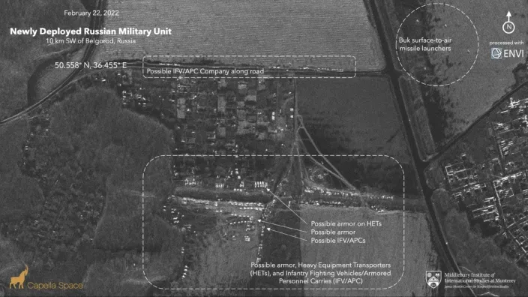 This phenomenon has sparked ethical considerations online with folks being encouraged to keep situational and tactical information out of the public eye once they figure it out - in case this intelligence falls into combatant hands and becomes operational.
That said Wikipedia still has one of the most accurate and up to date graphical representations of the current conflict zones.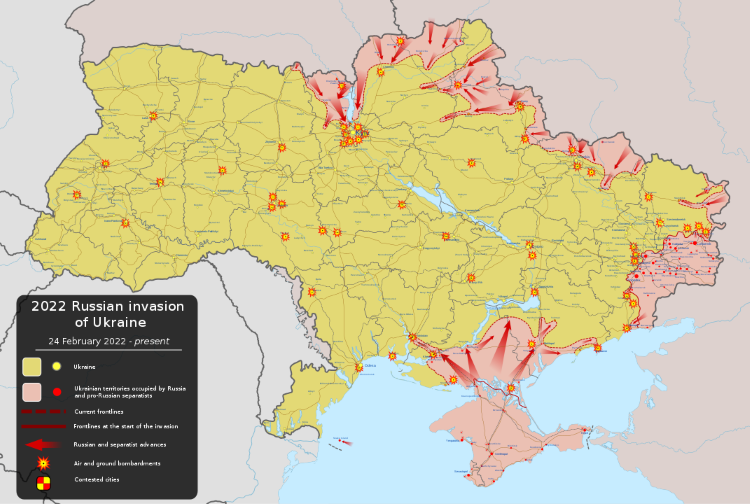 🌐
The kinetic military action (as well as specific cyber targeting) has resulted in losses of connectivity in the nation - seen in this map of Ukraine's degrading internet infrastructure.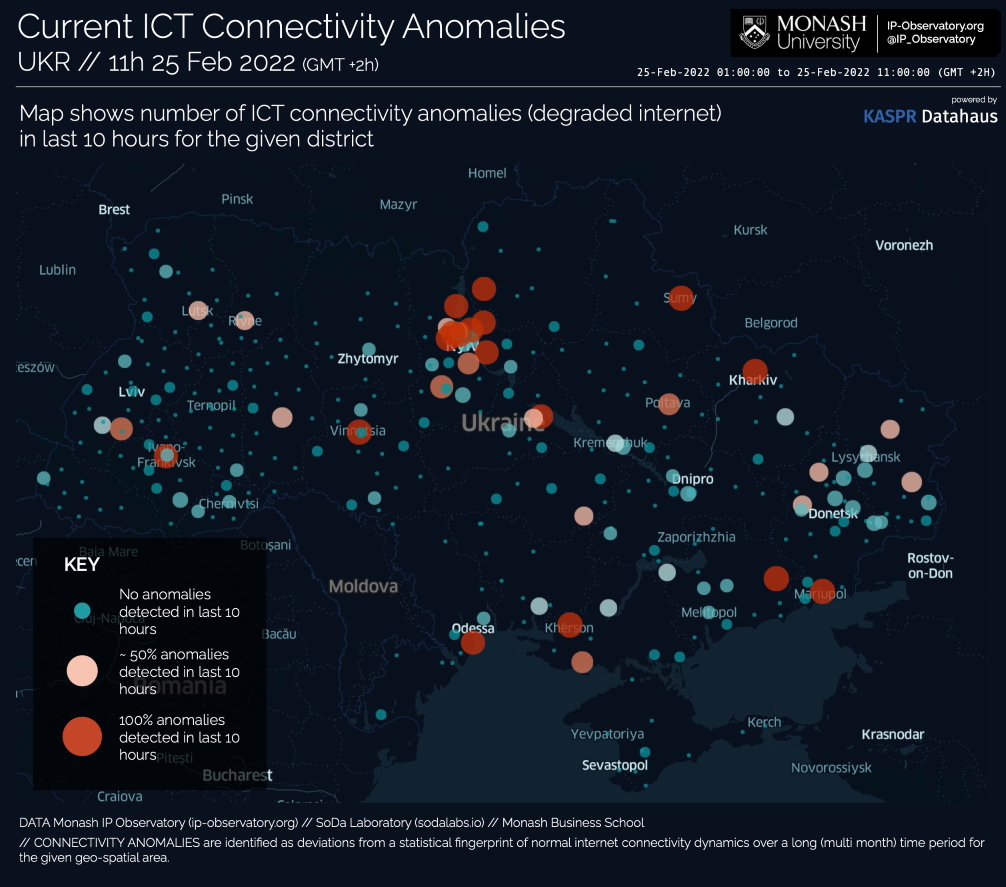 Also noted in regional ICT connectivity reporting.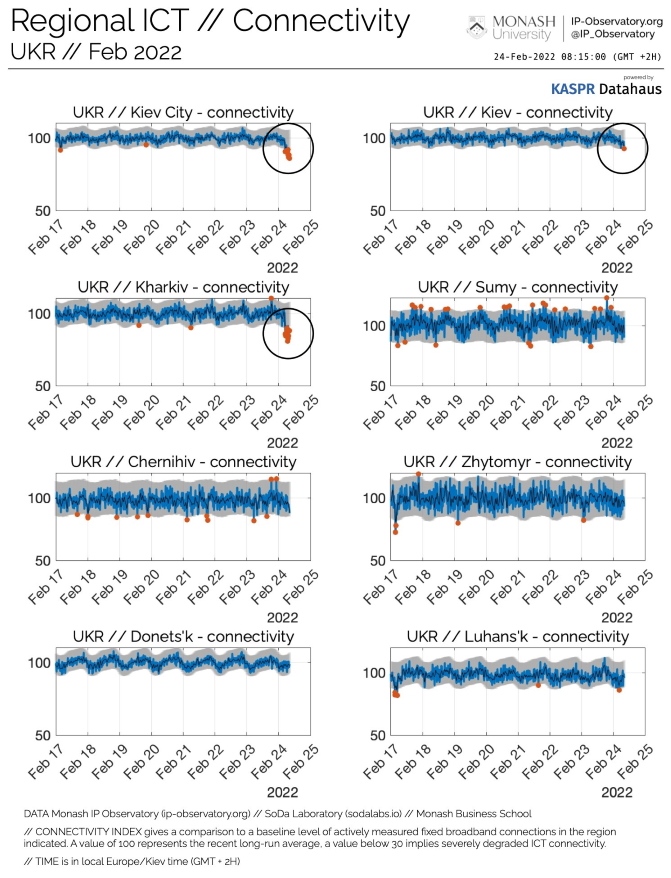 🛰️
Ukraine Vice PM asked Elon Musk to get the country connected to Starlink internet services, to which the Tesla CEO responded 10 hours later that it was done.
Starlink service is now active in Ukraine. More terminals en route.

— Elon Musk (@elonmusk) February 26, 2022
Pretty astonishing and (with all do respect) much more effective than other more theatric shows of support from some.
🎙️
Gault and Franceschi-Bicchierai at VICE Motherboard's CYBER podcast briefly discuss some of the digital battleground in this episode (after a discussion on the US crackdown on spyware vendors)
With Russia ratcheting up tensions by a further rung in response to an escalation of sanctions 📰(Vladimir Putin has ordered that Russia's nuclear deterrent forces are put on high alert), one hopes cool heads prevail and wishes strength and safety to the civilians in the combat zone. Jessica a commentor on 📝Sir Lawrence Freedman's assessment on Putin's gamble put it well:
I lived in Donetsk in 2009-2010, as part of my degree. I taught English and my students were very pro-Russia, although also adamant they were Ukrainians and proud to be bilingual. Their parents sometimes had a stronger Russian identity but most were proud to say they were distinctively Ukrainian. In 2014 Russia's actions decisively turned them all into anti-Putin Ukrainians, painful for many due to family links to Russia. Desperately sad for Ukrainians today, a beautiful country (Donetsk - city of Roses!), great people and a potentially bright future. I hope they overcome
---
🎨 Agnus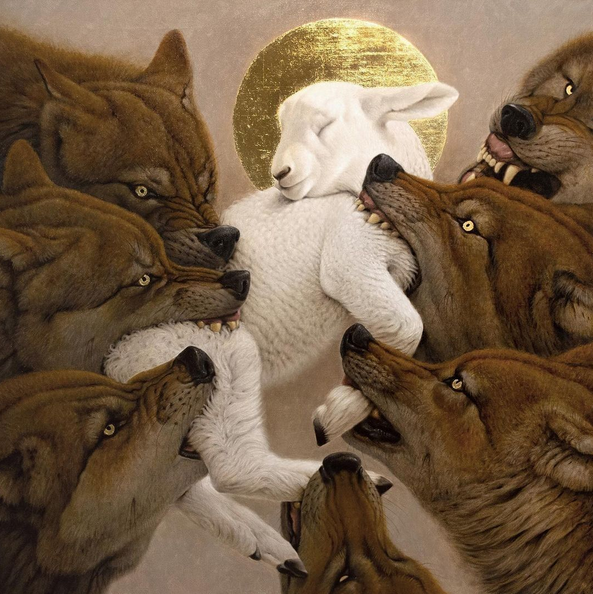 Agnus, Konstantin Korobov, Painting, 2022
---
🏢💰 African Fundraising
The big numbers continue regarding continental fund raising
As of February 18, start-ups in Africa had already raised over $1 billion through 130+ deals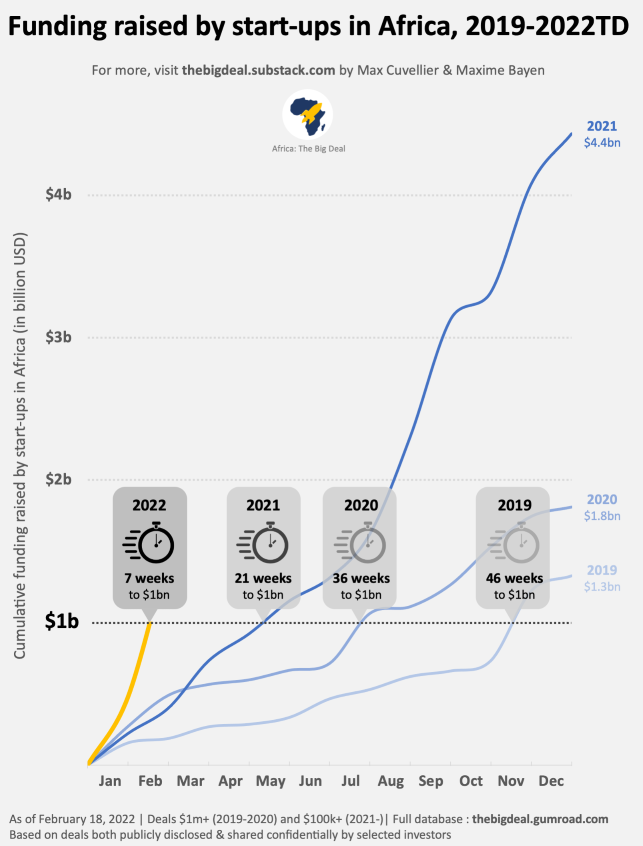 ---
🛠️🕰️ Waste Time & Overcomplicate Things
Ryan Warnock had a popular post on Hacker News which ended up sparking some interesting conversations about project management and development in the IT industry.
In the post he is basically describing how we went about trying to troubleshoot some slow video playback on his homelab which ended up being a study in how to waste time and overcomplicate things. This effect can be achieved in three short steps - which he outlines in the post.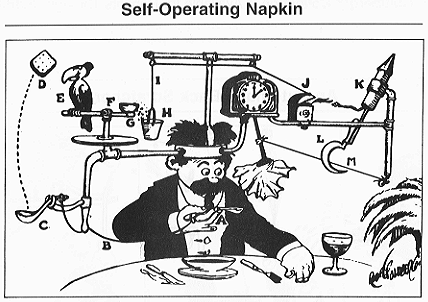 Step 1 - Make assumptions
Create a solution without understanding how it all works
Step 2 - Continue to make assumptions
Continue creating a solution without understanding how it all works
Step 3 - Just fix the mistakes, don't learn from them
After something has caused you multiple issues don't stop and reconsider your approach
Conclusion
I managed to overcomplicate and waste my time because I made assumptions and then failed to recognise mistakes and then repeated it.
I doubt the moral of the story will have escaped you.
📝How to waste time and overcomplicate things
---
🔴🟣🟡🎭 Universal Colour & Emotion
The research 📚reported by Psychology Today across 30 nations, appears to show that not only is it easy to link colours and emotions but that these connections are pretty universal in terms of human beings across the globe.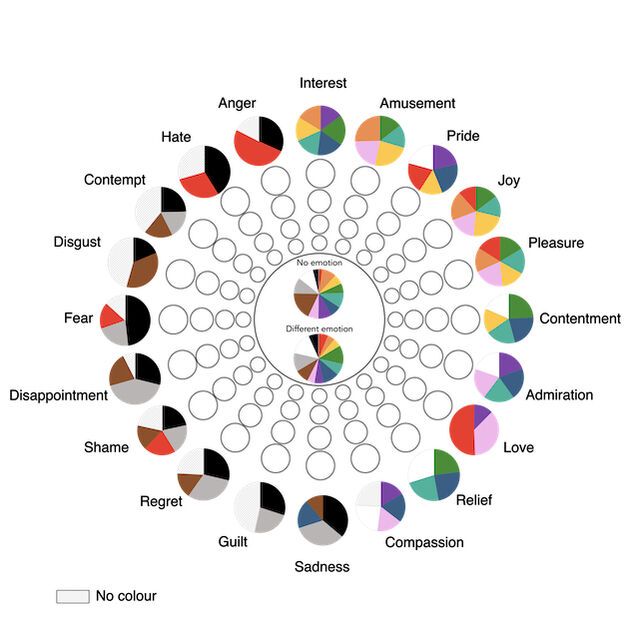 ---
😰💪 Doing Hard Things
📝Interesting post on computer science professor Cal Newport's blog where he highlights Brandon Sanderson's advice for doing hard things.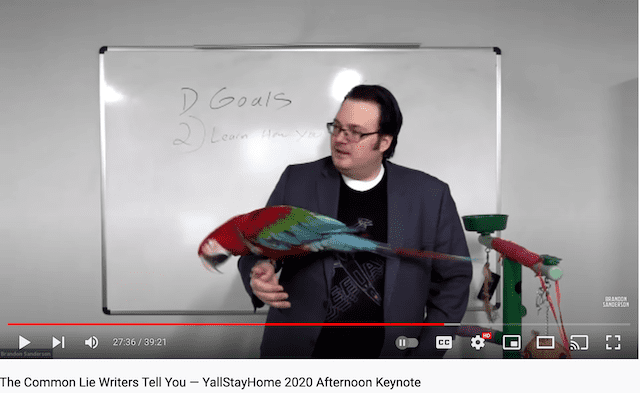 He notes a presentation called "The Common Lies Writers Tell You," whose real message seems more general and starts by pushing back on our common instinct to tell kids "you can do anything you want to" or "follow your dreams."
The argument is that "these aphorisms inflict a disservice on impressionable minds as they obfuscate the complexity, and frustration, and nuance involved in actually pursuing remarkable goals."
The following claim is offered as a more realistic take
"I can do hard things. Doing hard things has intrinsic value, and they will make me a better person, even if I end up failing."
Cal summarises the talk in the three following which he annotates on his blog - an excerpt of which I'll include here:
TIP #1: MAKE BETTER GOALS > Make goals that you have control over
TIP #2: LEARN HOW YOU WORK > Experiment to figure out what combination of motivation, and circumstances, and accountability work best for your particular personality > "I love writing," he says, "but [even] I have a hard time sitting down and writing."
TIP #3: BREAK IT DOWN > Sanderson's final piece of advice is to break large goals down into manageable pieces. > The experienced novelists that he asked for advice would just tell him to "write." Better advice, he noted, would have been to setup a practice regime, centered on writing a certain number of complete manuscripts, each of expanding size and ambition, all aimed at developing his chops to the point that he'd be ready to produce something sellable.
---
⛏️🖥️ Hashrate
BTC Hashrate used to secure the network (and mine BTC) now at significant all time highs
#Bitcoin hash rate is going absolutely nuts.

Wow. pic.twitter.com/GliI3sHhTX

— Dylan LeClair 🟠 (@DylanLeClair_) February 17, 2022
---
🌍 True Size
Site showing the true size of countries and continents and allows you to compare several regions - reminding us of how perceptions are formed and reinforced.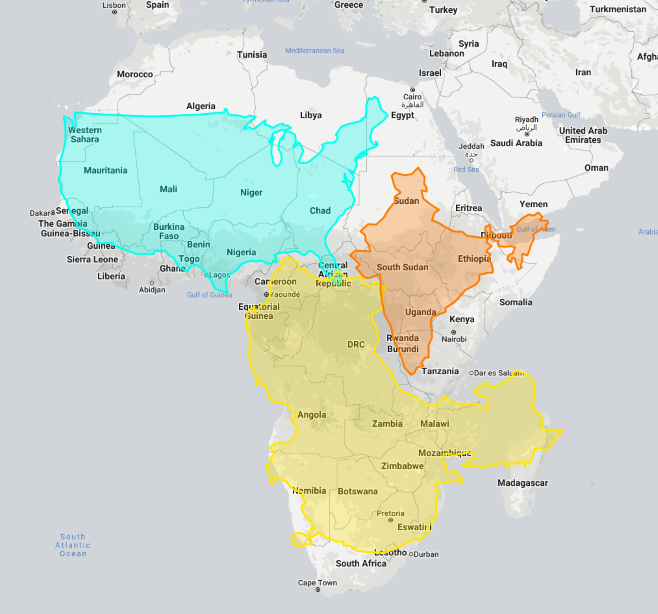 ---
🤖🎙️🤖 Two Robots
Lex Fridman finally finds a more robotic character than him by nabbing an interview with Meta CEO Mark Zuckerberg. The discussion spans a number of topics and is suitably nerdy.
Outline and timestamps below: - 0:00 - Introduction - 5:36 - Metaverse - 25:36 - Identity in Metaverse - 37:45 - Security - 42:10 - Social Dilemma - 1:04:16 - Instagram whistleblower - 1:09:01 - Social media and mental health - 1:14:26 - Censorship - 1:31:35 - Translation - 1:39:10 - Advice for young people - 1:44:58 - Daughters - 1:47:46 - Mortality - 1:52:19 - Question for God - 1:55:25 - Meaning of life
📹
---
🧩 Problem Solving
the dumbest way to solve a maze? simulate a gas of thousands of particles diffusing from the start point, until one particle reaches the exit. trace back the winning particle pic.twitter.com/9kHfCKezRf

— Matt Henderson (@matthen2) September 21, 2021
Then again, as @generativist pointed out, this is actually how we solve problems… and it's pretty good.
---
🤖📜 Historical AIs
Waitbutwhy's Tim Urban, who incidentally also recently had a Lex interview 📹(on Musk, Neuralink, AI, Aliens, and the Future of Humanity) pointed out Hidreley Diao use of AI to capture what historical Western figures would look like if they were modern people.
George Washington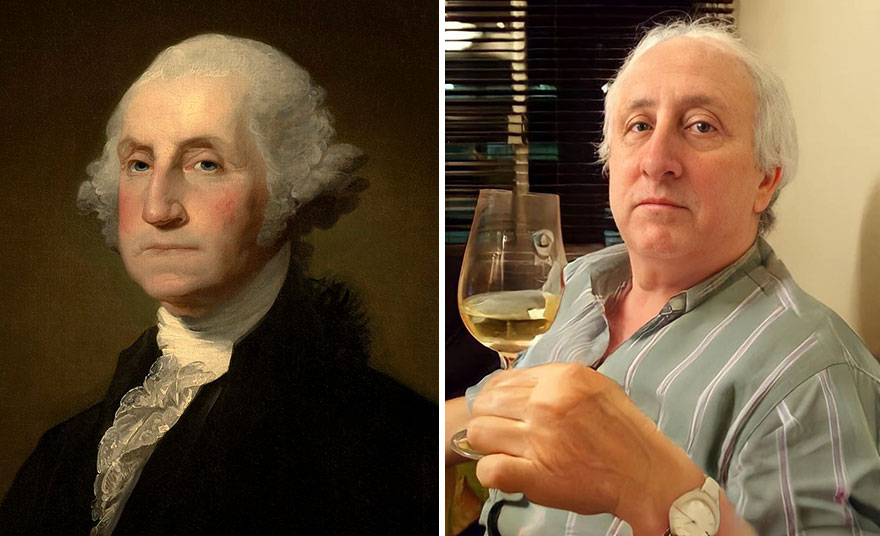 Mona Lisa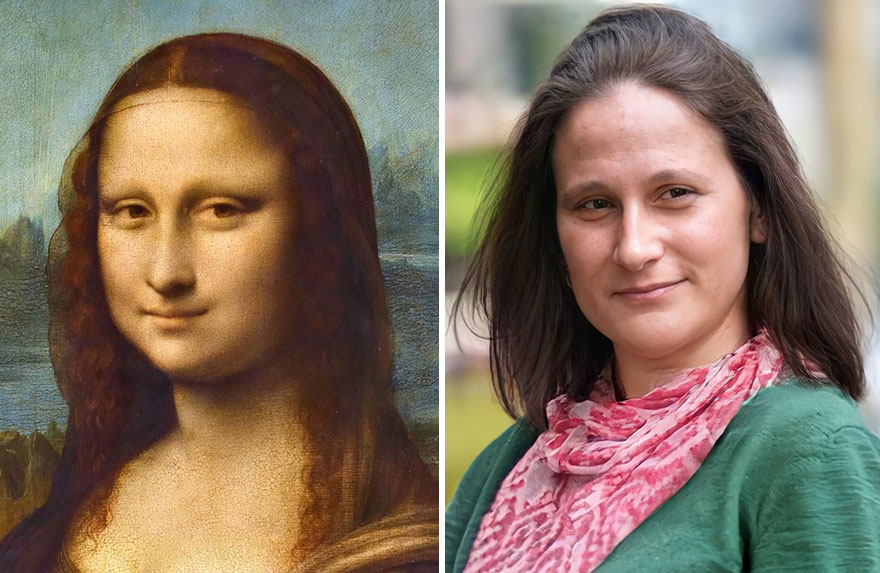 Leonardo da Vinci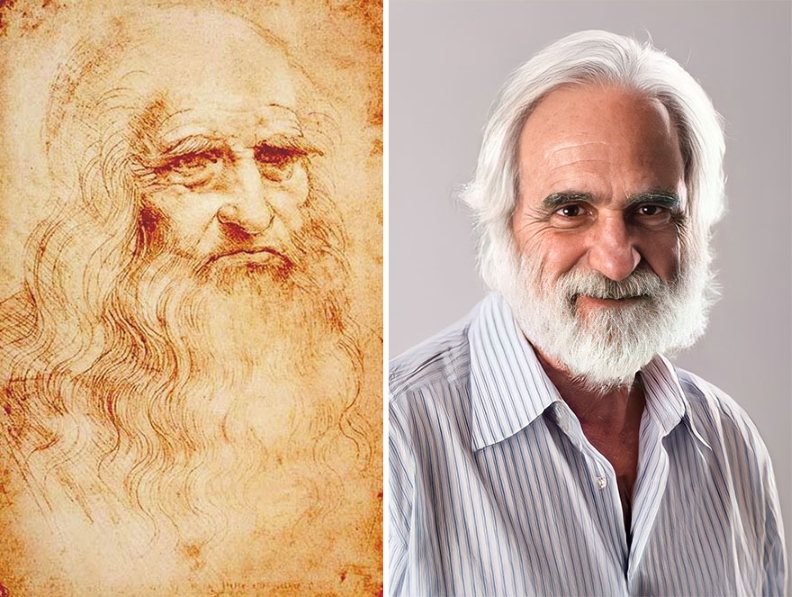 Shakespeare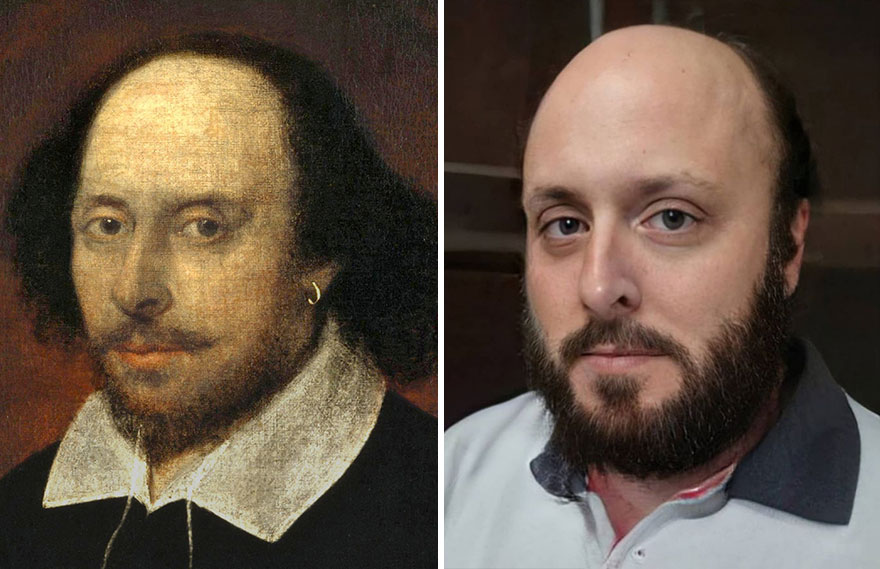 Caesar (guy looks like a standard issue Bush Era neocon!)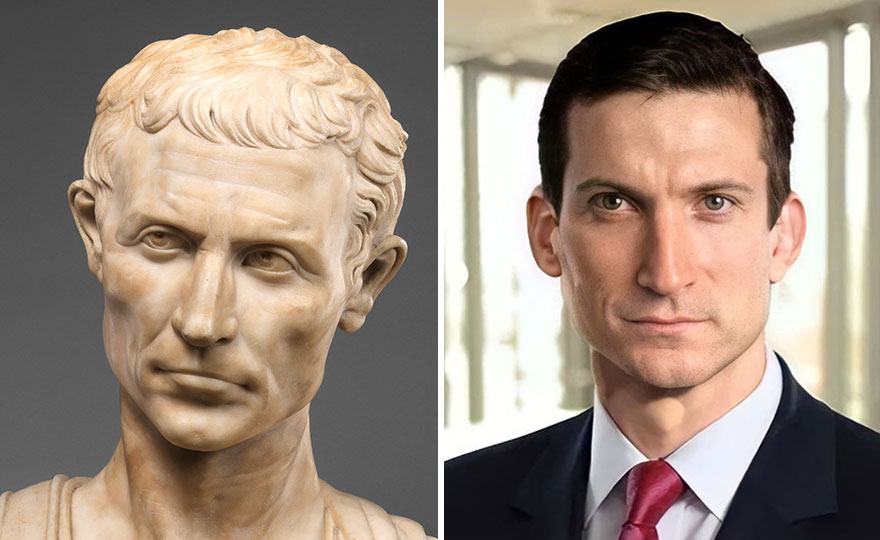 ---
🧒🏽🧒🏾✏️ Kiddie Animate
The Meta AI research team put together an interesting project which you can use to animate children's drawings and bring them to life.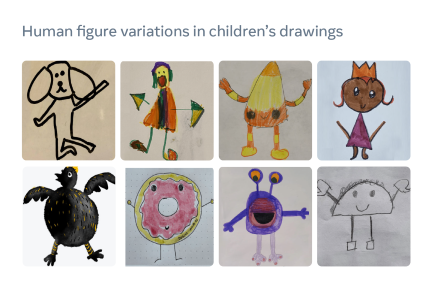 Here's 📚the writeup
Here's 💻the demo application
---
🎨 Sons Of The Lost Future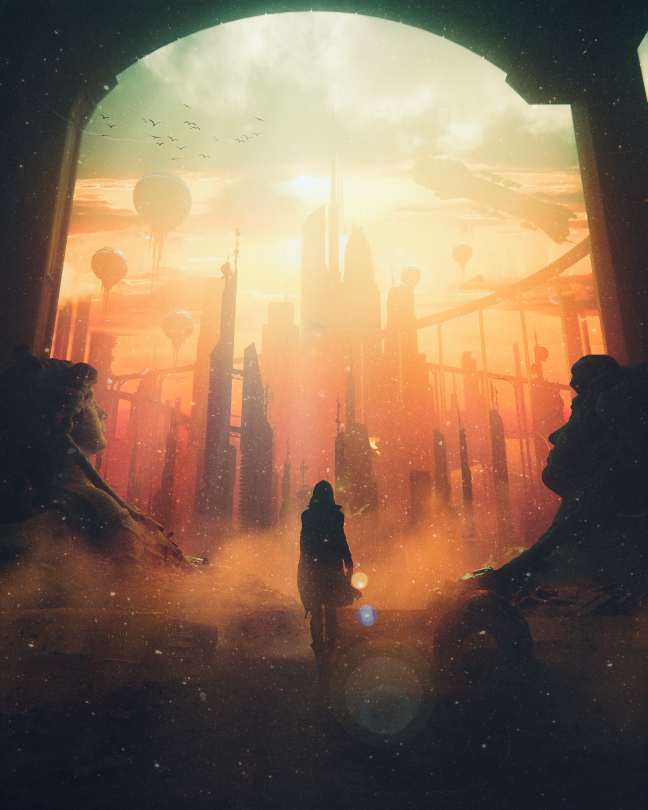 Sons Of The Lost Future, Lazaro, Digital, 2022
---
💬 Deep Cuts
"The days that make us happy make us wise" — John Masefield
---
🌨️ One More Thing
---
📧 Get this weekly in your mailbox
---
Thanks for reading. Tune in next week. And please share with your network.
---