22 March 2020
Welcome back to the Week That Was series where I highlight a few things from the interwebs which I thought were interesting, noteworthy and probably worth your time. Usually a couple of links spanning an article📝, tweet(s)📱, video🎥, graphs 📈 and/or any other media with some commentary, summaries or callouts for context.
---
🍑🍆💦 Interesting Correlations
In recent weeks we've seen pornography purveyors like Pornhub and xHamster offering free premium subscription services to people in locked down countries.
In light of expanding quarantines, we are extending Free Pornhub Premium for the month to our friends in France! Pornhub will also donate this month's sales from Modelhub (model earnings will remain untouched). Courage France! pic.twitter.com/YJEJKIMGzD

— Pornhub (@Pornhub) March 17, 2020
Tracking the number of coronavirus infections against Pornhub traffic reveals some interesting and amusing correlations.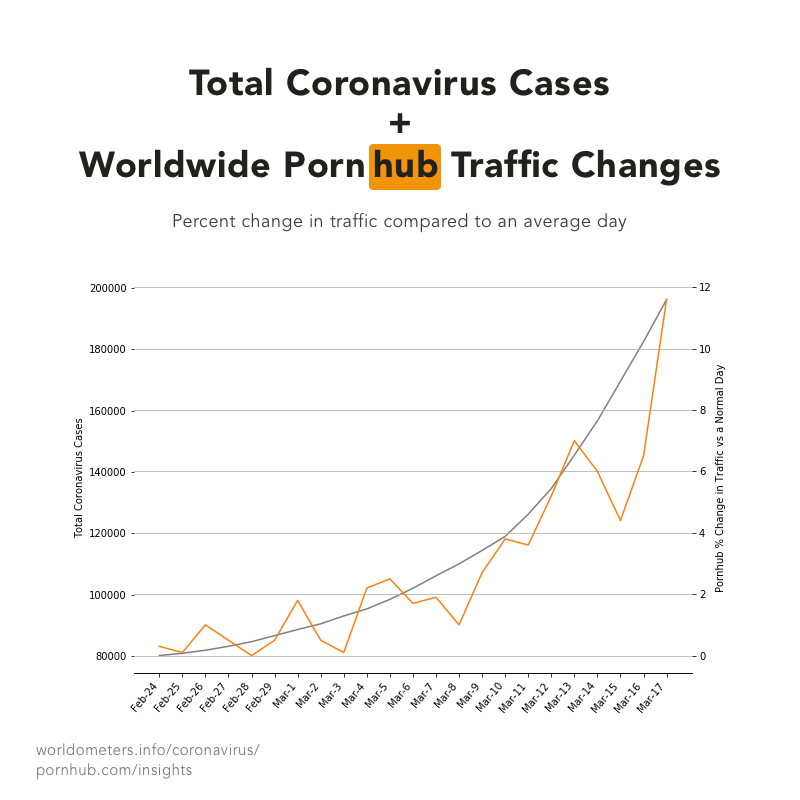 Presumably you could chart similar patterns across many popular websites (and we should always be aware of spurious correlations)
---
📰⚠️ We Are Always Warned. Always
May 2017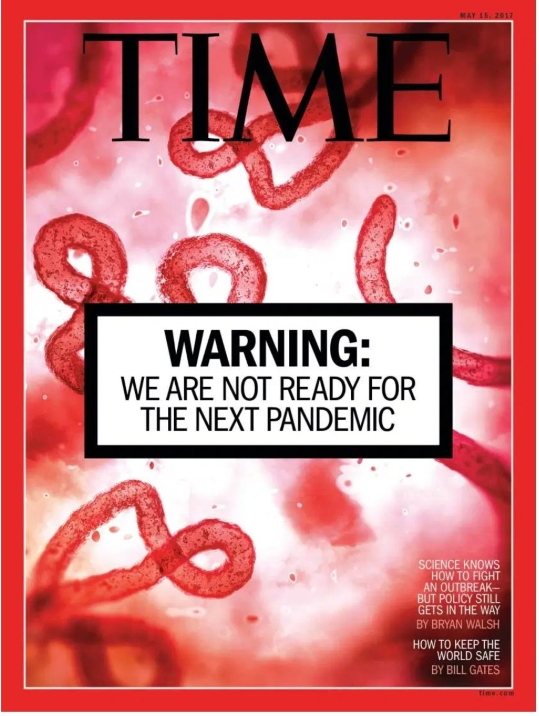 Of course Bill has been talking about this subject (and investing in, and working towards it's mitigation) for many many years.
Here again on the 2015 TED stage
---
📉🤧 Markets In The Time of Covid-19
"Just as there are no atheists in a foxhole, there are no capitalists in a pandemic like this. We're all socialists now. The President is saying he's ok with the U.S. government taking equity stakes in companies that get bailed out…"
That's Medhi Hasan (who a few months ago spent an hour eviscerating Previous Speaker of the House & ANC Senior Leader Baleka Mbete during a live interview in Oxford) on MSNBC reacting to the extraordinary measures governments worldwide are putting in place to cushion the blow from the coronavirus outbreak.
"Just as there are no atheists in a foxhole, there are no capitalists in a pandemic like this. We're all socialists now. The President is saying he's ok with the U.S. government taking equity stakes in companies that get bailed out..."
- me on the economy on @VelshiMSNBC.

Clip: pic.twitter.com/Vi8WQ0K72I

— Mehdi Hasan (@mehdirhasan) March 22, 2020
These sure are unprecedented times with the measures being equally unmatched. Below is the kind of picture causing the reaction; historic selloffs. The JSE in South Africa has been hammered as well - to the point you could buy Sasol shares for ZAR28(!!) last week…just months after they traded at ZAR480+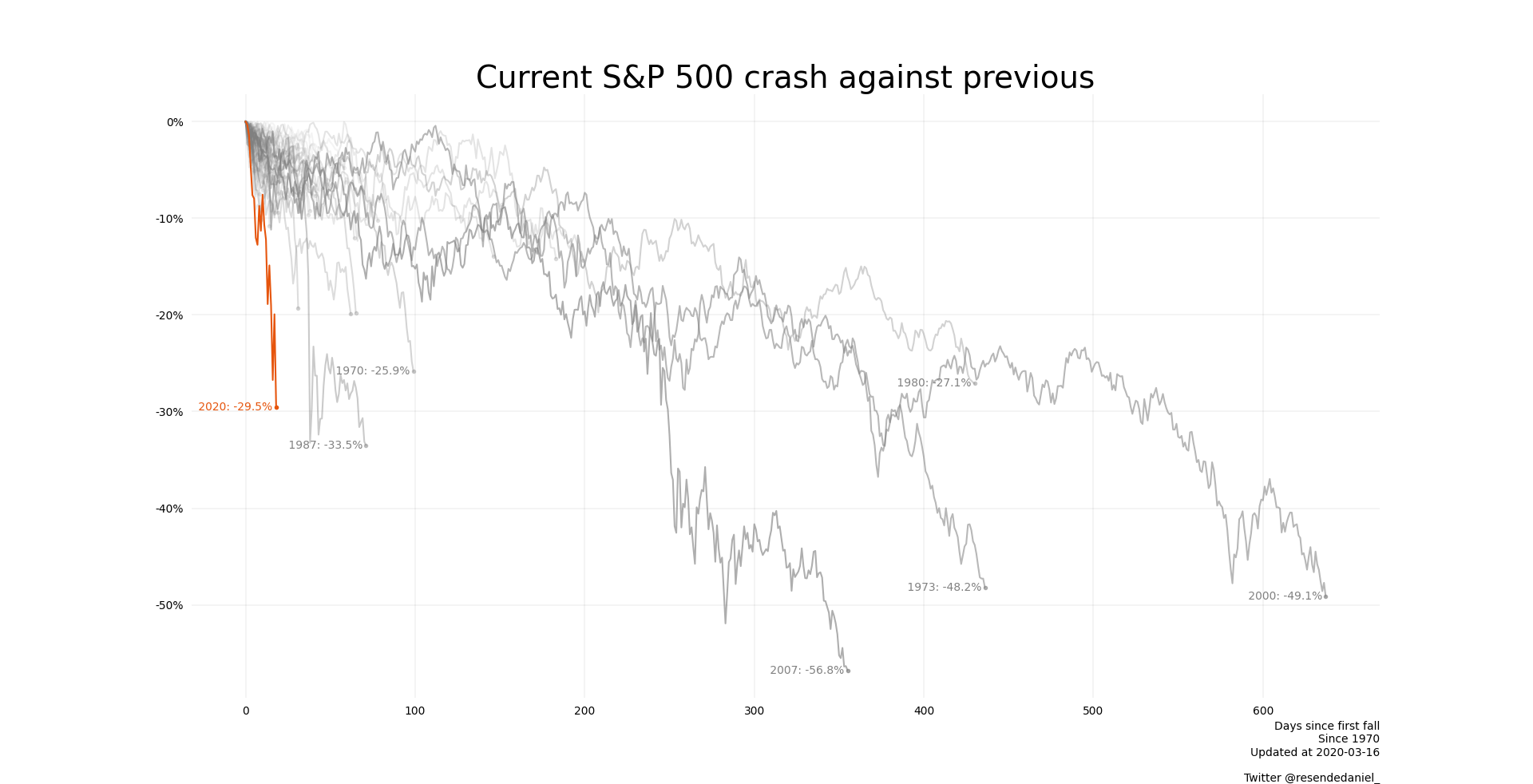 In response, we've seen aggressive monetary policy moves. Trillions of USD made available to the markets in various operations. Interest rates being slashed across the world.
Muscular fiscal responses are also being tabled. Tax cuts. Mortgage and rent freezes. Debt holidays. Helicopter money to citizens and businesses. The scale of the interventions is what catches the eye. These numbers were eye-watering a decade ago. Now they roll off the tongue with ease.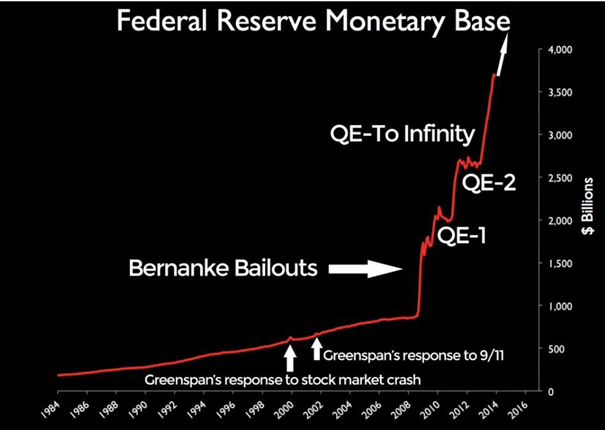 As the kids say… Money Printer Go Brrrr. Visualised at https://brrr.money/
Throwback to when Ben explained in 5 seconds exactly from whence the extra liquidity springs
Former Fed chair Ben Bernanke begs to differ:pic.twitter.com/wBFSSj9NEL

— Chris Sturr (@ChrisSturr) March 21, 2020
Lot's of very real fallout is going to beset economies the world over, however what's clear is that this deleveraging is only in part due to Covid-19. The severity of shocks to the labour markets, supply chains, oil and consumer demand make for very sobering analysis.
One thing that's certain is this will likely continue to tear at the fabric of the current neoliberal political economy, which looked certain to be established in perpetuity after the wall fell in 1989…and is now fraying at every seam. The Overton Window appears to slowly be shifting back in the direction of labour (& localism?), and away from capital (& globalism?).
---
🦠🧼🖐💦⚕ Greenzone
🌍 Covid-19 Cases Worldwide: - 22nd January - 58 - 22nd March - 321,284
This is what exponential growth looks like.
Anyway, good hygiene extends beyond just biological cleanliness and responsibilities at this time - we also need to ensure we're not vectors of misinformation while consuming high quality content to boost the mental immune systems.
Herewith some excellent entries for the latter:
📝 First
A (28 minute) longread which has been widely shared yet can't be shared enough. Important context, data, analysis and quality sources.
Read The Hammer and the Dance here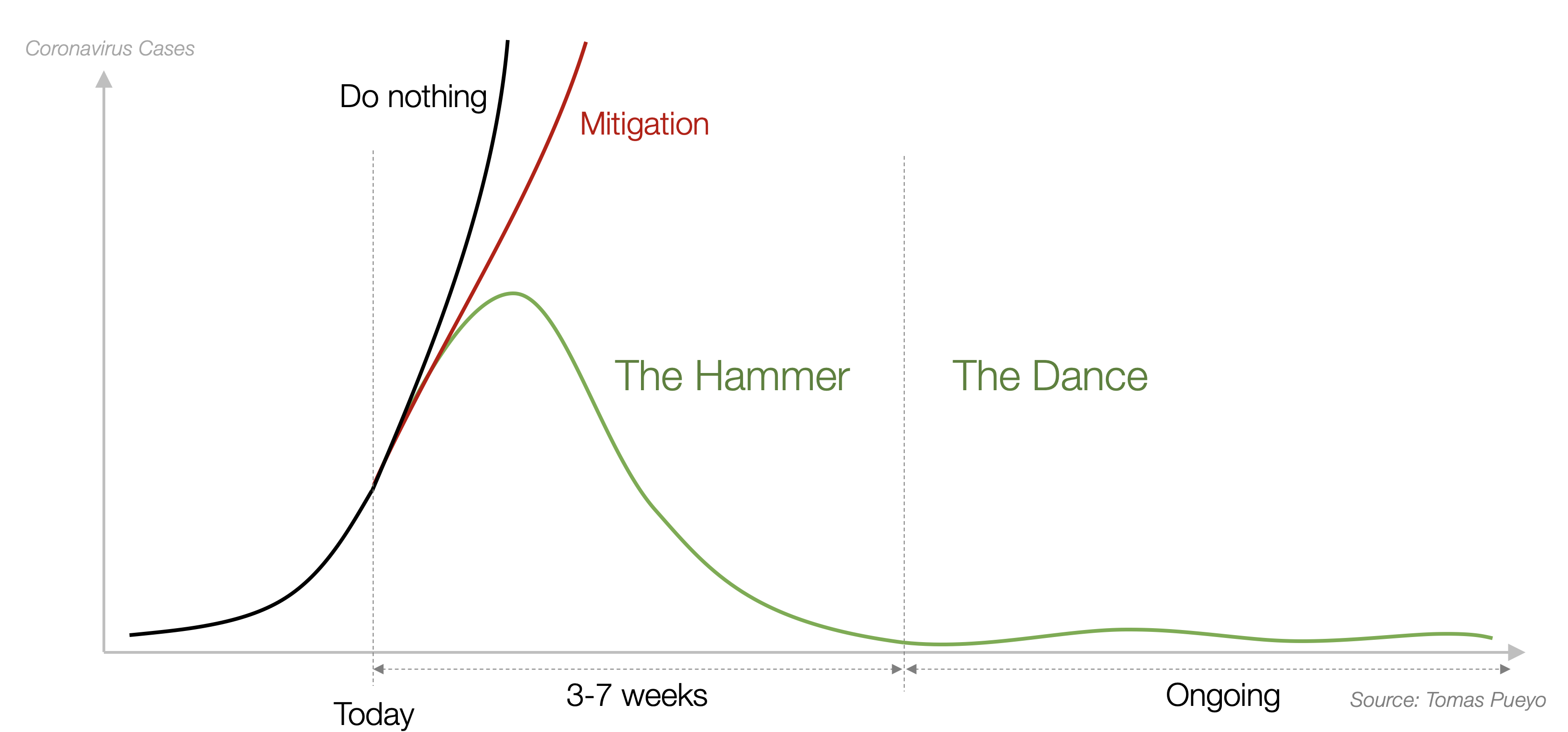 📹 Second
I've been following Kurzgesagt since around 2014, and have been impressed and often astounded at the growth of the channel in terms of it's professionalism and scope. They work extremely hard to put each videos together, usually over the course of months. Their latest treatment of the Coronavirus was a truly heroic effort to release so quickly - and the results are more than worth it. Great explainer (even for those who've been paying attention since late Jan)
🎧 Third
For a considered and insightful yet accessible deep-dive discussion, have a listen to Robert Wiblin's latest podcast. Wiblin runs the 80,000 hours project which posits that you have roughly 80,000 hours to work in a full career. What problems will you spend those hours trying to solve? They try to match young people with the highest impact jobs or initiatives they could conceivably be working on using a global and systemic risk lens.
Listen to The 80,000 Hours Podcast here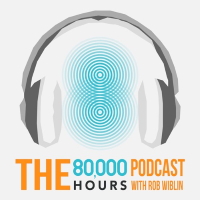 🧐 In Addition
Mzansi is now on the Covid-19 map, we'll be sure to be tracking this growth curve closely in coming days/weeks.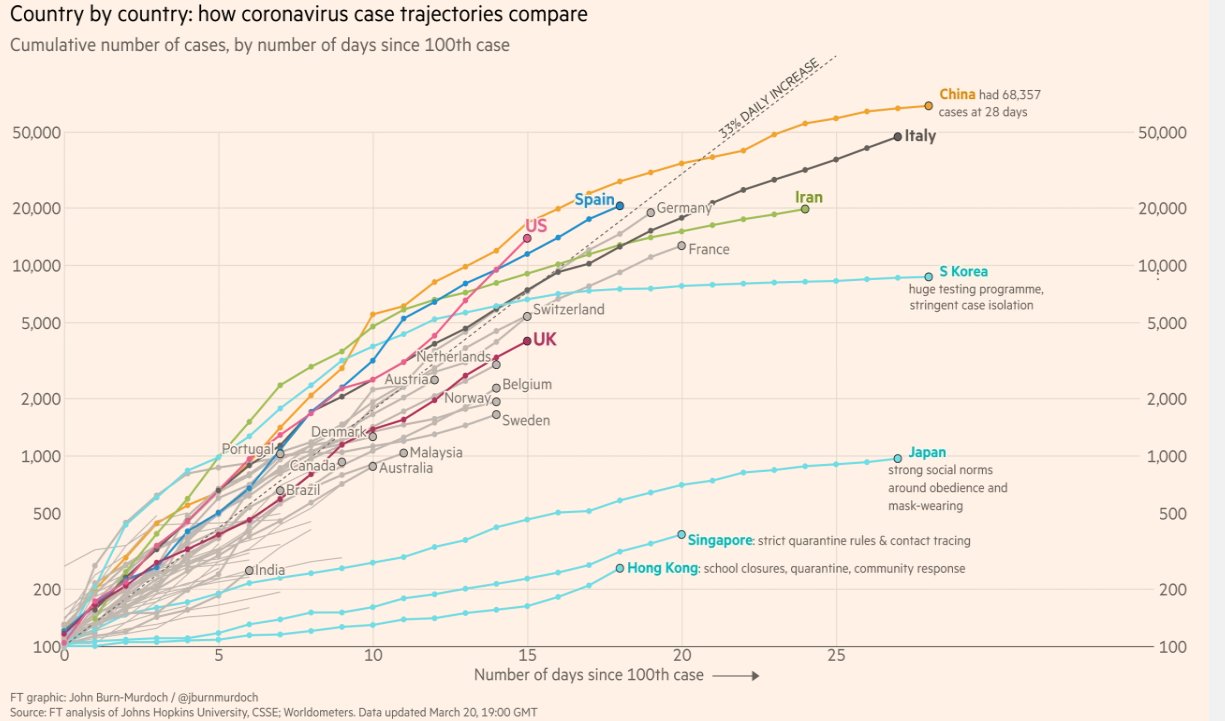 What's very important is ensuring we aren't flying blind, and that involves testing, testing, testing - to quote the WHO. It's a challenge to be sure but an important one to surmount. Many regions are testing too little, one hopes to see these tests per capita numbers going up sooner rather than later.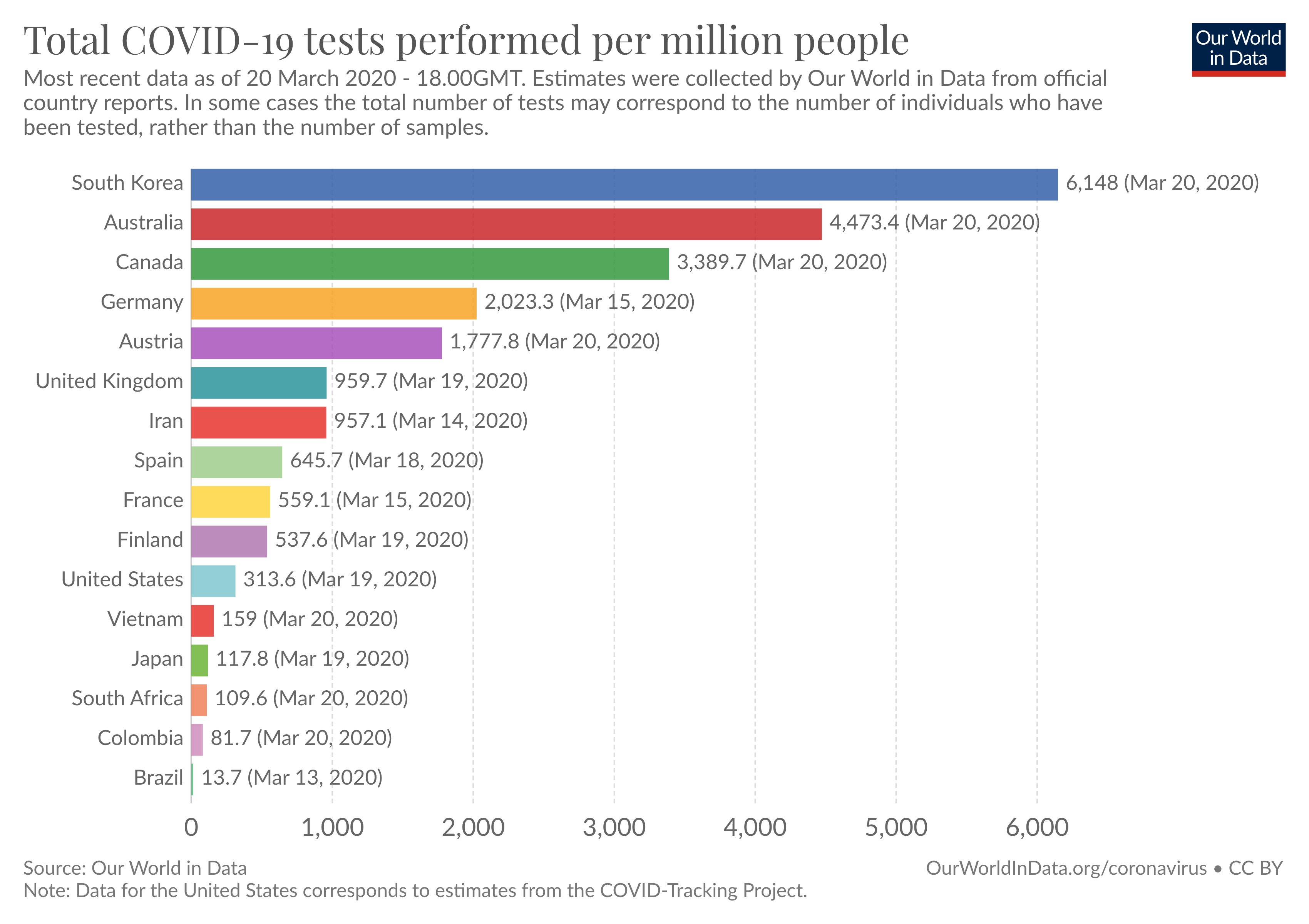 Some bonus material on this subject, here's a great primer on the phenomenon of wet markets in China, their background, politics and contribution to past and present crises.
---
💬 Stay Close
"Let's stay in contact and keep each other in mind and close. We shouldn't let a biological crisis also turn into a psychological one" - A recent work video call
---
👨⚔️👨 Oh…and one more thing
Siblings will always be siblings.
Govenor Andrew Cuomo currently leading the city of New York through the coronavirus crisis (and many say providing more sobriety and solace than the current commander in chief there) had a hilarious clash with his brother - a CNN anchor.
When you are a whole governor dealing with a crises but you can't resist an argument with your brother on live television 😂 pic.twitter.com/L0P5Y6n3NG

— Qaanitah Hunter (@QaanitahHunter) March 17, 2020
---
Thanks for reading. Tune in next week. Stay Home. Wash Your Hands
---