20 June 2021
Welcome back to the Week That Was series highlighting things from the interwebs which are interesting, noteworthy and/or probably worth your time.
Articles📝, Tweet(s)📱, Videos🎥, Charts 📈 all fair game with or without attendant commentary.
---
🌍🚀 Africa's Startup Activity
Statista put together this graphic showing where Africa's startup activity in terms of venture capital investment is concentrated - per a report AfricArena published using Partech data.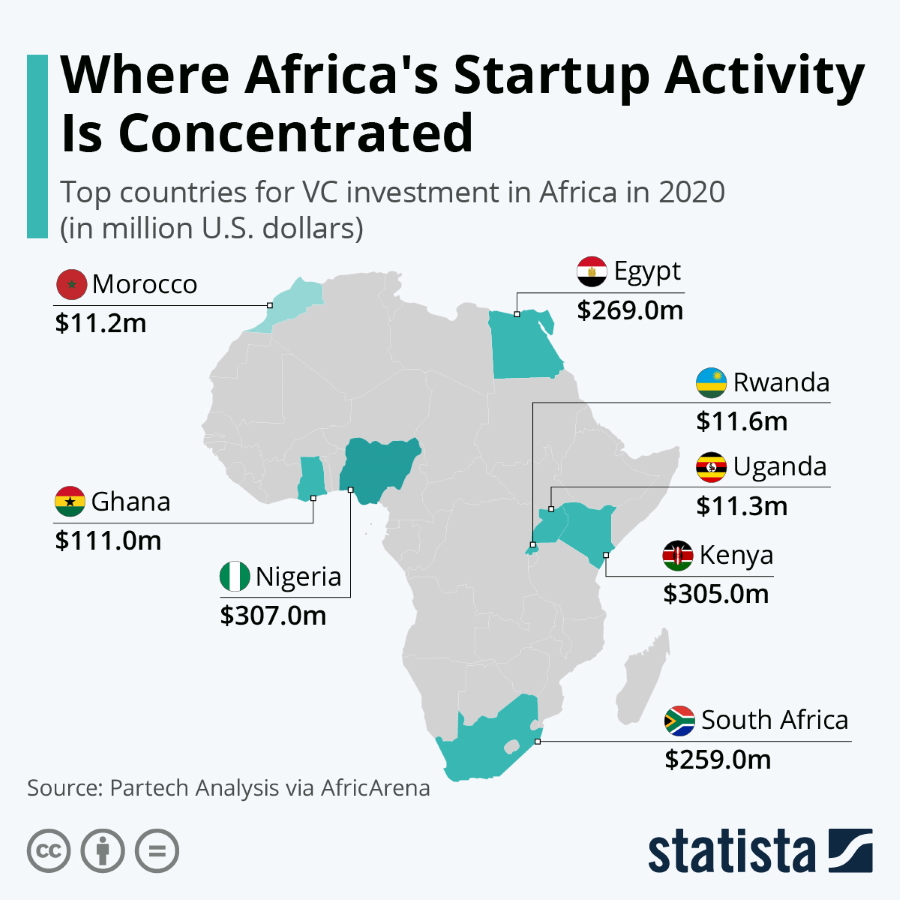 The big four still attract the vast majority of investment i.e., Kenya, Nigeria, South Africa and Egypt.
Per the Disrupt Africa report (which has fairly divergent total numbers to the aforementioned AfricArena one it should be noted) here are a few more specific breakdowns of the investments.
The biggest funders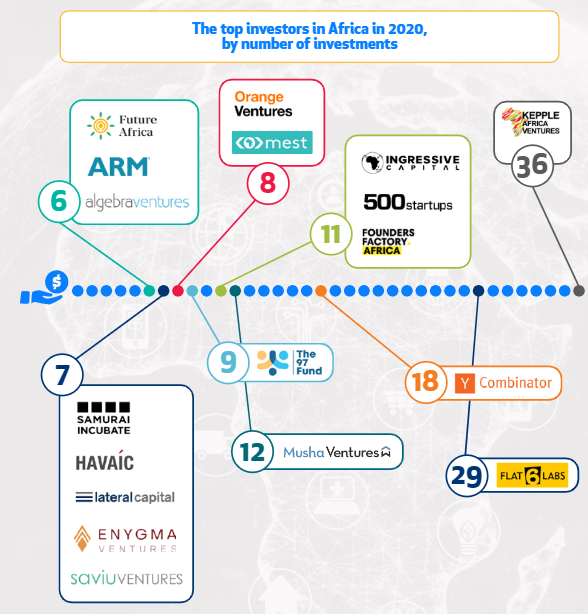 The total numbers of investors is growing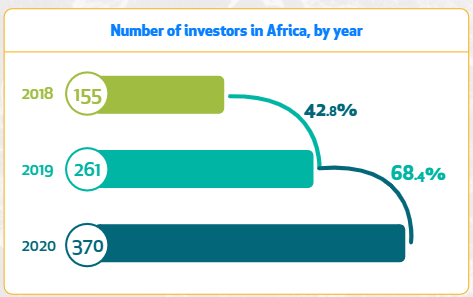 Notable funded startups per country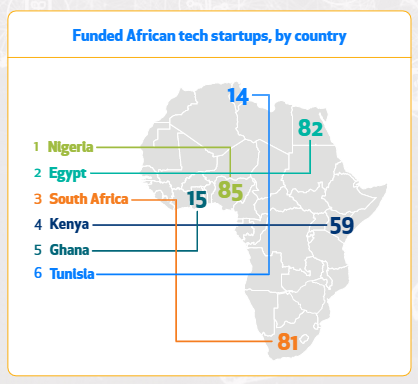 The total number of funded startups is increasing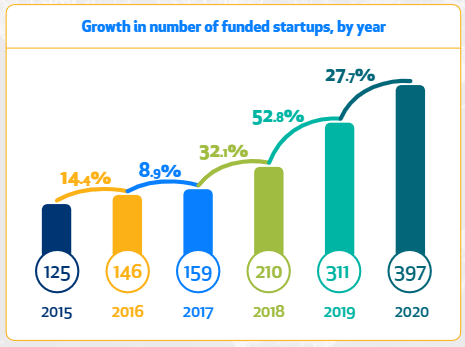 Quartz note that Fintech funding still rules the roost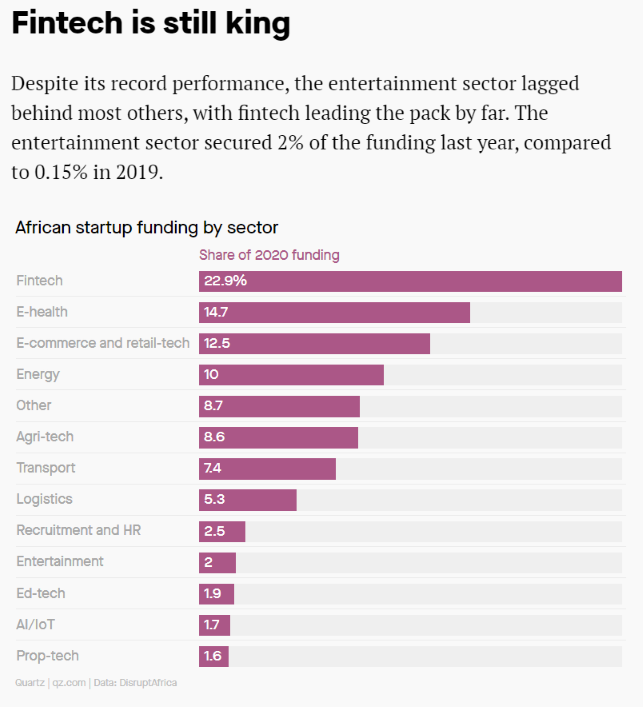 That said, interestingly entertainment startups received record investment last year.

---
📹🤔 The Tail End
Kurzgesagt returns with a thoughtful and slightly melancholy piece.
Wrapping your mind around your life is pretty hard, because you are up to your neck in it. It's like trying to understand the ocean while learning how to swim. On most days you are busy just keeping your head above water. So, it is not easy to figure out what to do with your life and how to spend your time.

There are a million distractions. Your family, friends and romantic partners, boring work, and exciting projects. Video games to play and books to read. And then there is your couch that somebody needs to lie on. It's easy to get lost. So let us take a step back and take a look at your life from the outside.
---
😬 Blunders
Michael Nielsen notes that based on some analysis done on 25 million positions in chess, the blunder rate increases the longer players take to decide on their next move.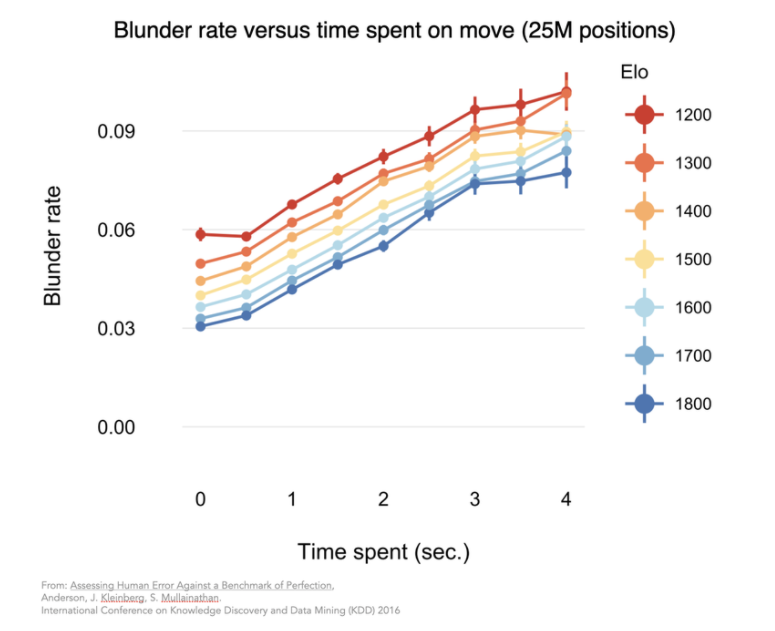 Of course, correlation doesn't necessarily imply causation as noted by a commenter on the paper given more time tends to be taken on more difficult positions - and as such more mistakes are likely.
The image then is both a caution against making the real blunder of assigning non-existent causality when doing observational study - and also an interesting academic/empirical confirmation of something we get anecdotally: when the decision is a difficult one, often spending significantly more time trying to make the decision is unlikely to yield a significantly better result.
---
🌇🏇🏼 Sunset Roaming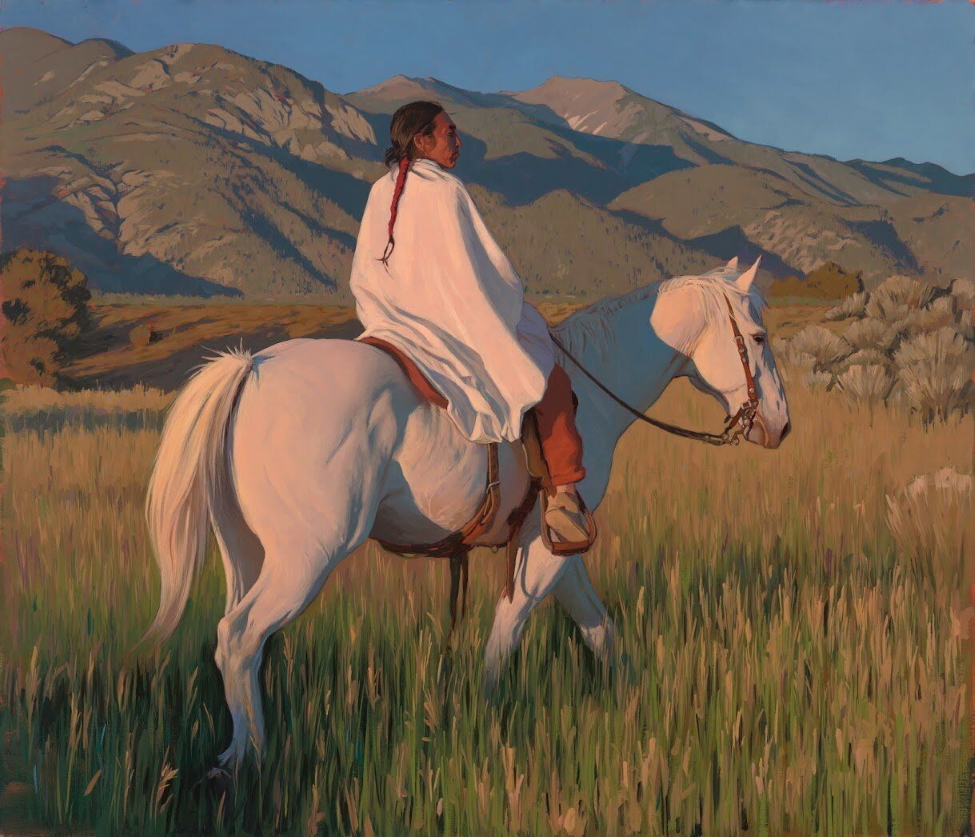 Sunset Roaming, Mark Maggiori, Oil On Linen, 2020
Mark Maggiori's work, which focuses on the outback culture, is often mesmerising - particularly his use of clouds and lighting. Another example.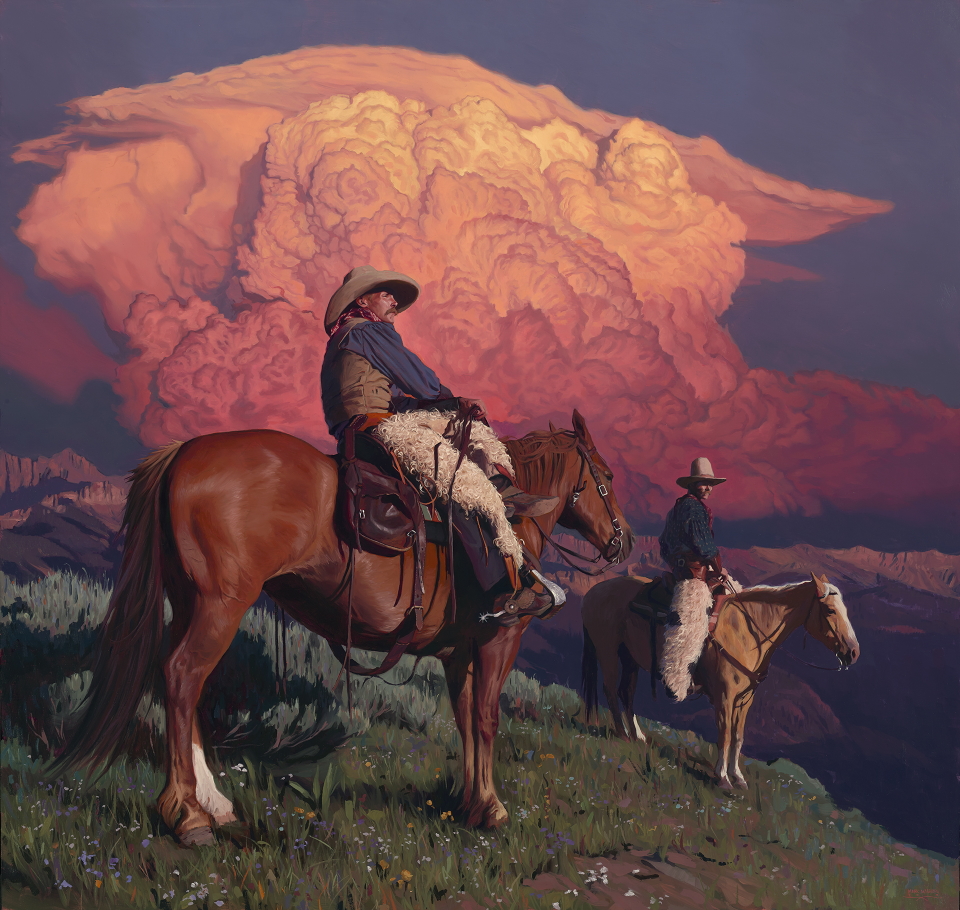 Mesmerized, Oil on linen, 2019
---
📉💰 Labourless Growth
Companies continue to get more and more efficient - with commensurate wealth bifurcation as the capital owners of mega-corps which triumph in winner-take-all markets accrue astounding financial power.
The S&P 500 is 70% less labour-intensive than it was 35 years ago - the classic labourless growth which is one of the many powder-kegs destabilising modern-day politics.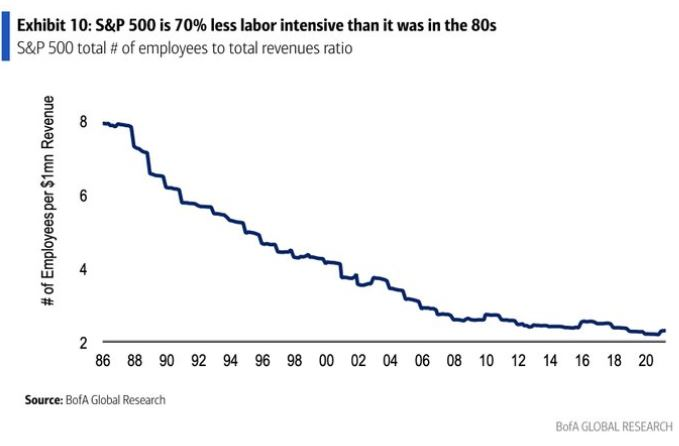 ---
🤖📈 Tech Trends
In this paper titled 📚"The Top Trends in Tech", McKinsey Digital try to answer this question: Which technologies have the most momentum in an accelerating world?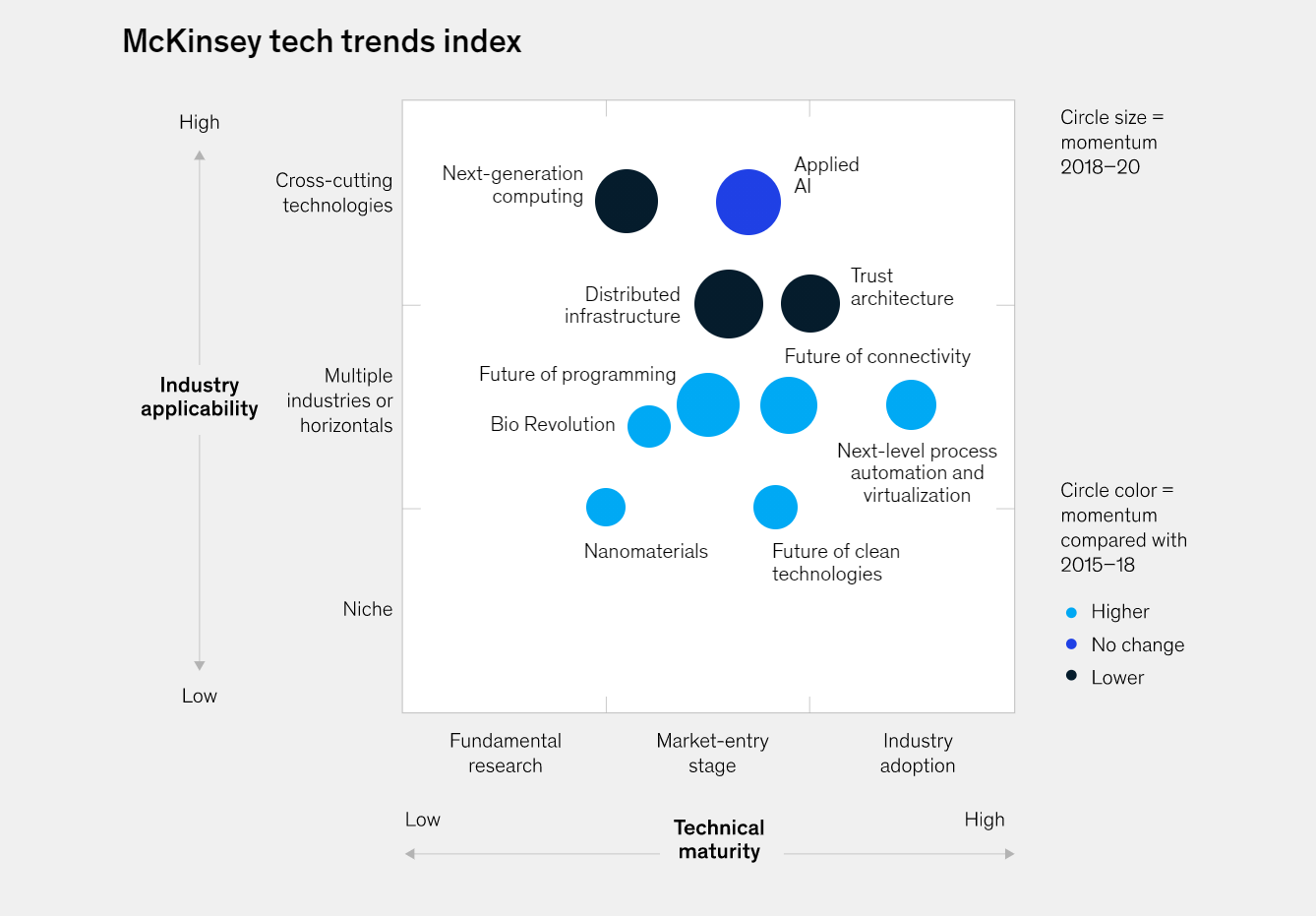 A couple of snaps from the report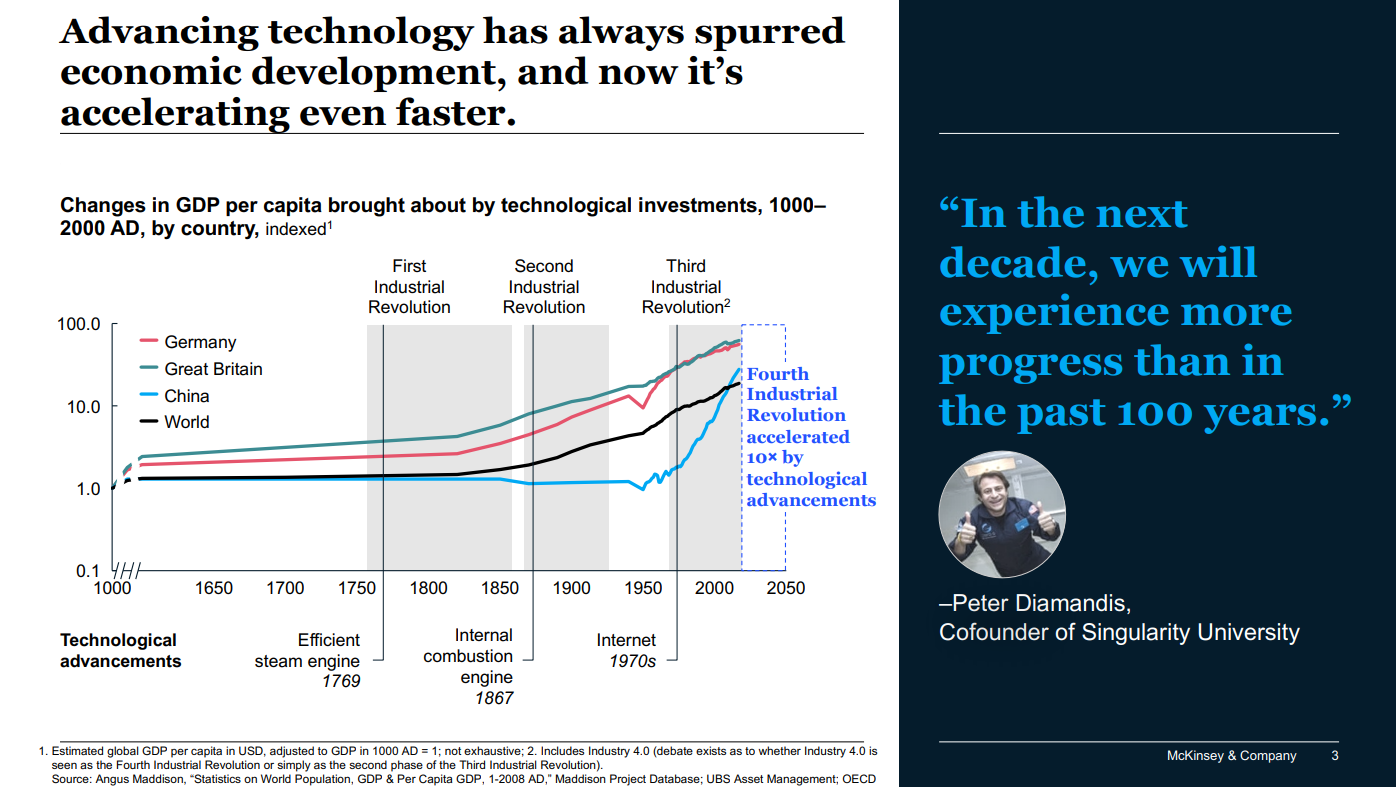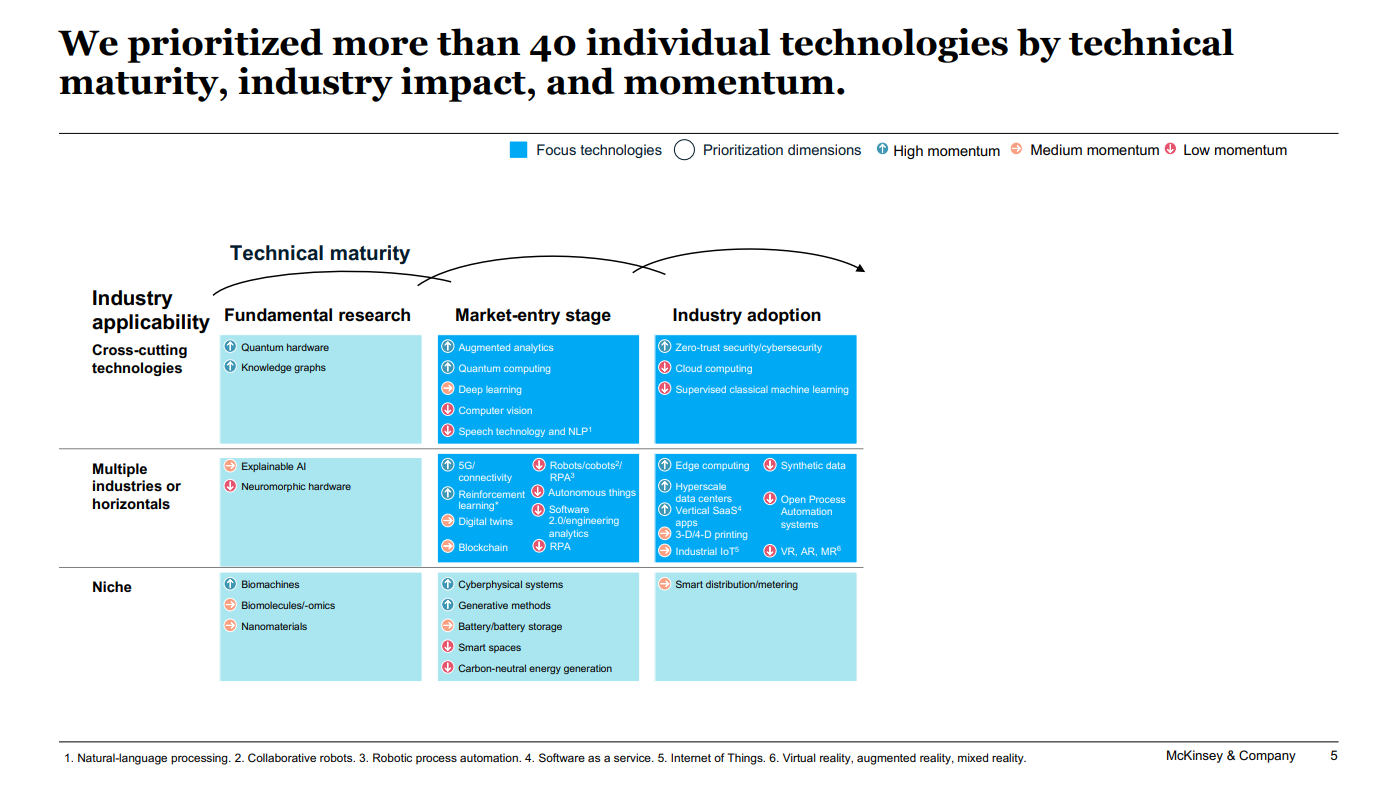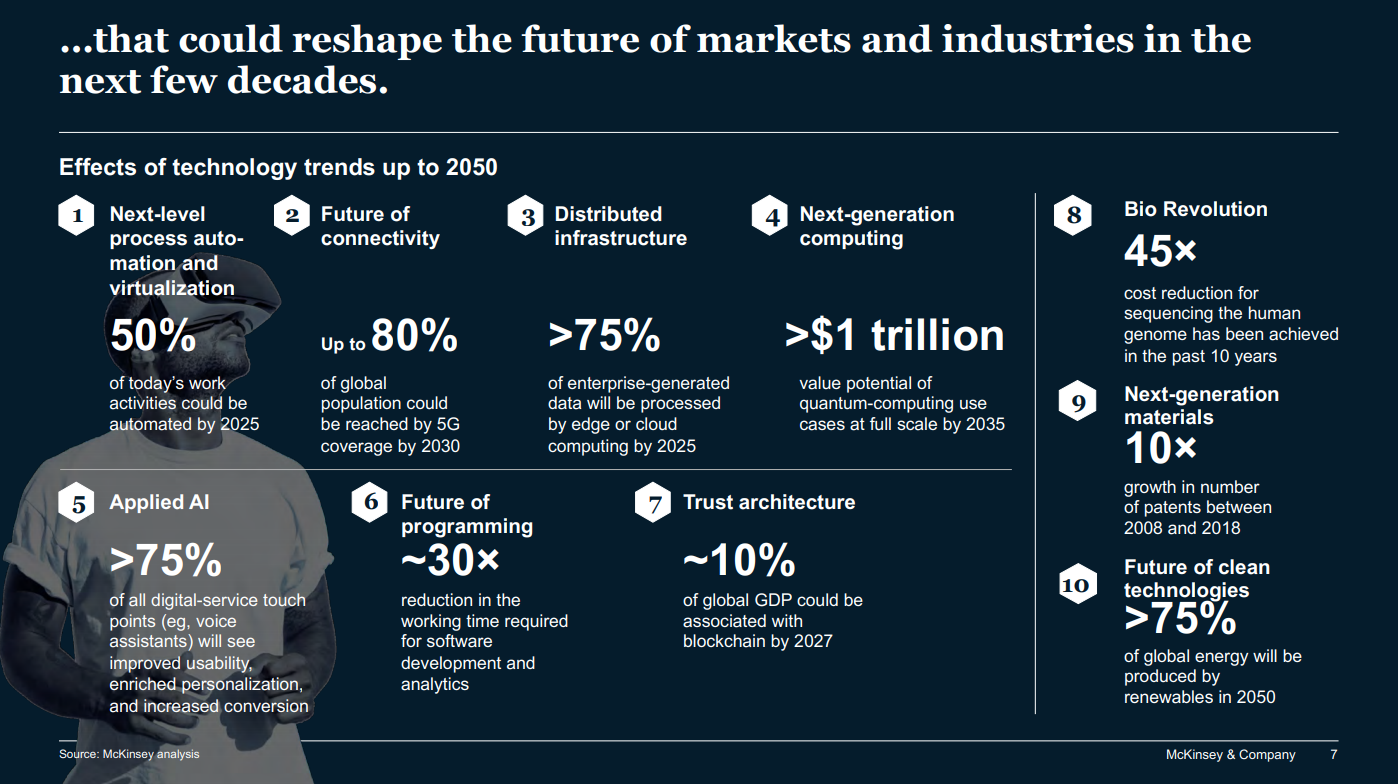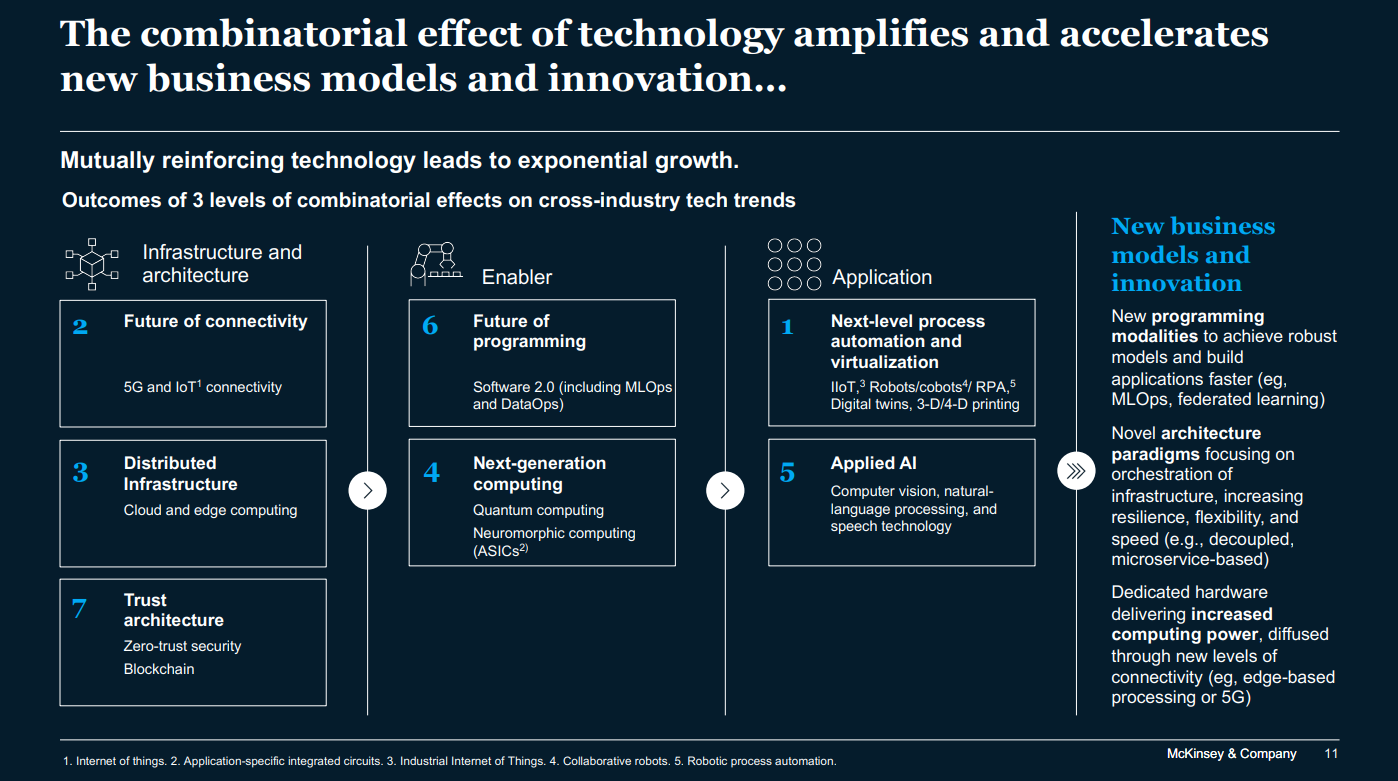 ---
🎥 ALLUMUAH
Allumuah [Pronounced: 'A-Loom-Wah'] is an experimental short film (04:23) by Curtis Essel that explores the path of intersectional/generational relationships which vividly depicts the beauty in culture and the characters within it.
Every snippet could probably be a framed photograph.
---
⚽ 1 Million Passes
In the spirit of the ongoing Euro competition, here's a compilation of all the passes, a visualisation of ~1 million passes from 890 matches played in major football leagues/cups.
⚽️ With the #EURO2020 approaching, you've probably all been wondering what ~1 million of passes would looks like if all shot at the same time, right? Well wonder no more...

Thanks @StatsBomb for making the data openly available! @observablehq notebook https://t.co/dO4sfQpRi4 pic.twitter.com/fqbdK6PjRd

— Karim Douïeb (@karim_douieb) June 9, 2021
The interactive visual is available here (best viewed on PC or if you have a stylus to act as mouse): https://observablehq.com/@karimdouieb/all-the-passes
---
🏢🏠👨‍💻 Return To The Office
Andreesen Horowitz did a survey of their portfolio companies regarding their post-covid office plans.
Some highlights - which they noted in their blog
What's your likely plan with employees in the future post-COVID?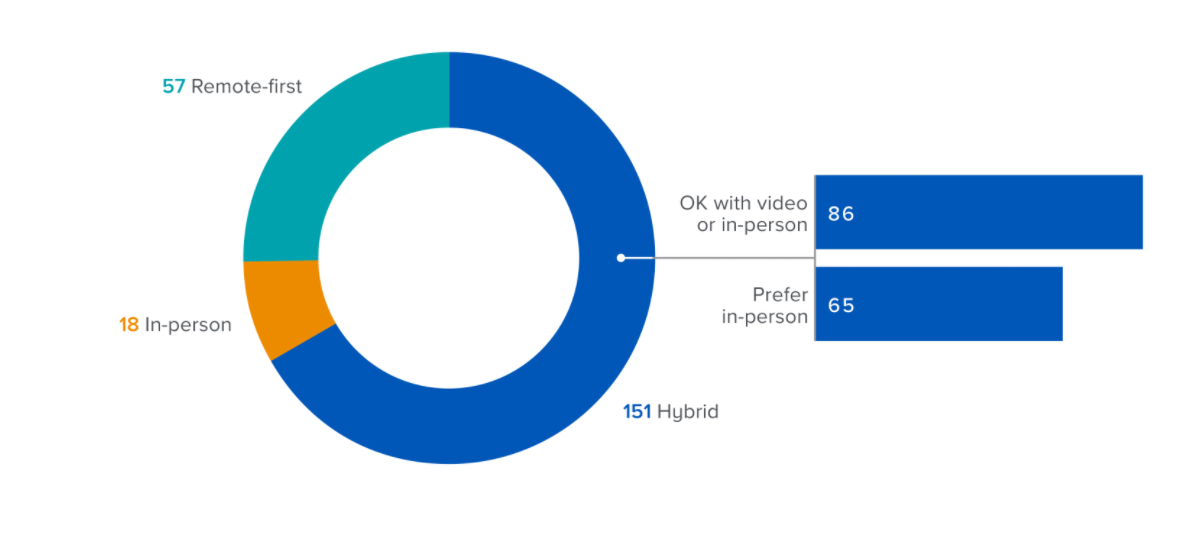 If you are enabling hybrid work post-COVID, how often will you require people to be in the office?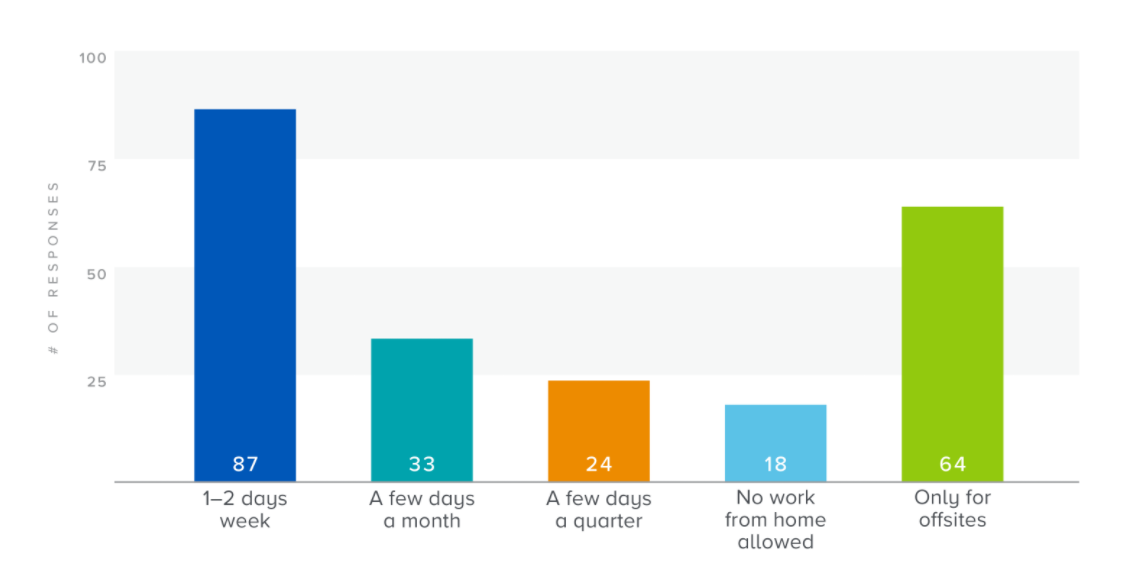 If you did not hire remote workers before COVID, are you now?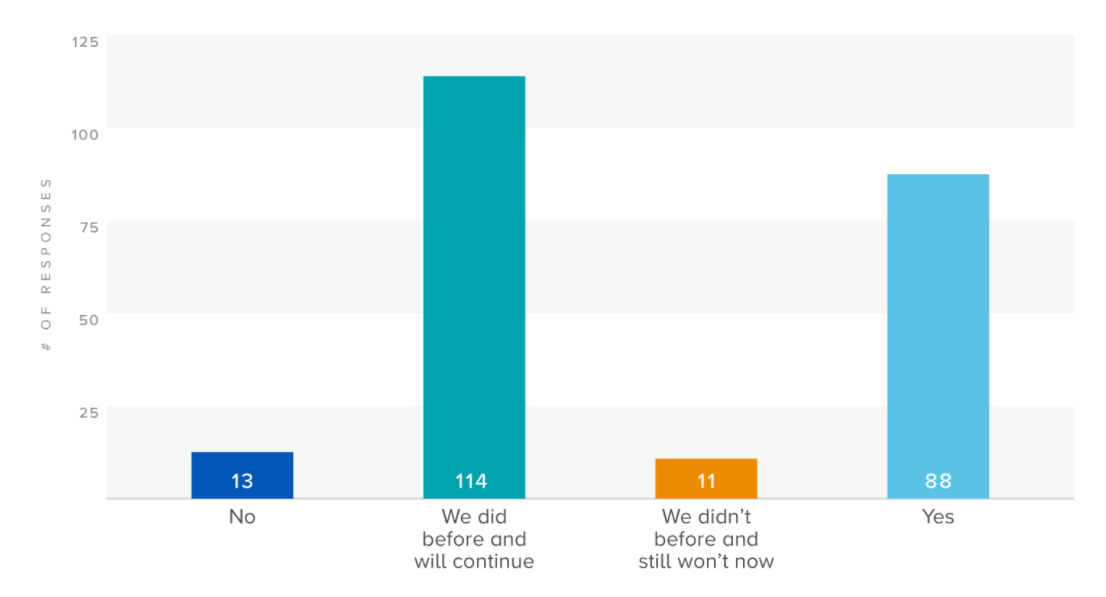 Do you think your company can be as innovative and creative in a remote or hybrid work environment?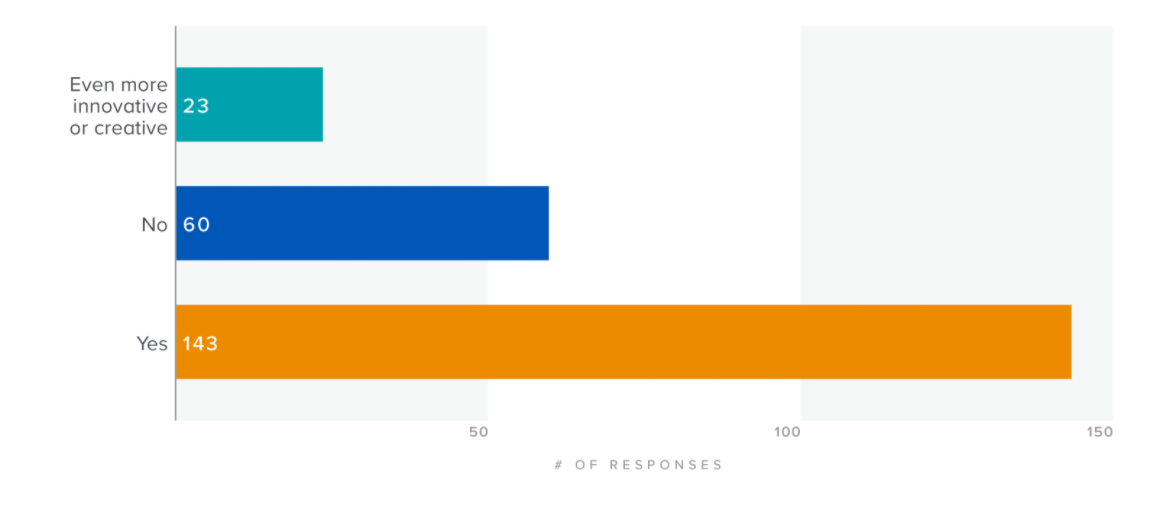 ---
🎙️🎧 Computer Science, Crypto & Philosophy
Lex Fridman breaks his previous podcasting record with this five hour (😮) ultra-nerdy deep-dive into everything from mathematics and simulation theory to cryptocurrency mechanics and philosophy - with Cardano ($ADA) creator Charles Hoskinson.
Lots of Bitcoin Maxis actively hate Hoskinson, and consider him a scammer & "shitcoiner" (presumably because he's generally very disparaging of the BTC protocol while promulgating a (pre-mined) purported 3rd generation one of his own).
Personally I think it'll be hard not to learn at least something from this wide-ranging and fascinating discussion; whichever side of the crypto moat you find yourself.
Starts at 09:12 and here are the timestamps:
(09:12) – What programming language is the simulation written in?
(14:17) – Favourite philosophers
(23:18) – Theory vs engineering in cryptocurrency
(34:27) – What programming languages should everyone learn
(42:42) – Haskell and beyond
(46:26) – Plutus: Cardano's smart contract platform based on Haskell
(50:53) – What is a blockchain?
(55:05) – Hybrid smart contracts
(1:00:55) – Proof of work vs proof of stake
(1:09:42) – Cardano's proof of stake consensus algorithm
(1:20:14) – What is Cardano?
(1:28:55) – Cardano vs Ethereum vs Bitcoin
(1:38:50) – The problem with Bitcoin
(1:48:24) – Bitcoin Conference
(1:52:05) – Ergo and Alex Chepurnoy
(1:59:15) – Cardano's Extended UTXO Model
(2:06:27) – Chainlink and Oracle Networks
(2:13:40) – Cardano and Wolfram Alpha
(2:18:35) – The future of video games
(2:27:10) – Smart contracts timeline for Cardano
(2:34:40) – Decentralized exchanges
(2:40:21) – Jack Dorsey and Bitcoin
(2:46:33) – Elon Musk and Tesla: Cardano, Ethereum, Bitcoin
(2:49:50) – Dogecoin and Elon Musk
(3:01:11) – Hydra vs Lightning Network
(3:08:45) – Non-Interactive Proofs of Proof-of-Work (NIPoPoWs)
(3:12:39) – Cardano failure modes
(3:21:00) – Cardano vs Polkadot
(3:26:05) – Vitalik Buterin
(3:34:16) – Corrupting nature of power
(3:44:26) – Satoshi Nakamoto
(3:50:37) – Cardano's vision for decentralized governance
(4:03:31) – Cardano in Ethiopia
(4:07:33) – El Salvador and Bitcoin
(4:13:50) – Cryptocurrency will inject capitalism with long-term incentives
(4:23:42) – Day in the life of Charles Hoskinson
(4:30:59) – Mushrooms
(4:37:07) – Joe Rogan
(4:42:00) – Video games
(4:54:14) – Advice for young people
(4:57:23) – Meaning of life
---
💬 Deep Cuts
"A ship is safe in harbour, but that's not what ships are for" — John Shedd

"Genius is only a greater aptitude for patience" — Georges-Louis Leclerc

"It's not the voting that's democracy, it's the counting" — Tom Stoppard

"Use what talents you possess - the woods would be very silent if no birds sang there except those that sang best." — Henry van Dyke
---
🗒️ Oh…and one more thing
Reusable shopping list from the 1920's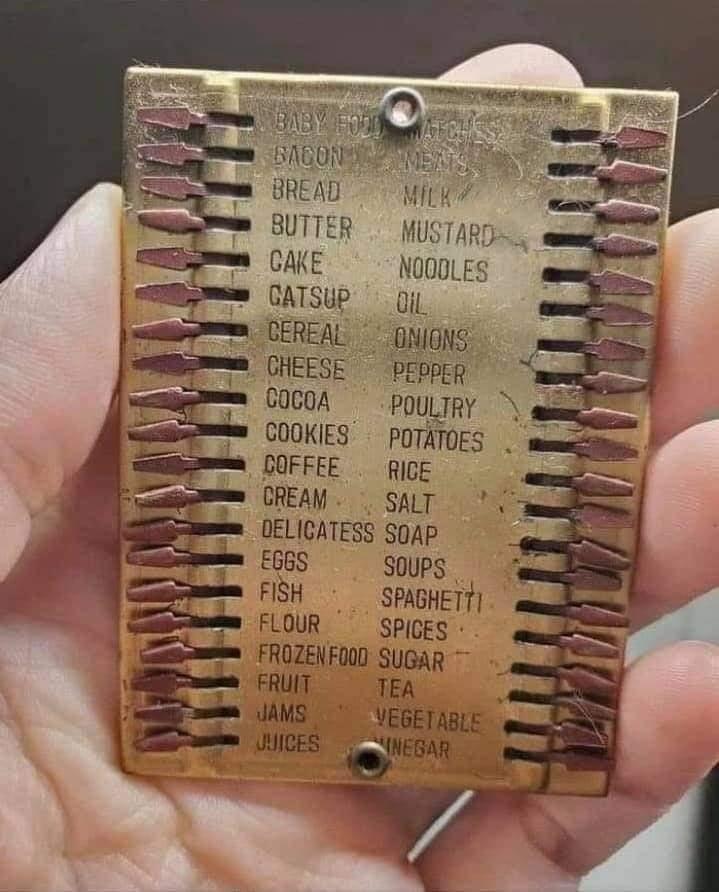 ---
📧 Get this weekly in your mailbox
---
Thanks for reading. Tune in next week. And please share with your network.
---