27 March 2022
Welcome back to the Week That Was series highlighting things from the interwebs which are interesting, noteworthy and/or probably worth your time.
Articles📝, Tweet(s)📱, Videos🎥, Charts 📈 all fair game with or without attendant commentary.
---
🏢 Execution
From Wave's blog about how they've executed in the early years of building one of the biggest African fintechs - backed by all from YCombinator and Founders Fund to Sequoia and Stripe.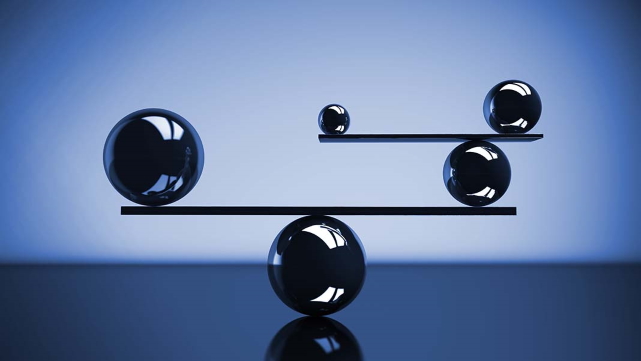 The principles they practice (each of which is unpacked 📝here):
Unless there's an explicit reason for a piece of information to be hidden (e.g. the in-progress deliberations for an upcoming re-org, or M&A activity), all documents are expected to be public
Solve the problem in front of you
"…every week we sat down and articulated what our most important goal was, and then ranked the biggest problems sitting between us and that goal. We would then all work exclusively on solving those problems."
Every early-stage start up faces the problem of having too much work, and not enough resources to do all of it. Wave solved this problem by always putting work into a single stack ranked to-do list, with the highest priority thing on the top.
An ancillary benefit of not having deadlines is that we avoided the overhead of tracking deadlines, and the extra people-hours it would take to enforce them.
Update beliefs in response to new information
The Wave founders are great at looking at new incoming data and updating their beliefs quickly.
A major reason for Wave's success to date is that the founders have been very good at figuring out where to apply resources on thin information where many people would think that it's too early to "step on the gas".
A corollary of avoiding unnecessary work that I really appreciated when I joined was that if we were doing something and someone asked "why are we doing this?" and no one had an answer, we'd table it until someone could come up with a good reason. Having everyone on board with this cultural value made it easy to eliminate bullshit work.
An important part of effective 1:1s is that the problems which come up do actually get addressed. At my previous company, we would have retrospectives every two weeks, but mostly they consisted of repeating the same post-it notes every week, with nothing really changing as a result.
Explain the reasoning, not just the outcome
One of my early observations at Wave was that the leadership would almost always make an effort to explain the reasoning, and not just the outcomes of their decisions. This extended also to the codebase and wider documentation.
📝A case study in early-stage startup execution
Bonus Infographic (from Hazarath Reddy)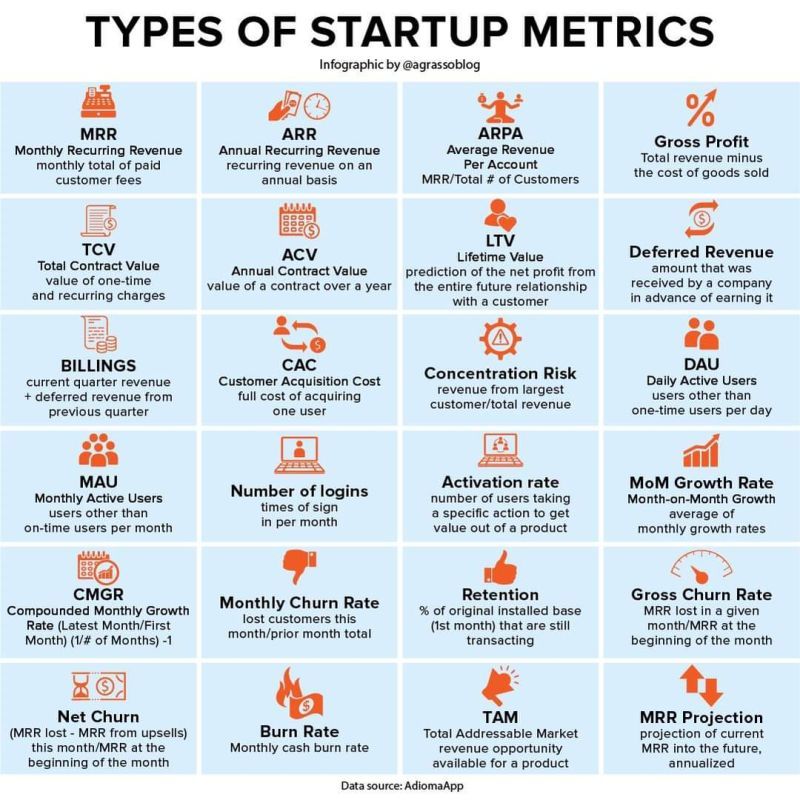 ---
🎨 Traveller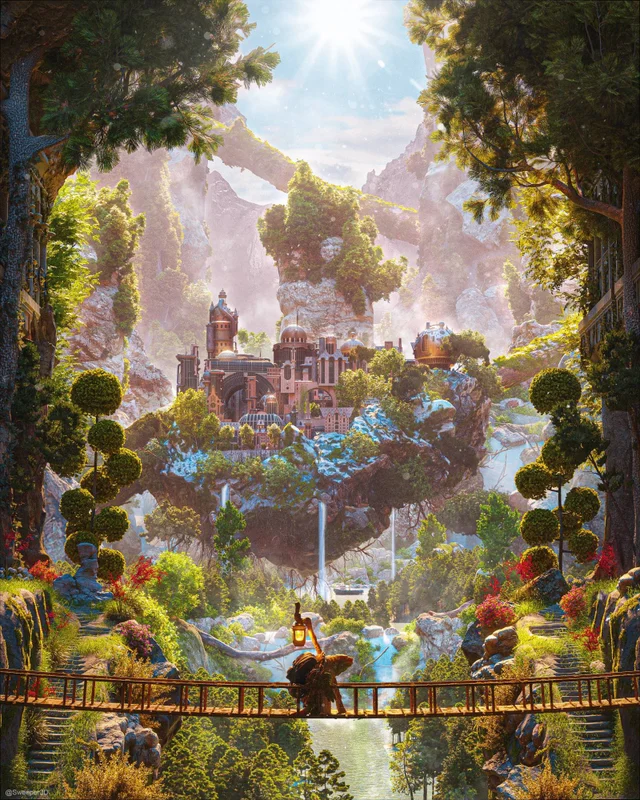 The Traveler, Sweeper3D, Digital, 2022
---
🌐📜🎙️ How the Internet Happened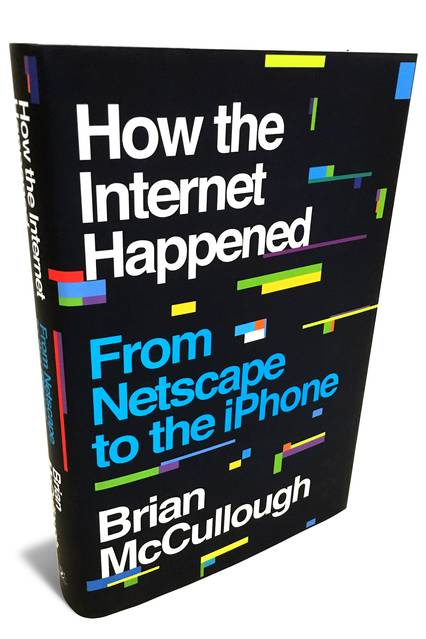 In his book (and podcast), Brian McCullough chronicles the history and evolution of the internet — from college kids in a basement and the dot-com boom, to the applications built on top of it and the entrepreneurs behind them.

A16Z General partner Chris Dixon chats with McCullough about How the Internet Happened — and more broadly, about how tech adoption and innovation happens.
---
💼 Pitch Dex
From Azeem Azhar:
The pitch decks of 29 startups before they became unicorns. One highlight: Linkedin showing how companies that leverage network effects become winners. 15 years on, they could not have been more right.
A couple of examples
AIRBNB (Valuation at IPO: $40.6B)
COINBASE (Valuation at IPO: $65.3B)
DROPBOX (Valuation at IPO: $12.6B)
LINKEDIN (Valuation at acquisition: $26.2B)
UBER (Valuation at IPO: $75B)
---
🌍 Pre 1959
Seen on Houston Austin Muzamhindo's LinkedIn
This is a map of Africa published by Harvard University in 1959 showing the approximate territorial boundaries of various tribes on the continent. In other words, this is visually depicting how diverse the continent is.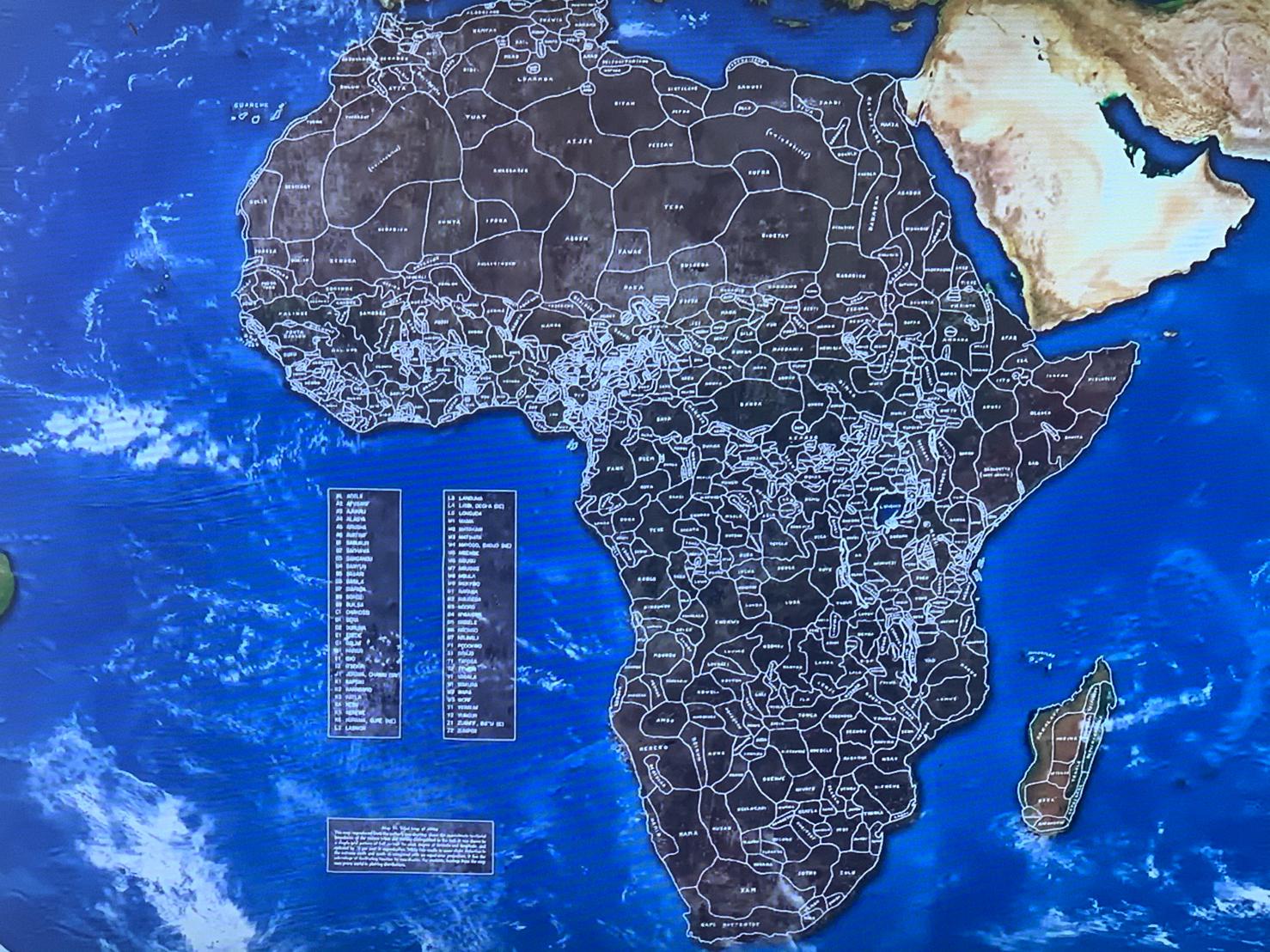 ---
🚆🚗 Moving People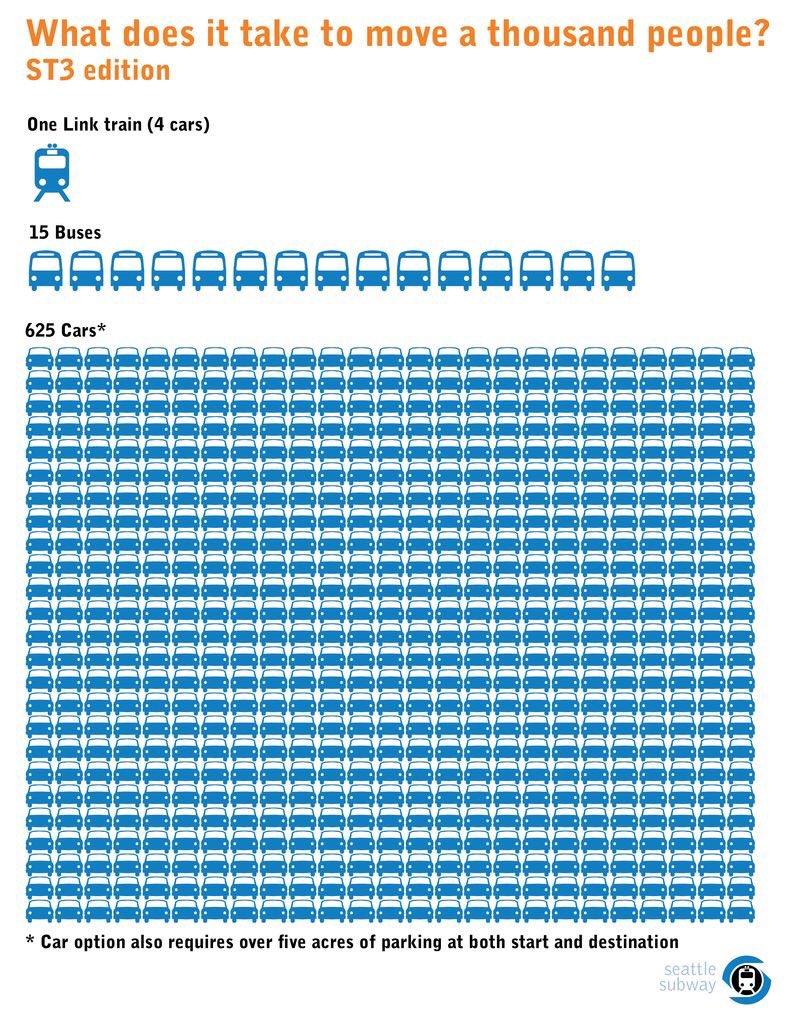 ---
🏢 Office Change
Axios article on how the post-covid office has likely changed for good. US-centric but the trends are very similar globally in knowledge and white-collar work.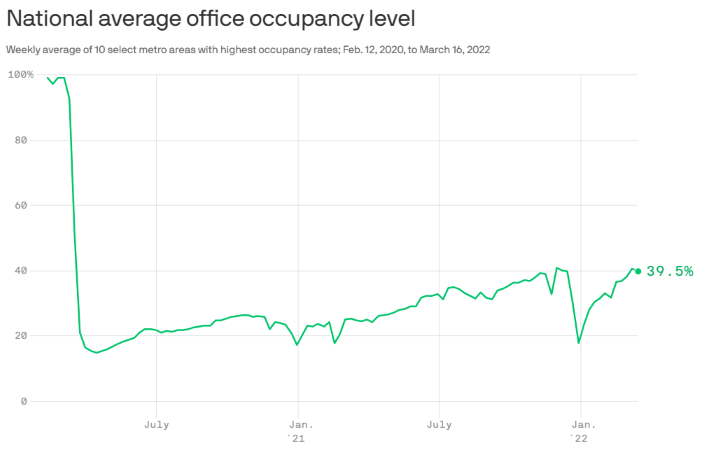 People bolted: 17% of office workers say they're working remotely because they moved away, a 📚Pew study found. Just look at the soaring population and housing prices in America's new boomtowns and tech hubs: Murfreesboro, Tenn. — a suburb of Nashville — has grown 20% during the pandemic, The New York Times 📰notes.

They demand flexibility: 75% of executives want to come back to the office three or more days a week — compared with just 37% of rank-and-file employees, according to a new Slack Future Forum report.

They'll quit: 11 million jobs are open in America. If a company forces people to come in, they'll go look for a job at one of the hundreds of startups and Fortune 500 companies offering remote work.
Half of workers would rather quit than be told to return full-time, a 📚new survey from the HR consultancy Robert Half found.
---
🤔 Not A Shitpost
Eric Garcia's 🧵thread where he asked what facts sound like shitposts but actually real - threw up a couple of interesting tidbits.
Sometimes they turn Niagara falls off for maintenance or to dig up a body

— 🎃your him-boo ghost-friend 👻 (@swolecialism) March 21, 2022
Birds that navigate by the stars are older than the zodiac. Several zodiacs. Constellations have come and gone over millions of years as the sun moves and stars die, and each generation of bird learns the current sky as a hatchling.

— A Space Man 𓀏 𓍐𓍒𓌐𓋨𓐭 (@a__spaceman) March 21, 2022
Nixon almost nuked North Korea in 1969 when he was drunk Henry Kissinger immediately called JC and told the military to ignore the order the president is drunk....also Grace Slick tried to give Nixon LSD that time she was accidentally invited to the White House

— Aspihistorian (@aspihistorian) March 21, 2022
The University of Oxford is older than the Aztec Empire

— p0usr (@p0usr) March 21, 2022
---
⚖️💰 Inequality
Disconcertingly South Africa remains officially the most unequal society on earth. Given a youth unemployment rate of 📚just under 70%, a decade and a half of energy uncertainty and an economy which continues to be anaemic - this isn't exactly surprising. It is however gravely unfortunate and concerning.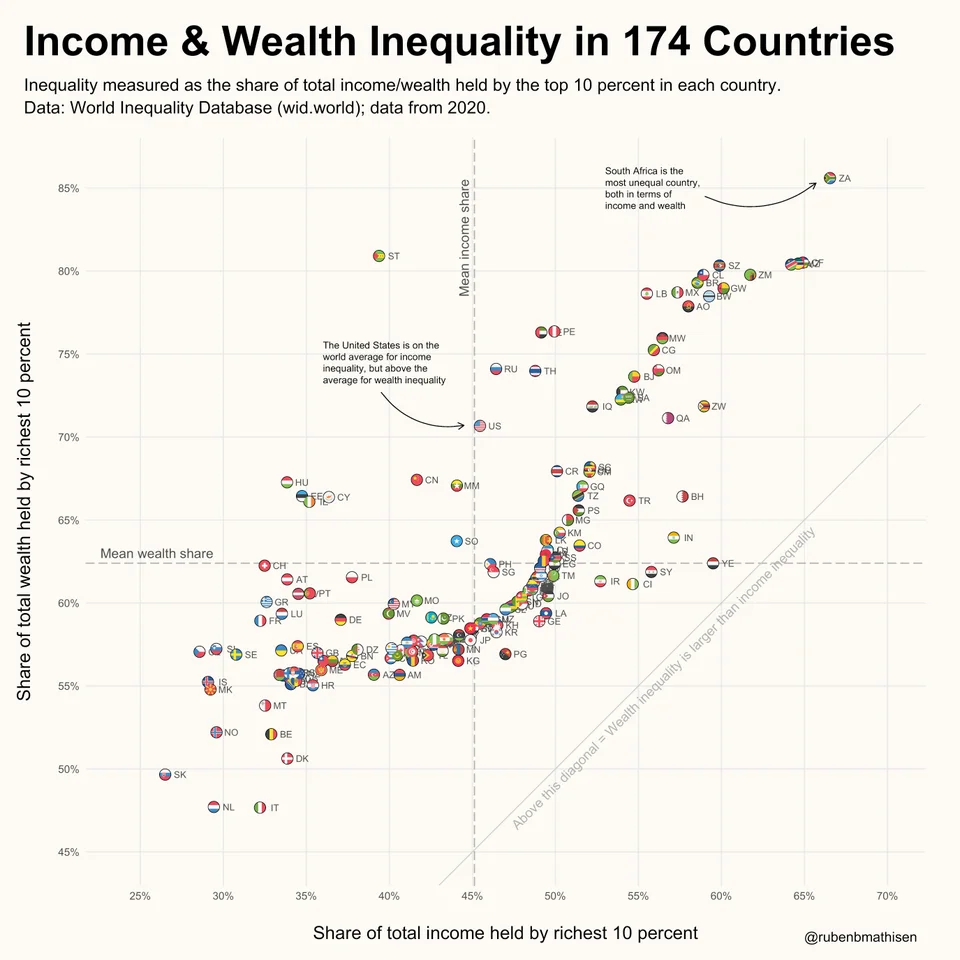 ---
⚔️💶 More Numbers
We highlighted a few vital statistics in 📝last week's post around some of the concerning externality implications to the broader world of the conflict in Ukraine and the sanctions levied on the perpetrator - notably the effect on food supply chains, over and above energy. David Friedberg's contribution in the All-In pod we highlighted has since gone viral - clipped below.
One billion people will live on less than 1,200 calories a day by the end of 2022.

(A rise from the current 800 million)

That's the trajectory we're on because the Ukraine-Russia war is disrupting wheat exports 🌾@Friedberg explains👇 pic.twitter.com/RM1HXFdm56

— ALL-IN TOK (@all_in_tok) March 20, 2022
A reminder of the nations who are currently exacting what's been termed 📰'Just short of nuclear' sanctions in a bid to "cripple Russia's economy".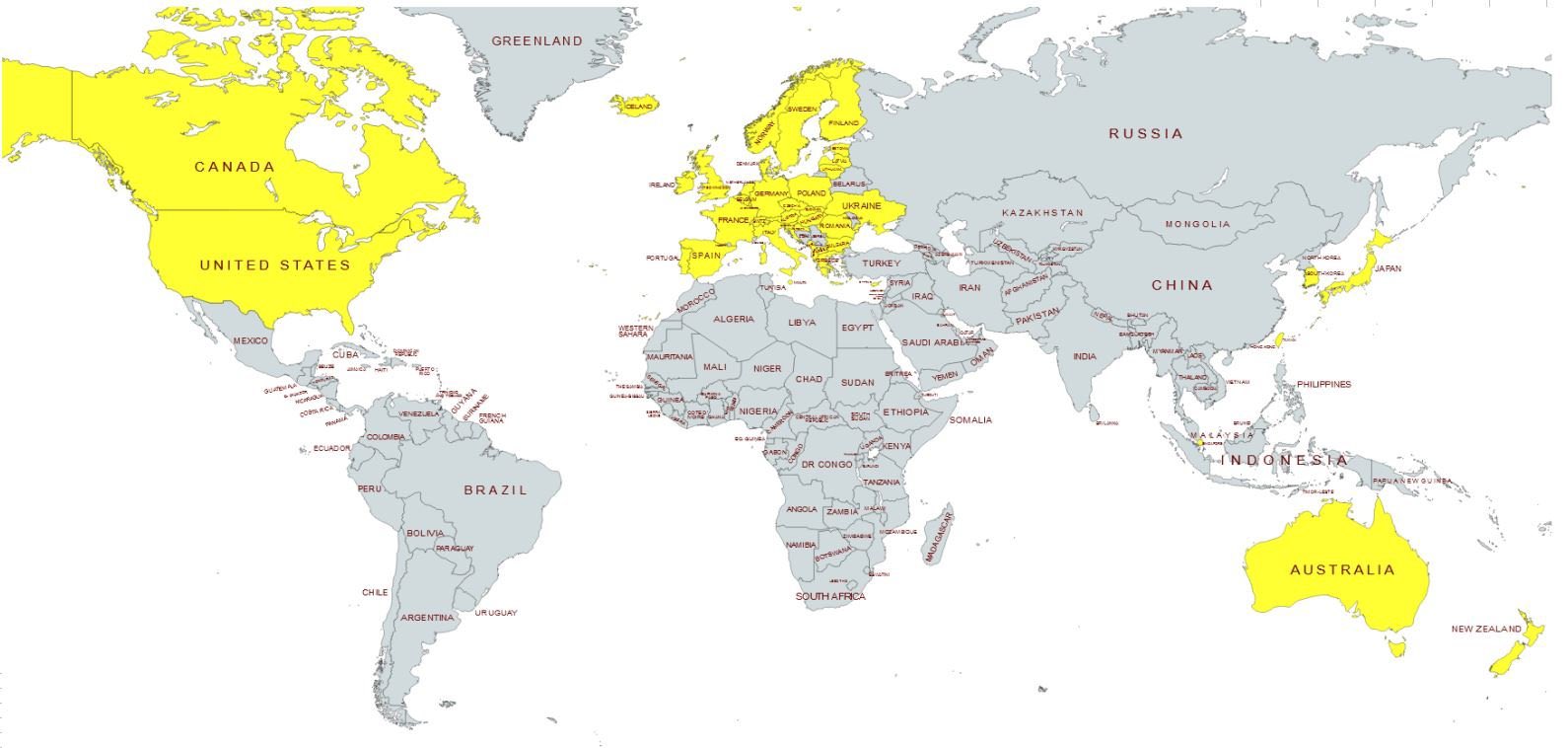 The implications however will not just affect these nations but spill over to the rest of the world, with recessions globally becoming a much realler possibility.
President Biden's comments on the liklihood of food shortages should also give folks pause.
Biden says food shortages is "going to be real." pic.twitter.com/ITI6YBAQ7W

— The Post Millennial (@TPostMillennial) March 24, 2022
Price spikes continue across any number of commodities you turn you gaze towards.
E.g. Fertilizer & Food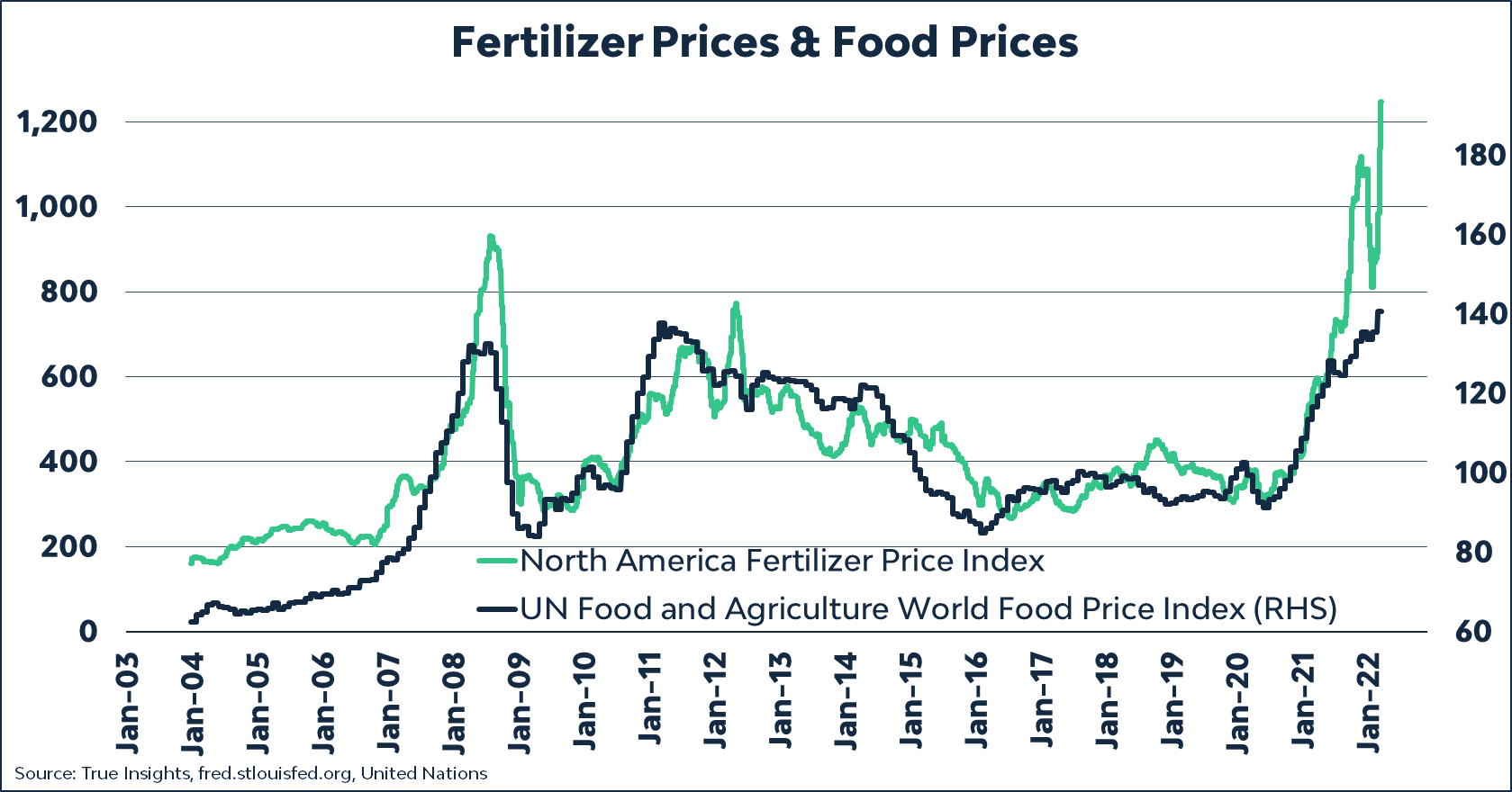 jeroen blokland
Or Steel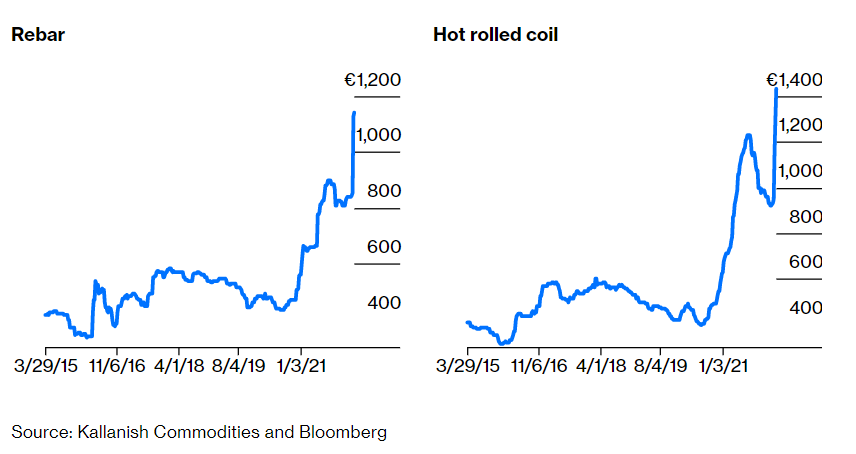 The reasons of course become obvious when you look at the top producers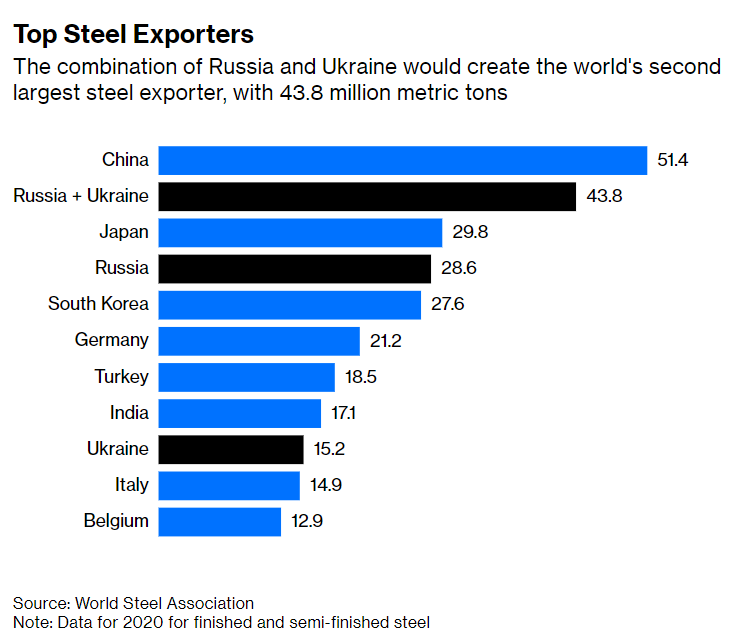 Let's hope a resolution is found sooner rather than later to mitigate the fallout to an even larger set of innocent people.
Regime change rhetoric probably won't assist in that regard - although I understand the White House has officially walked back these statements and cited an "innarticulate moment"
Biden winds down his speech by saying of Putin, "for God's sake, this man can not remain in power." pic.twitter.com/atNZtCPvAM

— Aaron Rupar (@atrupar) March 26, 2022
---
📊 Quantified Self
From 📝The Browser:
Americans overestimate, often wildly, the size of minorities and sub-groups within their country. On average, they think that 21% of all Americans "are transgender"; the "true" proportion rounds to 1%. They estimate that 27% "are Muslim", versus a "true" 1%. Black Americans "estimate that, on average, Black people make up 52% of the U.S. adult population"; the "actual figure" is 14%
📚From millionaires to Muslims, small subgroups of the population seem much larger to many Americans
Overestimating the size of minority groups and underestimating the size of most majority groups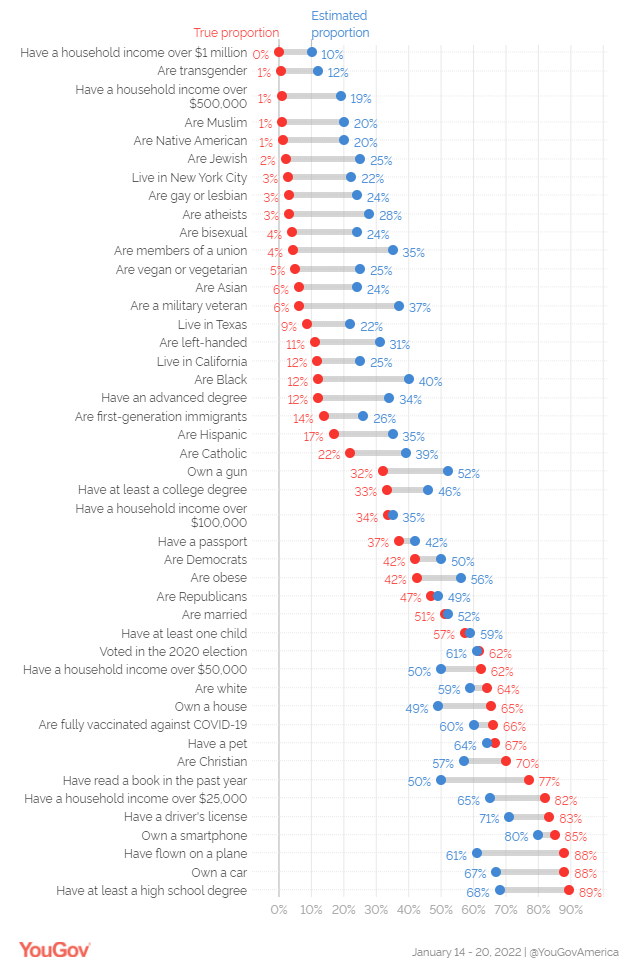 Misestimating group sizes, regardless of the type of group being estimated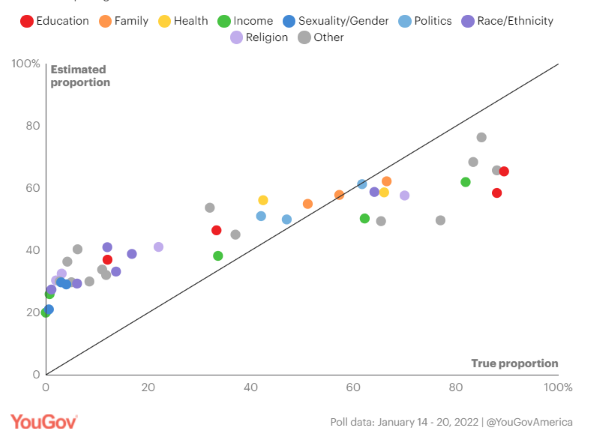 ---
🥪 Cube Rule
Cuberule.com is an amusing tongue-in-cheek takedown of the cube-rule model which tried to bring order to food identification.
Said model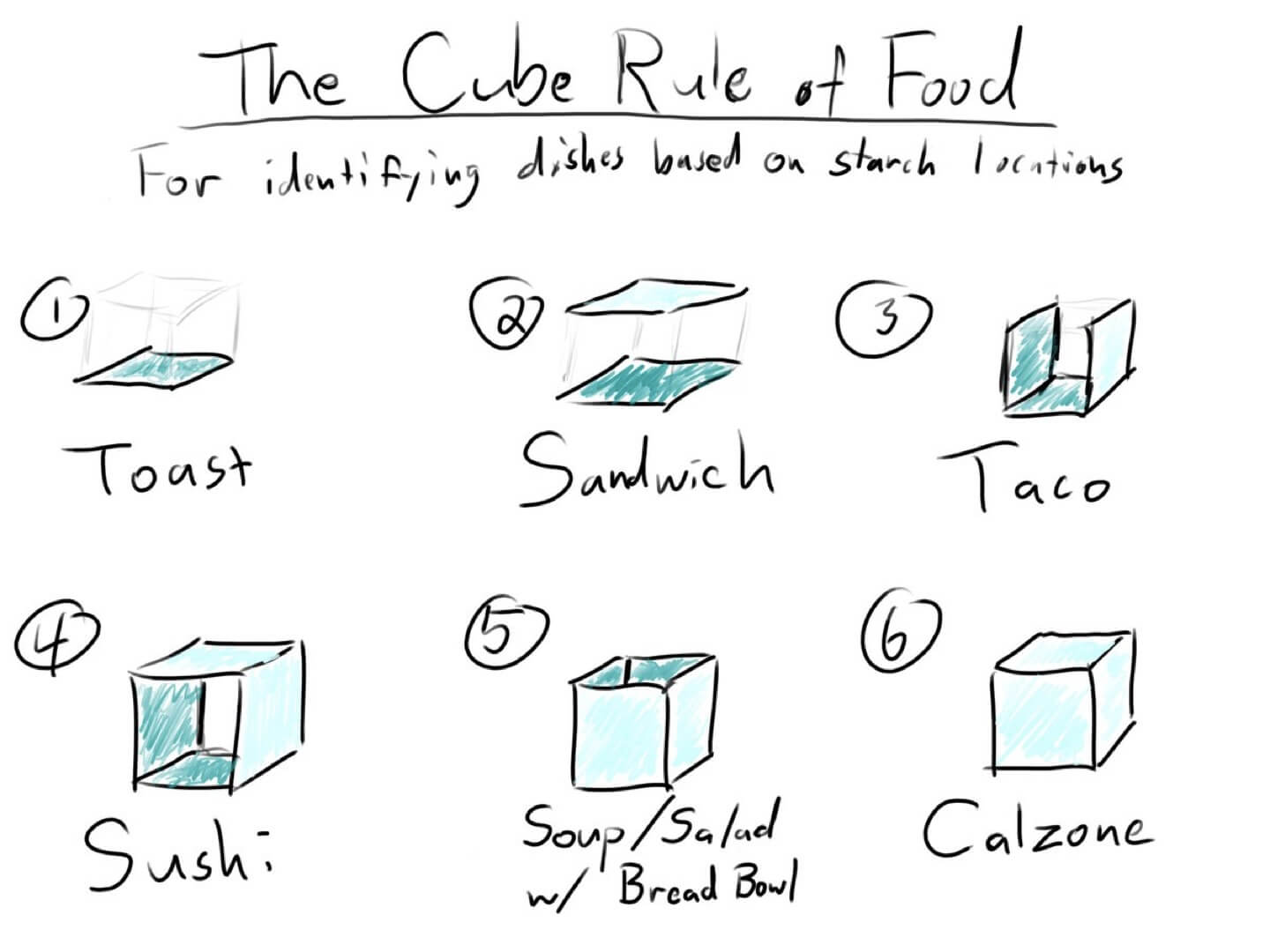 E.g. Toast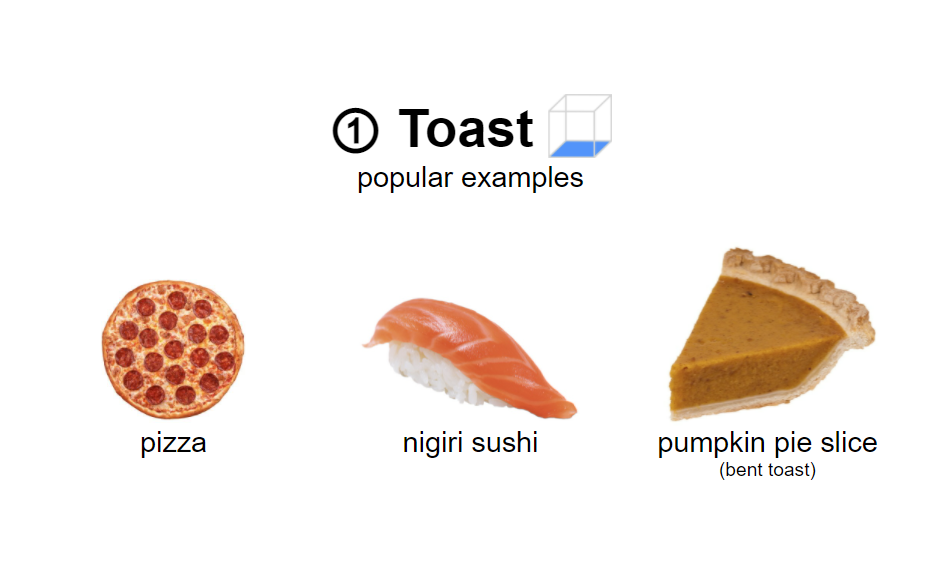 The site runs through all of the categories pointing out the absurdity of both the genesis of this exercise and the silliness of it's outcome.
---
📹✍️ Flatland

From The Viewer:
A strange phenomenon: in the past few years, nearly every corporate logo has been redesigned with a flatter, more minimalist look. "One company decided to be he first to join the bandwagon and all the others went along for fear of getting left behind in outdated land—because dimension, texture and character are so last decade" (5m 35s)
---
🎨 Cheers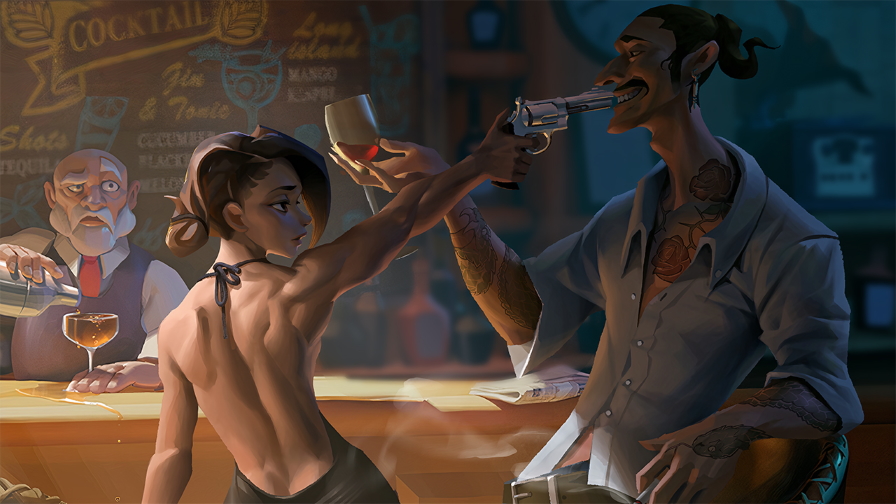 Cheers!, Bo Xun Lin, Digital, 2022
---
💬 Deep Cuts
"By being unknowable, by resulting from events which, at the sub-atomic level, cannot be fully predicted, the future remains malleable, and retains the possibility of change, the hope of coming to prevail; victory, to use an unfashionable word. In this, the future is a game; time is one of the rules." ― Iain M. Banks, The Player of Games
---
📊 One More Thing
---
📧 Get this weekly in your mailbox
---
Thanks for reading. Tune in next week. And please share with your network.
---