08 March 2020
Welcome back to the Week That Was series where I highlight a few things from the interwebs which I thought were interesting, noteworthy and probably worth your time. Usually a couple of links spanning an article📝, tweet(s)📱, video🎥, graphs 📈 and/or any other media with some commentary, summaries or callouts for context.
Might be from 2020 or 1920 BCE - so long as it's useful/interesting/insightful.
---
Current Mood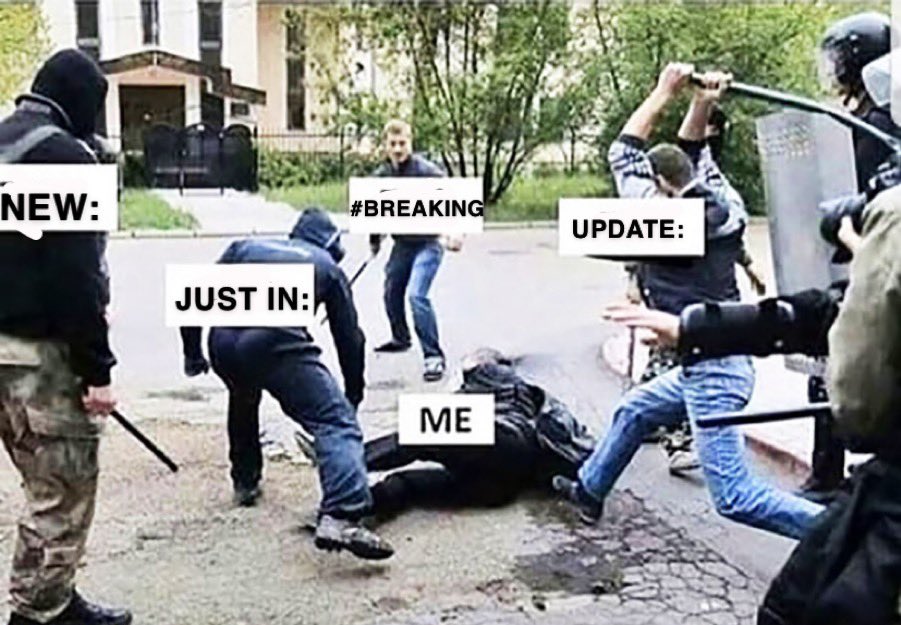 ---
🤸‍♂️ Balance
The world's consciousness is currently gripped in the throes of a novel coronavirus pandemic and it's of course a topic touched on again later in this post. However before it all gets too serious, here's of a clip Chinese kid with double-take-inducing balance
Chinese teenager showcases his incredible balancing skill! pic.twitter.com/mFVMd5CcCr

— People's Daily, China (@PDChina) March 12, 2020
---
🦠😷 Italy & The Virus
As the official South African reported number of Covid-19 cases inches up, it's worth having look at the case of Italy as of yesterday.

As you can see with the publicly available stats, the cases versus deaths rate is actually closer to the 6%-7% range than the previous 1%-3% global average estimates in Italy.
Extremely concerning although it's also likely there are still thousands of unreported cases which could have quite an effect on that percentage. On the flipside, there could also be under-reporting of previous fatalities where post-morterms specifically testing for the virus have yet to be conducted. Either way, worrying.

What's clear from this graphic is the straight line on the log graph, which we discussed in last week's iteration. The exponential growth curve noted in the following tweet, and visible in the data and graphics is clear - and is why governments across the globe - including South Africa now - are taking drastic steps to try and control the rate of spread.
Number of total coronavirus cases in Italy

16 days ago: 100
10 days ago: 1,000
Today: more than 10,000

— Chico Harlan (@chicoharlan) March 10, 2020
The dashboard at the link below provides a detailed and extremely sobering view of the numbers currently characterising the scale of Italy's current medical crisis.
---
🗣️🎧 Tim Ferris Interviews Tyler Cowen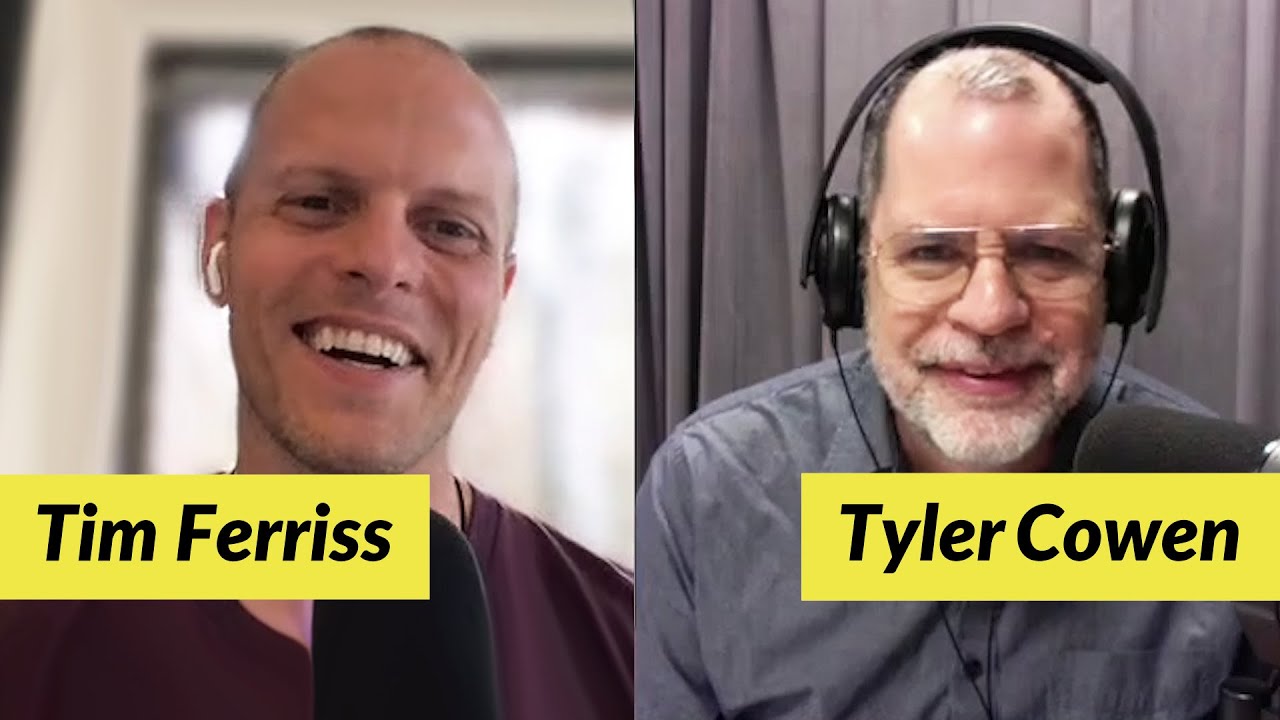 Having been featured in these pages before, Tyler Cowen (@tylercowen) is one of my favourite interviewers. I really enjoy the level of depth he brings to each interaction, which comes from both deep preparation and optimising for interesting-ness. It's always fun to hear him on others' shows and his time with popular lifehacker, author & podcaster Tim Ferris is no exception.
A few tidbits:
"I think the most efficient way of learning at the margin, for most smart people, is travel"
"If you need to measure, you've failed."
"Whatever your situation in life, make the big change. It's a risk, but on average, it pays off."
Listen Here - skip past the two dozen minutes of ad promos
---
📉 Flattening The Curve
An excellent write-up by the Washington Post (particularly the animations) showing the significance of the current public health strategy of trying to "flatten the curve" as I'm sure you've now heard for the umpteenth times.
Given the choice, what you definitely for your nation are the Japan, Singapore and Hong Kong curves…what you definitely don't want are the Italian & Iranian curves.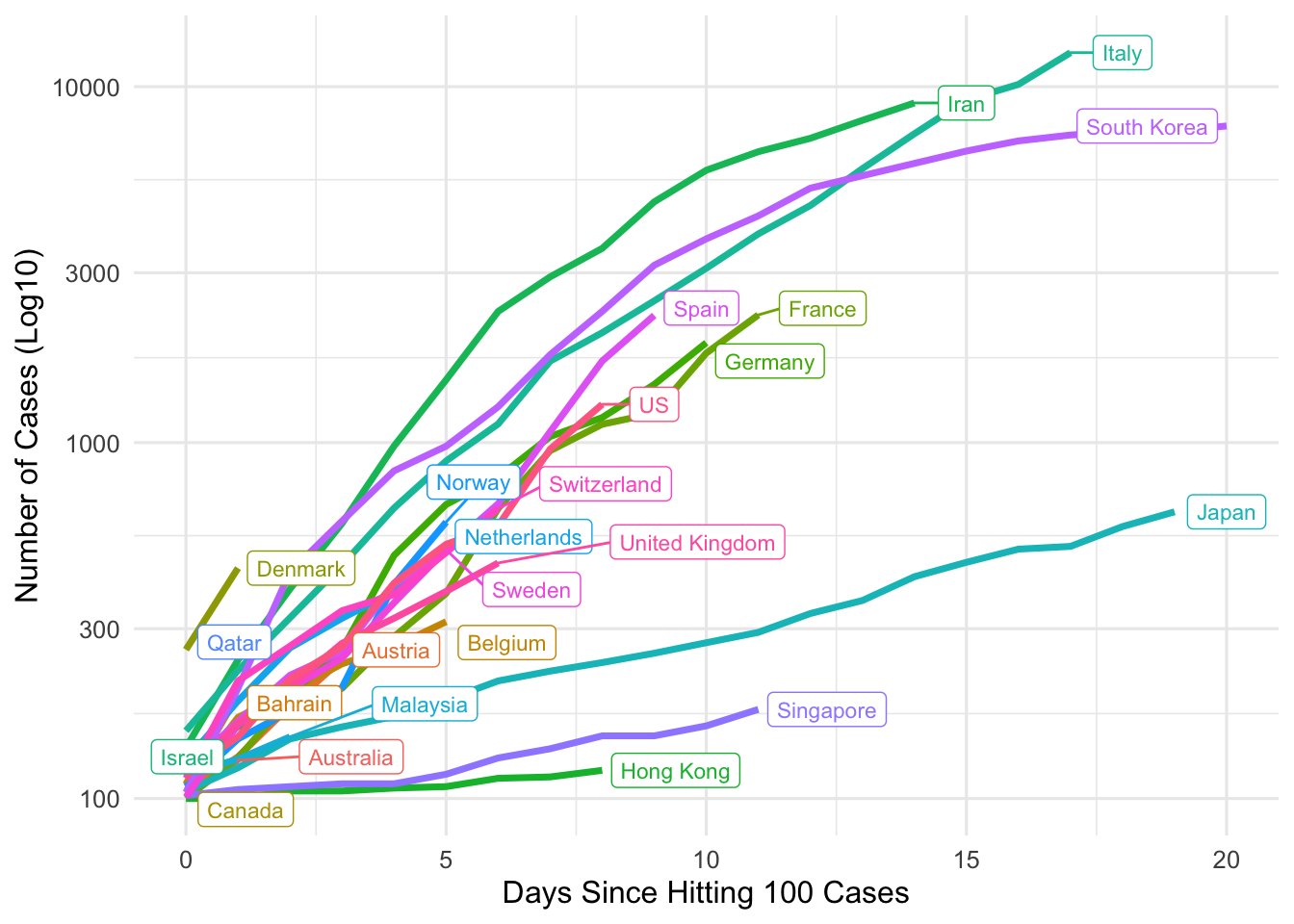 South Africa's own journey dealing with the virus has just started in earnest and we should take solace from the fact that a muscular enough response can curb even the most dire-looking growth curves, like South Korea on the above graphic.
Here's another graphic showing just how much of an effect on new reported cases their approach has had (note the green bars).
Public health response aim is clearly to be South Korea - and not be Italy.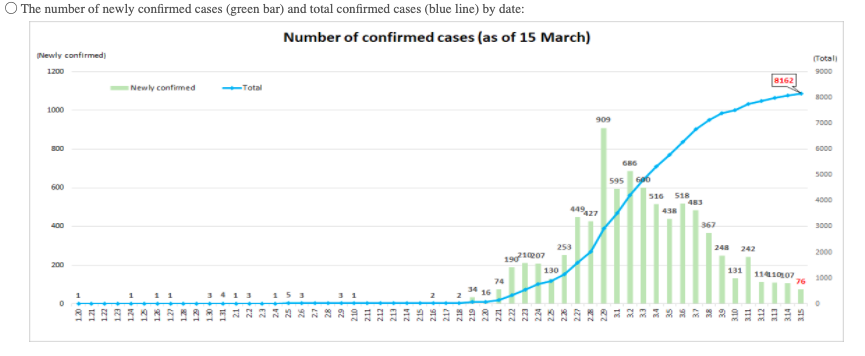 Two more articles which I think offer great insights to help you parse the actions (and words) of various stakeholders in the response to this.
In this article the aforementioned Tyler Cowen splits the general response to this pandemic into two broad camps: "Growthers" and "Base-Raters". I'm definitely a Base-Rater with Growther tendencies…
In this blogpost Mattias Geniar tries to unpack the variable governmanet response and characterises it as a decision of not wanting to act too early (given the perceived economic costs of aggressive action), instead trying to time action to just about match new case growth and medical capacity.
Lastly, here's a breakdown from a view days ago of exactly how the global infection has been spreading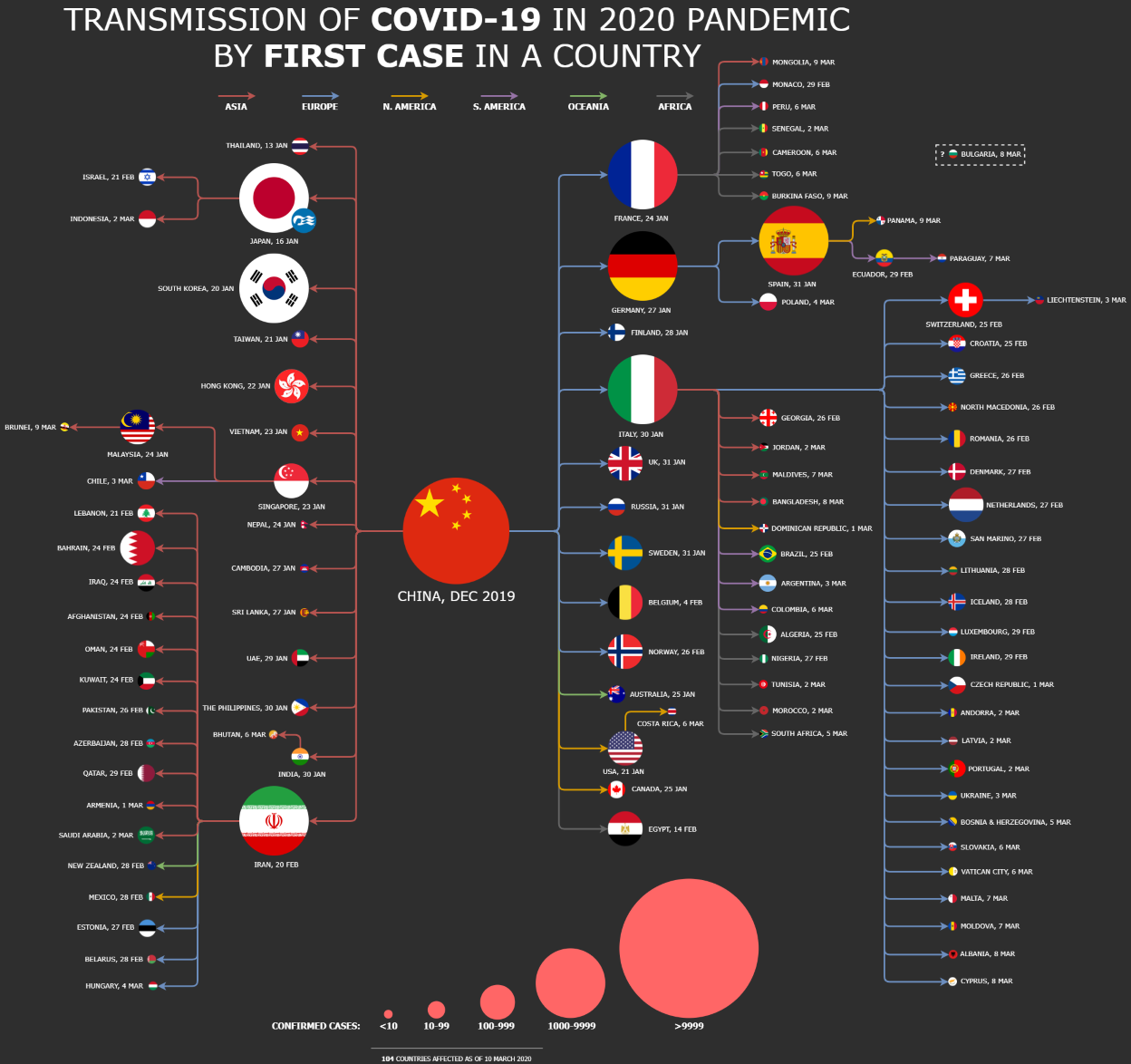 ---
💬 Quotes: Risk & Survival
"Extinction is the rule. Survival is the exception." - Carl Sagan

"Your success depends on the risks you take. Your survival depends on the risks you avoid." - James Clear
---
🐒⚔️🐒 Oh…and one more thing
There are numerous externalities stemming from the global coronavirus pandemic. An unexpected one is swarms of warring monkey factions taking to the streets as tourist food donations dry up.
Hundreds of hungry monkeys swarm across Thai street as 'rival gangs' fight over food after tourists who normally feed them stay away because of coronavirus https://t.co/lQZ0sOzwDF pic.twitter.com/8TgrCTBrQ8

— Daily Mail Online (@MailOnline) March 12, 2020
---
Thanks for reading. Tune in next week. Please wash your hands & practice social distancing
If you're based in South Africa you'll likely already use the Eskom Se Push app to monitor loadshedding schedules etc for your neighbourhood. They've recently pushed an update to provide the latest Covid-19 stats in SA on the app. So if you don't use it, consider downloading it - it's become even more informative.
---